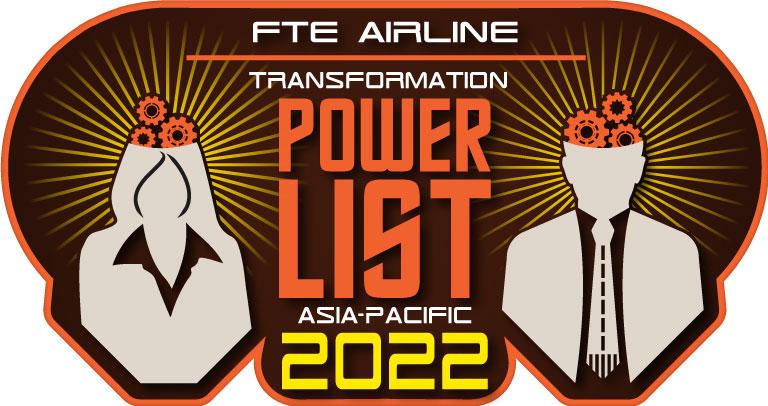 Future Travel Experience is excited to unveil the FTE Airline Transformation Power List Asia-Pacific 2022. Here we shine a light on those who are pioneering new approaches that have the potential to improve travel for passengers and make the industry more efficient and commercially successful. The Asia-Pacific edition champions the most transformative change enablers within the airline industry in the region for their outstanding efforts to lead how their organisation has embraced innovation in order to recover and thrive following the wide-reaching impacts of the COVID-19 pandemic. In recognition of their leadership and achievements, each member of the Power List will receive a complimentary VIP "Golden Ticket" to our FTE APEX Asia Expo, taking place at the world-renowned Marina Bay Sands Expo and Convention Centre, Singapore, on 9-10 November 2022, delivered in partnership with Singapore Airlines, Star Alliance, Onboard Hospitality & Changi Airport Group, which is expected to attract over 2,000 participants from across the region and beyond, thanks to its outstanding line-up of speakers, exhibitors, social events and tours.
Three of the nominees will be awarded with an "Outstanding Achievement" trophy during an official awards ceremony at the event on 9 November, which will provide the perfect opportunity for us to announce and honour our nominees and winners, amongst industry friends and colleagues.
After extensive research into each candidate, we believe the following 10 airline executives have been right in the thick of it, facing unprecedented challenges, quickly adapting to the new normal, and charting a new course for their organisations and the wider industry.
Colin Currie, President (Commercial) of Capital A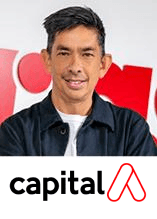 AirAsia used the downtime created by the pandemic to fast track its digital transformation with the mission of pivoting from being primarily an airline into an all-in-one digital company with close to 20 travel and lifestyle products and services creating the "airasia way of life". In line with this vision, the airline has introduced a number of initiatives, including numerous new products that provide more choice to customers and new revenue streams including the airasia super app, logistics, e-commerce, fintech, as well as new procedures and innovations such as biometric facial recognition which will not only create a more contactless travel experience, but will also uniquely support commerce ambitions going forward. Colin Currie was appointed Chief Commercial Officer, AirAsia and President & CEO, AirAsia Digital in November 2021 and has since worked towards developing a consumer-centric strategy using data to optimise growth and meet the financial objectives across AirAsia's airlines and digital units.
At the upcoming FTE APEX Asia Expo, AirAsia Malaysia's CEO Riad Asmat will deliver a key presentation on how the airline is transitioning into a digital travel and lifestyle company and revolutionising its commercial activities along the way.
David Hogarth, Chief Information Officer, Virgin Australia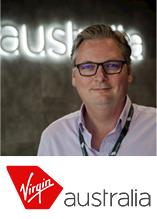 Since its re-launch after it exited voluntary administration in November 2020, Virgin Australia kickstarted a significant pipeline of technology programmes to deliver a more integrated experience for travellers and members of its Velocity Program. The airline is currently undergoing a significant transformation to both improve its guest experience and reduce costs, with technology investment being an important part of this. Virgin Australia has prioritised upgrades to internal and external digital interfaces and to commercial tools and platforms. Moreover, the airline's tech team has grown significantly in the past year by over 150 members, led by Chief Information Officer David Hogarth, who is focusing on overcoming legacy tech debt by introducing new microservices platforms, a new mobile app and a website.
Register for FTE APEX Asia Expo – free to attend >>
George Wang, Senior Vice President Information Technology, Singapore Airlines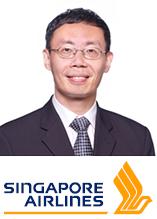 Singapore Airlines' open innovation strategy looks at both internal and external; strategy-led and ground-up. This starts with cultivating mindsets and encouraging co-innovation among employees from the inside-out, as well as looking outside SIA to solve business challenges, including start-ups, technology companies & research institutes.
Despite the crisis SIA had been facing, brought on by the COVID-19 pandemic and travelling demands plummeting, the group was committed to leveraging technology to emerge stronger from the crisis itself and also building long-term competitive edge and value. This includes solutions to enable a seamless travel experience such as a Travel Advisory Widget allowing travellers to check entry requirements into different countries, and the Healthcert Service Layer (HSL) to integrate digital health certificate verification and entry rule checks into digital platforms, allowing customers to still use self-service check-in.
SIA has incorporated automation and deployed AI to optimise operations & processes from crew rostering & on-board duties, aircraft planning & maintenance, flight planning, day-of-travel operations, global operation control and disruption management, all supported by a digital twin of real time operational data grid, enabled with AI-assisted decision-making.
Beyond flight, SIA developed the world first blockchain-enabled loyalty wallet to expand the use of KrisFlyer miles to different lifestyle products. SIA also digitised the inflight shopping catalogue to launch KrisShop.com, allowing customers to shop with SIA anytime, anywhere. In 2021, SIA was the first airline to offer an in-flight live e-shopping experience via KrisShop with startup AirFree, Thales, and Panasonic Avionics.
SIA has worked alongside research institutions including Agency for Science, Technology, and Research (A*STAR) and the National University of Singapore (NUS), launching the NUS Corporate Lab in 2022. Driving innovation in all areas of the industry, the labs focus on technology, sustainability, customer experience, baggage operations, and digital transformation.
Register for FTE APEX Asia Expo – free to attend >>
Nikhil Ravishankar, Chief Digital Officer, Air New Zealand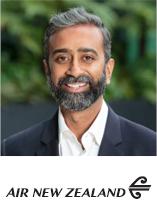 Air New Zealand has charted a course back to profitability, launching a five-year digital transformation plan it calls 'survive, revive, thrive'. Currently in the revive phase, the carrier is focused on growing its domestic network, optimising international routes, streamlining its fleet to more efficient and sustainable aircraft, launching new customer innovations and moving towards agile ways of working. Meanwhile, the carrier has also made progress on its long-term sustainability goals, announcing its 'Flight NZ0' programme to engage customers as it works towards achieving net zero carbon emissions by 2050. Moreover, earlier this year Air New Zealand unveiled the cabin designs for its new B787 Dreamliners, due to enter service in 2024, featuring the world's first sleep pods in the sky for Economy travellers. The carrier places big importance on investment in digital assets, focused on ensuring resiliency and optimising customer and employee experiences, which is why Air NZ's Chief Digital Officer Nikhil Ravishankar, is a worthy nominee in the FTE Airline Transformation Power List Asia-Pacific.
Register for FTE APEX Asia Expo – free to attend >>
Sammy Aramaki, Group Chief Information Officer (CIO), Director of Group IT Management, All Nippon Airways
In response to the pandemic, All Nippon Airways (ANA) launched a new service model called ANA Smart Travel to provide customers with a smooth and stress-free travel experience. The new service model enables passengers to use their smartphones throughout their journey, which consequently aims to improve convenience and promote contactless travel. Meanwhile, the airline aims to strengthen its response to individual needs by introducing inflight meals for pre-order on international flights. Through these efforts, ANA aims to improve customer experience value, while strengthening its competitiveness and pursuing business efficiencies at the same time. This year, ANA is focusing on scaling up its super app, moving away from the aviation business only and expanding non-aviation revenue covering services, such as ground transportation, local experience, shopping and payment. As Group CIO, Director of Group IT Management, Hidetomo Aramaki will no doubt be instrumental in driving the airline's super app journey.
Under the theme of "Transforming Tomorrow's Journey", FTE APEX Asia Expo brings together an impressive line-up of speakers from the likes of All Nippon Airways, Changi Airport Group, Trip.com Group, SITA, Star Alliance, SriLankan Airlines, Cebu Pacific Air, Lion Air, Pangiam, AirAsia Malaysia, AWS, Narita International Airport Corporation, and many more, who will share ideas and new strategies for improving efficiency, operations, customer experiences, sustainability and revenues.
Lawrence Fong, Director Digital and IT, Cathay Pacific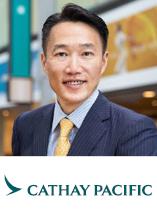 Cathay Pacific is continuously pursuing the development of new technologies that enable it to give customers more choice and control over their journeys, whether on the ground, in the air or on digital channels. In recent years, this has included the introduction of AI chatbots that enable passengers and cargo customers to receive immediate responses to their queries, ranging from checking flight status to booking changes and online shopping. During the pandemic, the airline launched an intuitive booking platform, contactless boarding, and high-speed Wi-Fi on all Airbus A350 and A321neo aircraft, which will be followed by a progressive Wi-Fi roll-out on its Boeing 777 and Airbus A330 fleet. Recently, the carrier launched an advanced conversational artificial intelligence (AI) platform to enhance customers' digital experience. Moreover, Cathay Pacific is undergoing a significant transformation into a premium lifestyle brand under its "Cathay Elevated" programme. Cathay is enhancing its digital experience, from its curated website to the Cathay mobile app, enabling members to access their membership card, earn and redeem Asia Miles, accrue Status Points, as well as access the latest unique offerings all in one place. New members can sign up to Cathay through a simplified process with no joining fee and immediately access a range of member benefits and rewards through these digital platforms. Lawrence Fong leads the company's IT and digital functions as Director Digital and IT. Lawrence's portfolio collaborates with all departments across the company to drive its digital leadership strategy and elevate its focus on digital and IT transformation.
Register for FTE APEX Asia Expo – free to attend >>
Markus Cohnen, Head of Digital & Transformation, Qantas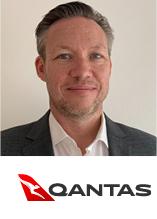 The Qantas Group is focusing on investment in digital and data capability, with the aim to create a better experience for customers through personalisation, driving new efficiencies into operations, and broadening the Group's earnings base beyond the core aviation business. Among the initiatives driving this mission forward include: using advanced analytics to increase fuel efficiency through 4D flight planning, and to resolve passenger disruptions more rapidly; investing in a booking, travel, and customer support experience that is digitally enabled from end to end, and capable of customisation along the way; launching new digitally-led businesses in health, financial services and retail that provide new avenues for growth; continuing to explore new frontiers using big data and technology like Perth-London and Project Sunrise; investing in early and growth stage technology companies that can leverage the Qantas Group's global footprint, expertise and unique assets to scale; and building coordinated enterprise-wide data security and privacy strategies and frameworks to ensure the airline continues to provide appropriate safeguards for the data it manages. Markus Cohnen was appointed Head of Digital & Transformation at Qantas only in spring this year, however, he is already successfully leading the digital transformation journey and defining the roadmap for digital products across the Qantas Group.
Register for FTE APEX Asia Expo – free to attend >>
Vinod Bhat, Chief Information Officer (CIO), Vistara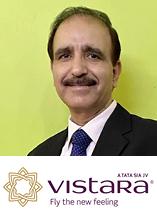 Vistara has been embracing digitisation to offer a superior flying experience to its customers. Leading these efforts is Chief Information Officer (CIO) Vinod Bhat, who is focusing on driving three broad objectives – elevating the passenger and staff experiences further by leveraging digital technologies across the value chain; improving operational excellence through automation interventions and processes; and enabling transformation in the IT infrastructure by delivering improvements across platforms and tools. The pandemic has fast-tracked Vistara's digital transformation journey. From the onset, the airline introduced several tech-enabled processes to minimise physical contact between customers and staff, including touchless solutions such as self-tagging, self-baggage drop, self-boarding, e-gates, e-boarding passes and Scan-N-Fly technology. Meanwhile, Vistara is also working closely with the Indian government to accelerate the biometric DigiYatra programme. Vistara has also embarked on 'Data-First, Digital-First' strategy for digitisation and digitalisation across the value chain. To ensure seamless customer experience and operations, the airline relies on AI/ML based data analytics and insights technologies for a multitude of processes – website/mobile application, passenger marketing campaigns, route/revenue KPIs and predictive maintenance. Moreover, Vistara is one of a few airlines in the world to have 100% cloud-based IT infrastructure that helps create better resilience and adaptability. Bhat joined the company in 2021 at a crucial time as it enters a phase of ambitious growth. He brings to the table a wealth of knowledge in several areas that are critical for digital and business transformations in addition to enhancing the overall operational excellence.
Register for FTE APEX Asia Expo – free to attend >>
Neetan Chopra, Chief Digital and Information Officer, IndiGo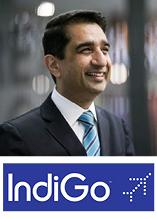 Responding to the ever-growing challenges and opportunities in the areas of customer experience, revenue maximisation and costs reduction through increased productivity and optimisation techniques, India's largest passenger airline, IndiGo, has commenced several aligned digital initiatives. IndiGo has crafted a clear strategy and blueprint for its digital transformation journey to be future-ready. Beginning with the combination of the separate IT and Digital teams into one entity under the leadership of Neetan Chopra, Chief Digital and Information Officer. IndiGo Digital existing teams have been augmented with top talent, to drive digital at pace. Further, a customer data platform (CDP) start-up has been engaged to build IndiGo's next generation intelligent customer data hub. Rapid experimentation has commenced on how IndiGo's assets, its data, and the trust it engenders in millions of customers, can be leveraged to build multiple digital marketplaces, yielding new revenue streams. Innovations such as IndiGo's homegrown digital solutions for airport passenger services, has successfully undergone trials at some airports and a broader rollout is being planned. Several initiatives are underway to improve IndiGo's digital channels including forming new agile squads to deliver the website and app features in rapid sprints, reworking the underpinning technology architecture and the user experience design. Efforts are also underway to digitise the operational data that can result in operational efficiencies through productivity enhancement and process optimisation. Neetan Chopra joined IndiGo in the newly created role of a CDIO in January 2022 to provide vision and leadership for developing and implementing information technology and digitalisation initiatives as an integral part of IndiGo's business strategy. Chopra is spearheading the digitisation of IndiGo's operations in order to improve cost effectiveness, service quality, customer centricity and analytical capability, as well as drive the co-creation of new digital business models with internal and external partners and the larger technology ecosystem.
Register for FTE APEX Asia Expo – free to attend >>
Kenneth Chang, Executive Vice President, CMO (Marketing & IT Division), Korean Air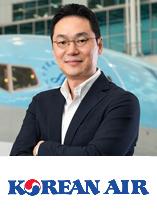 As the national carrier to one of the world's most digitally connected countries, Korean Air is spearheading its digital transformation journey. Most notably, Korean Air completed the largest IT modernisation project in its 52-year history, becoming the first major carrier to completely switch to Amazon Web Services (AWS) cloud. The airline is using AWS cloud capabilities to strengthen innovation and improve customer experience, giving the company a competitive edge in the post-COVID era. The IT system migration has enabled the airline to respond actively and flexibly to the changing market, including strict quarantine measures and increasing demand for contactless services during travel due to the COVID-19 pandemic. Korean Air upgraded its entire system to incorporate the required cloud technology and data to increase operational efficiency and innovate customer service. Korean Air is also working towards introducing a machine learning management service, which will allow the airline to create, train and apply machine learning models to improve customer service by forecasting passenger and cargo demand more accurately. The cloud will also help to enable the airline to better estimate flight delays due to weather conditions and predict aircraft maintenance time. To build a culture of cloud innovation, Korean Air introduced the AWS Innovation Builder Program during its cloud migration to give employees the right skill sets to become data- and customer-centric and create a cloud-first culture. As part of this company-wide effort, Korean Air equipped 500 employees with basic cloud technology skills and brought the business and technology teams together to validate new ideas with speed and agility using AWS. As the main force behind Korean Air's digital transformation, we recognise Kenneth Chang, Executive Vice President, CMO (Marketing & IT Division) in the FTE Power List.
Register for FTE APEX Asia Expo – free to attend >>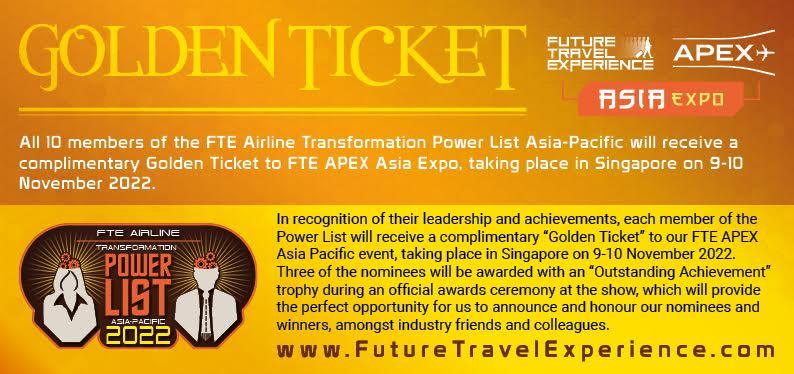 Stay tuned for the FTE Airport Transformation Power List Asia-Pacific, which will be unveiled next week.