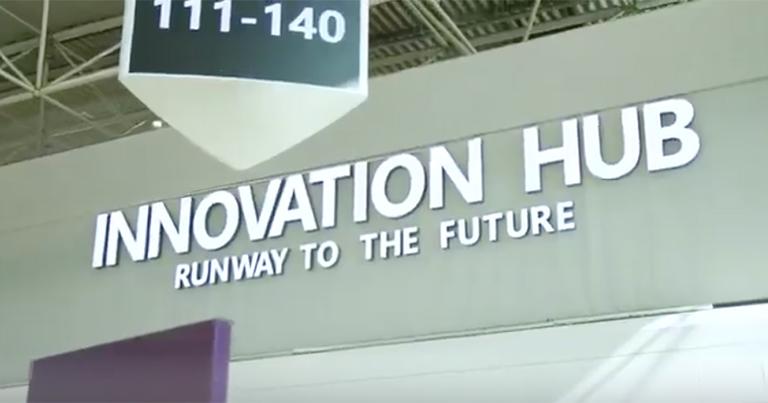 Aeroporti di Roma has officially launched its 650 sqm Innovation Hub, located inside Rome Fiumicino Leonardo da Vinci International Airport's Terminal One.
The Innovation Hub acts as a business accelerator, focusing on the development of innovative solutions for airports. The Hub will host startups from Italy and around the world, who will benefit from both ADR's direct investment and the full support of a special in-house team of 30 innovators, dubbed the "Innovation Cabin Crew", who will help the startups test their solutions, working closely with experts and passengers. The acceleration period within the airport, amounting to six months on average, will enable startups to finalise their projects, help bring them to market and exploit the international "Airports for Innovation" network of which ADR is a member, alongside Aena and the airports of Athens and Nice.
"Leonardo Da Vinci has firmly established itself as an airport that delivers operational excellence. As a result, our new challenge is to play an active role in designing the airport of the future, helping to drive the sector's digital and green transition," said Marco Troncone, Chief Executive Officer of Aeroporti di Roma. "Innovation is an essential aspect of our approach to providing quality services, to sustainability and to safety, playing a key part in enabling us to implement our business strategy. The Hub is a major testimony to our vision, involving significant investment in innovation-related initiatives. We aim to partner with leading international startups and support contamination at all levels of the business, spreading an innovation culture and encouraging our people to be creative."
ADR's innovation programme, which involves a €50m investment, took shape around a year ago with the launch of the first Call for Ideas. This aimed to identify startups from across the world interested in using Fiumicino to develop their solutions in six areas of airport operation: improving punctuality; data-driven systems; process automation; energy efficiency; the passenger digital experience; and omnichannel commerce.
The Call for Ideas attracted interest from approximately 530 startups from around the world, with 96 (62 from Italy and 34 from abroad) submitting an application. Ten startups were selected at the end of the first Call with a further three companies added by ADR.
The projects being developed at Fiumicino include both advanced robotics solutions – with "machines" capable of activating themselves when areas of the airport need cleaning, delivering food and beverages to travellers or transporting passengers with reduced mobility in total comfort – and process innovations able to boost, and some cases revolutionise, the efficiency of certain airport operations such as security checks, aircraft turnaround, baggage transport and reclaim and airport wayfinding.
All startup projects were presented during the official opening of the Innovation Hub on Monday, 17 October, attended by the Chief Executive Officer of Edizione, Enrico Laghi; the Chairman of Atlantia, Giampiero Massolo; and the Chairman and the Chief Executive Officer of Aeroporti di Roma, Claudio De Vincenti and Marco Troncone.
The second stage of the Innovation Hub's acceleration programme will commence with a new Call for Ideas to be launched by the end of November this year.