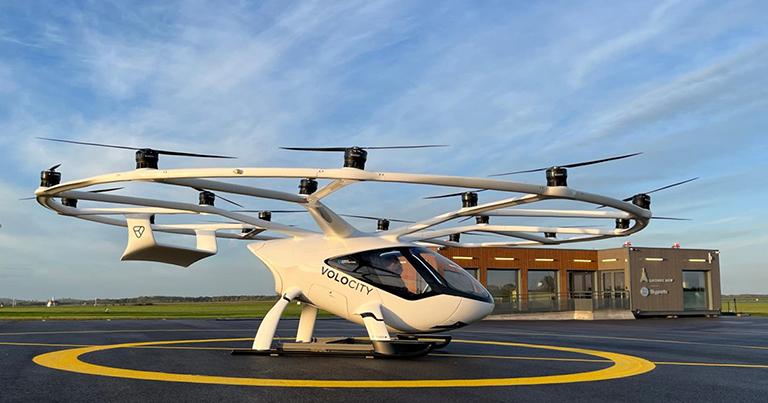 Groupe ADP and Skyports have unveiled the passenger terminal testbed for future electric vertical take-off and landing (eVTOL) at Pontoise-Cormeilles airfield in Paris.
The vertiport brings together key technical components for future electric aircraft, including take-off and landing areas, passenger terminal, maintenance hangar and control areas.
"In Pontoise, we are taking a new decisive step in the development of electric air mobility," said Augustin de Romanet, Chairman and CEO, Groupe ADP. "The passenger terminal marks the final stage in the development of the Pontoise testbed and the completion of a Volocopter flight fully integrated into the airfield's airspace is the epitome of a year of very ambitious test campaigns. We are now looking ahead to 2024: the development of all uses, sanitary and logistics."
Inauguration of the new terminal means the full passenger journey, as close as possible to the configuration expected in 2024, can now be tested – from accessing the terminal through to boarding the aircraft. It will be used as a testbed to prepare the experimentation planned for 2024 and the upcoming launch of passenger services. Tests will include:
Passenger journey: security and check-in processes, passenger dwell time, and aircraft boarding.
Vehicle integration, ground movement procedures, and charging operations.
Flight schedulingand passenger information.
"The Pontoise-Cormeilles terminal is a physical demonstration of the fact that innovation won't occur in isolation; it requires collaboration from a multitude of area experts, including operators, vehicle manufacturers, and technology developers, each of which have an important role to play in achieving the ultimate objective of commercial AAM services," said Duncan Walker, CEO, Skyports. "With the completion of the terminal, we will now begin comprehensive testing of procedures and technologies in a realistic aviation environment, creating a space for Skyports and consortium partners to accelerate the industry."
The 115sqm vertiport has been designed to provide a comfortable passenger experience with fast throughput, while having the smallest footprint possible.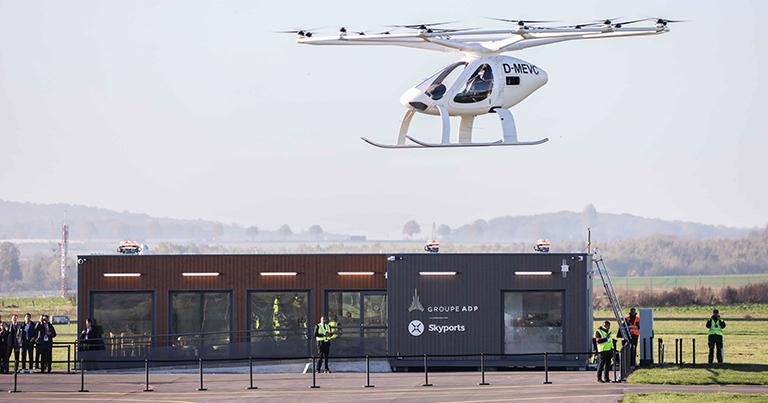 The inauguration event marked the culmination of 12 months of testing at Pontoise-Cormeilles airfield and was completed with a live test flight by Volocopter integrated into conventional airspace, in cohabitation with another aircraft, demonstrating the interaction between ground infrastructure and eVTOL aircraft.
"Introducing a new kind of mobility like UAM can only be done successfully with a closely knit, yet open ecosystem," said Dirk Hoke, CEO, Volocopter. "The testbed at Pontoise-Cormeilles is a stellar example of ecosystem partners collaborating to accelerate the realisation of UAM. We can test processes, integrate new and old systems, and simulate different operational scenarios to create trust and positive awareness of all stakeholders. Together, we will succeed in providing an additional emission-free transport for the public. Every test is one step closer to commercialisation in time for 2024."