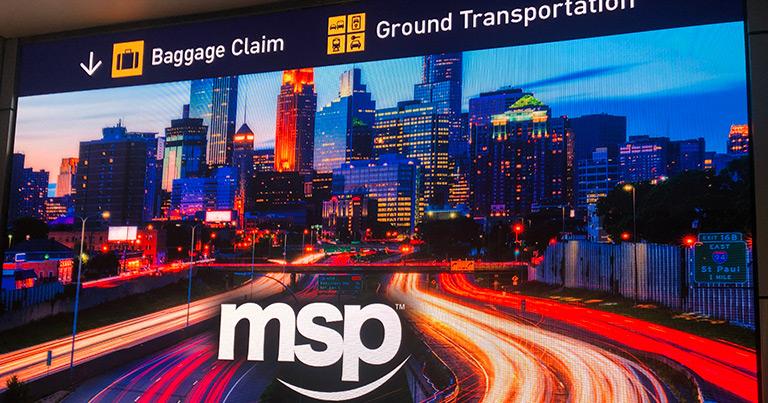 Minneapolis-St. Paul International Airport (MSP) has added four new DVLED displays from LG Business Solutions to its digital display network as part of a multi-year airport renovation that aims to improve and modernise the air travel experience.
The large direct-view LED displays, which are mounted above the North and South Exit escalators, provide bright, eye-catching canvasses for the airport administration and advertisers to communicate their messaging to arriving and departing travellers.
"Digital displays allow us to maximise the use of overhead space at our exit escalators, which was previously used to hang printed messages," said Eduardo Valencia, Chief Information Officer for the Metropolitan Airports Commission that manages MSP and several regional airports. "We now can schedule and convey important information and offer local businesses a big, bright, bold way to get their messaging in front of visitors."
Each escalator area now includes a large 2.9mm pixel pitch DVLED display mounted above a smaller ticker-type display with a 2.5mm pixel pitch. The huge South Exit main display is vertically oriented, standing at 14.75 feet wide and more than 21.3 feet tall, while the North Exit main display is mounted in landscape orientation and measures 14.75 feet wide and 8.2 feet tall. Both of the main displays utilise LG's DVLED half cabinets, which allow designers to maximise the size of a display in locations where an extra full DVLED cabinet won't fit.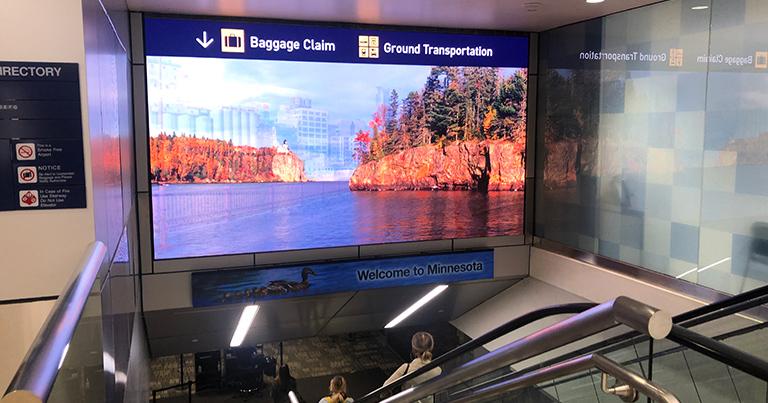 The new personalised digital signage controller (Radiant Technology Group) empowers MSP and authorised end users to create automated daily content schedules and deploy new graphics immediately through a single click. The airport's digital signage network syncs real-time data to present updated information such as new arrival times, without requiring any human interaction or manual trigger.
"The airport's digital display network used to have numerous different brands of displays and content management systems that each required individual maintenance and labour-intensive content updates," Valencia explained. "One of our core goals during the renovation was to simplify and standardise as many aspects as possible, from maintenance to content creation. For seamless continuity across our digital signage network, we used single suppliers for displays (LG) and content management (Omnivex)."