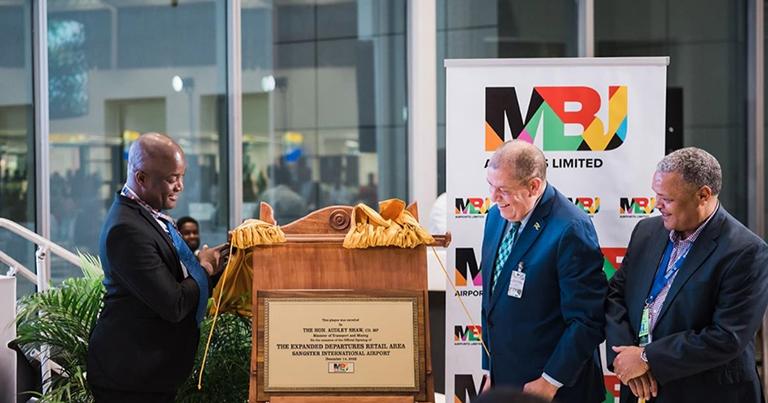 Jamaica's Sangster International Airport, operated by MBJ Airports Limited, has opened its newly-expanded departures area. The new design seamlessly blends creative architectural design with commercial drivers by enhancing natural light and increasing circulation space and seating for passengers.
Meanwhile, the new retail programme features a defined sense of place. Redevelopment of the 4,000sqm departures area includes a 1,300sqm walkthrough duty free store operated by Dufry. This strategic design has created a functional layout of the entire retail programme, providing clear sightlines and footfall to the broader retail offering.
"Airports worldwide have been forced to assess their strategic outlook given the impact of the global pandemic," said Shane Munroe, CEO, MBJ Airports Limited. "Early lessons taught us at MBJ that we needed to continue responding to the crisis with agility, innovation and a passenger-centric focus into the future. I am truly proud of the entire team that has worked to make this vision a reality and we will be pursuing transformational changes that are equally passenger-focused and operationally impactful, futureproofing MBJ's continued recovery. The completion of this work is one step as we work towards our vision of being a leading tourism destination airport, exceeding the expectations of our passengers, while being uniquely Jamaican."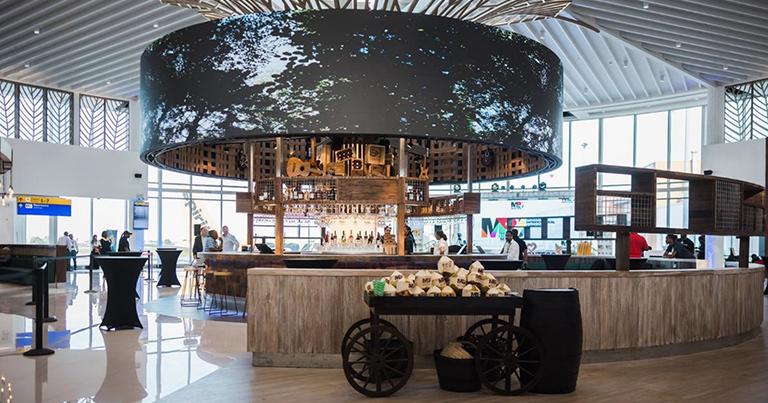 A 12m-high rotunda double-height space, with a floor-to-ceiling curtain wall, creates the focal point of the newly-developed food court. Highlighting the food court is a palm-tree inspired bar with wraparound LED screens and the Bob Marley One Love Restaurant, currently exclusive to Sangster International Airport and with a scheduled opening date of February 2023.
"Every step of the customer journey on arrival and departure is an opportunity to win the heart of a visitor so that they will choose to visit Jamaica over and over again," Munroe added. "We want our passengers to develop an emotional connection to our country and by extension, Sangster International Airport, creating wow experiences at each step of the journey that will draw them back to Jamaica. Our intention with facilities such as this departures area is to do just that, win their hearts, and have them remember why they must visit this beautiful country once more."