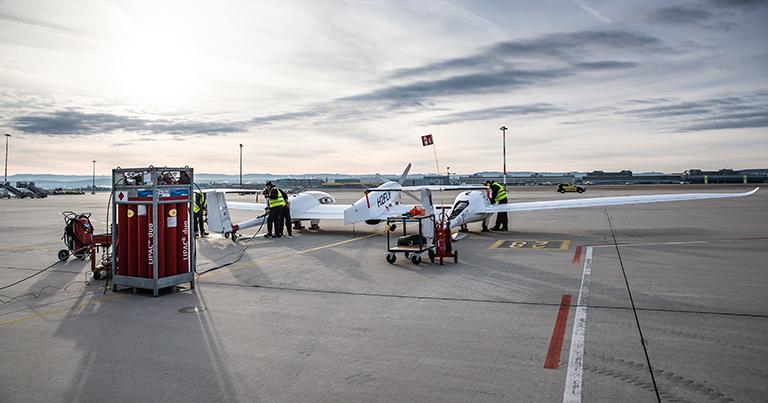 A new Hydrogen Aviation Center is to be built at Stuttgart Airport in a joint project with H2FLY, which specialises in the development of hydrogen fuel cell systems for aircraft. The purpose-built facility will enable businesses and scientific institutes to develop state-of-the-art concepts in zero-emission hydrogen-electric aviation, and then test them on the ground and in the air within the airport environment.
"We've been supporting research into the use of hydrogen in aviation for many years," says Walter Schoefer, CEO, Flughafen Stuttgart GmbH. "The Hydrogen Aviation Center at Stuttgart Airport is an important stage on the road to zero-emission flying. Aviation urgently needs new answers to climate change. The Center of Excellence for Hydrogen in Aviation combines world-class science with a pioneering spirit, and will make important contributions to the future of flying."
The core of the Hydrogen Aviation Center will comprise a hangar with test stands, workshops, and an integration environment for the installation and adaptation of zero-emission aircraft propulsion systems and workstations, as well as an outdoor area where hydrogen technologies can be tested in aircraft demonstrators. This infrastructure will enable the development of megawatt-scale components and subsystems, along with the integration and test operation of hydrogen-electric powertrains.
These technological developments require close collaboration between a wide range of commercial companies and scientific institutes, with interested organisations invited to utilise the facilities. Scheduled to open in late 2024, the Hydrogen Aviation Center will become the hub of these collaborations.
"With the Hydrogen Aviation Center, H2FLY will create a focal point for the entire ecosystem of emission-free, hydrogen-electric flight," explains Professor Josef Kallo, co-founder and CEO, H2FLY. "Developments and applications in the field of commercial, hydrogen-electric aviation will thus be significantly advanced and collaboration with various partners will be pooled. I am delighted that we can implement this groundbreaking, innovative project in partnership with Stuttgart Airport and with the support of the government of Baden-Württemberg."