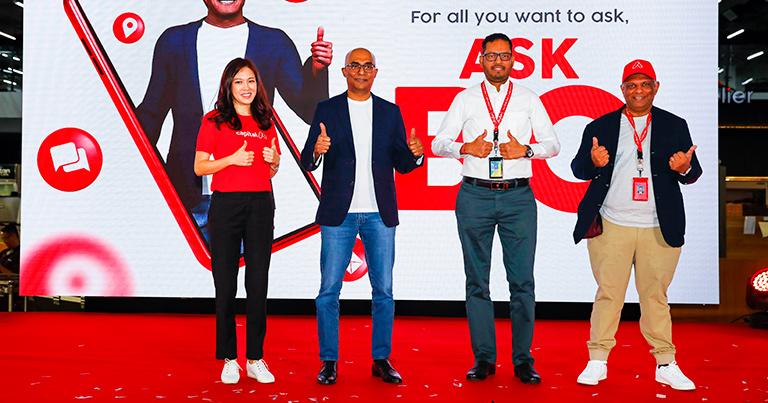 Capital A, parent company of AirAsia, has introduced a new chatbot, 'Ask Bo', with enhanced artificial intelligence (AI) and machine learning (ML) capabilities. The launch is part of Capital A's strategy to deliver transparent communications and better customer experience for all travellers.
'Ask Bo' replaces 'AirAsia Virtual Allstar AVA', previously the first port of call for queries and complaints since 2019.
"Our guests have spoken, and we are listening and learning," said Tony Fernandes, CEO, Capital A. "We felt their frustration towards our first AI chatbot – AVA – which was always a work in progress. We recognise she fell short of people's expectations and we want to do better. We thank AVA for her achievements in handling more than 113 million guests since 2019, and handling over 43 million queries in 2020 at the peak of Covid. Given the size of the airline that AirAsia is, with thousands of refunds and flight change requests, humans alone cannot cope, we have to also use technology. We learned through AVA how to use artificial intelligence to answer complex and sizable queries better and faster. Over the last eight months, the customer experience team have zeroed in on what our guests need and want, what their top complaints are, and today we are happy to introduce Ask Bo, named after our airline Group CEO Bo Lingam. He has been at my side for the past 21 years and is the go-to person with all answers to our Group's airline questions."
Bo Lingam, Group CEO, AirAsia Aviation Group, commented: "I am happy to put my name and my face for this new and enhanced version of our customer concierge service, that promises to be more proactive and attentive. Lower fares doesn't mean lower service quality and it is very important to us that our guests feel cared for when they choose to fly with us, for the best fares and the best customer experience. The buck stops with me. Ask Bo will make the customer journey easier, simpler, and more informative."
In a bid to be more open and transparent, Capital A will reveal live information on on-time performance, as well as baggage handling information, on its website and its Super App. It has also vowed to continue to review feedback from various perspectives across the Group, support cross departmental collaboration and adoption of customer experience programmes into different business entities, while ensuring that leaders lend their full support in the successful implementation of CX enhancement initiatives.
"Many new exciting features are being added to Ask Bo – he will be able to provide live updates on flight status (delays, departures) and/or changes and boarding information, in more languages including English, Chinese, Bahasa (BM, Indonesian), Thai, Japanese, Korean and Vietnamese," said Kesavan Sivanandam, Chief Airport and Customer Experience Officer, AirAsia Aviation Group. "He will send push notifications on any last-minute changes on the day of operations, and give baggage information (tracking, arrival belt, mishandled baggage reports) and report real-time automatic updates of departure timings into the electronic boarding pass for our guests' peace of mind. Our guests will have more autonomy– they will be able to change flights, request refunds, choose Service recovery options. By March, our guests will also be able to talk live to our human agents, during the Ask Bo interaction. We will continue to innovate to ensure the highest standards of customer care in all that we do to best meet our guests' requirements."