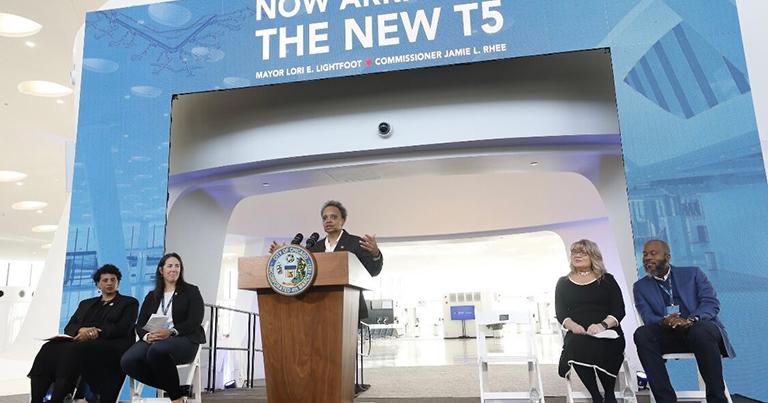 Chicago O'Hare International Airport has opened the new eastern extension of Terminal 5, as part of a $1.3 billion, four-year investment to expand and modernise the gateway.
"O'Hare is a significant economic engine for our entire region and the first impression of Chicago for millions of visitors every year," said Mayor Lori E. Lightfoot. "That's why we are especially proud to cut the ribbon to this expanded, modernised Terminal 5, which represents a major milestone in O'Hare's curb-to-gate transformation into one of the great airports of the 21st century under the O'Hare 21 capital improvement programme."
The project increases the terminal's capacity by 25% to improve efficiency and reduce delays. Passenger amenity space has increased by 75%, with the existing building expanded by approximately 350,000 square feet, with additional renovations to 750,000 square feet of the existing structure.
"With new gates, increased passenger amenities, a more efficient baggage handling system, and expanded security checkpoints and customs facilities, the state-of-the-art Terminal 5 of today is equipped to handle the growing demand we expect O'Hare to see in the coming years while offering an improved passenger experience," said Jamie L. Rhee, Commissioner, Chicago Department of Aviation. "These crucial infrastructure investments will ensure that O'Hare maintains the capacity it needs to move forward with other O'Hare 21 work with minimal impact to operations."