Startup low-cost airline Bonza launched operations last week, with ambitious plans to disrupt the Australian domestic market. Ahead of his Special Keynote at the co-located FTE EMEA/FTE Ancillary & Retailing 2023, taking place in Dublin on 23-25 May, Manish Raniga, CEO of Airline Investments, 777 Partners (owner of Bonza), explains the airline's digitally-native and customer-centric strategy, and the innovative tech it will utilise to help transform the passenger experience.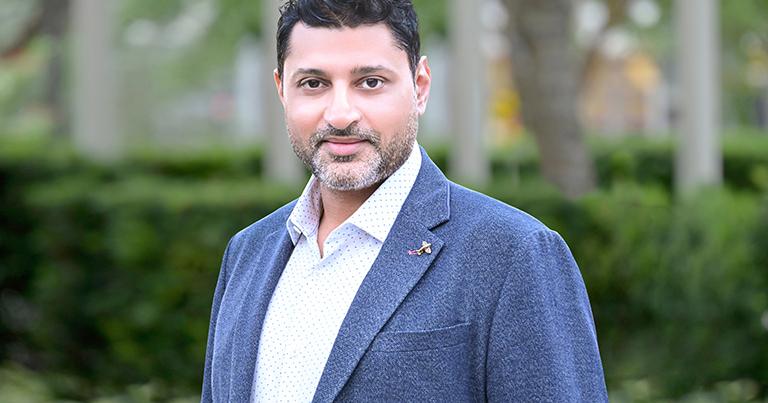 Bonza launched operations with its inaugural service from its base at Sunshine Coast Airport to the Whitsunday Coast. Its initial route map has 17 destinations and 27 routes – all of which are regional with the exception of Melbourne. 93% of Bonza routes are not currently served by any airline, and 96% are not currently served by a low-cost carrier.
"What excites me about Bonza is the core elements of an ultra-low-cost operation, while being customer-centric and offering a value-based product and service," says Raniga. "You can be focused on cost and customers at the same time!"
The route network provides direct connectivity to markets that are currently accessed through a stopover at major cities. "Our business model affords low fares to stimulate and create new demand, encouraging Australians to explore more of their own backyard," Raniga explains. "In addition to Bonza's unique route map, our app-first strategy is an industry-first both globally and in Australia."
"An all-encompassing travel retail brand that happens to operate aircraft"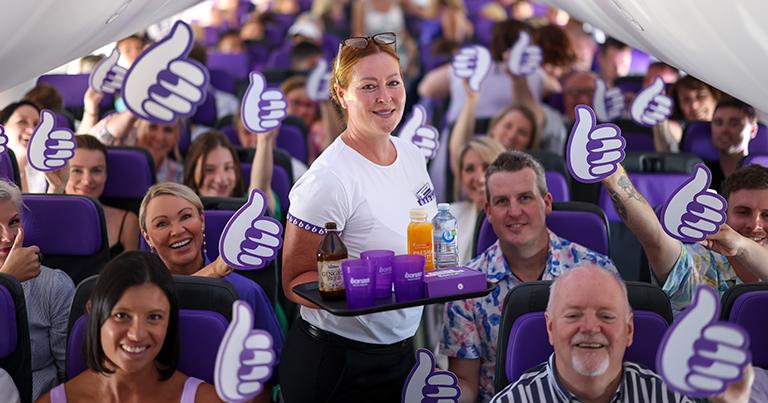 As a digitally-native and customer-centric ultra-low-cost carrier, Bonza is effectively a digital marketplace with wings. "Our collective ambition from the get-go was to be an e-commerce company of choice – in a nutshell, an all-encompassing travel retail brand that happens to operate aircraft," says Raniga. "Our travel technology teams work in collaboration with Bonza to build the digital platform focused on connecting partners as a central design goal and travel retailing over time. We're at the beginning of that journey, but naturally will retail the right products, at the right time, merchandised in a relevant way."
Bonza is also entering into hyper-localised partnerships that bring the best of all things Australian to the digital marketplace, creating sales and distribution opportunities to aspiring businesses that align with its brand and vision. "Proof of this is Bonza's all-Aussie menu, where small to medium-sized businesses are reaching new markets by selling their products onboard via the Fly Bonza app."
Elaborating on the innovative tech that will Bonza utilise to help transform the passenger experience, Raniga explains that most airlines are shackled to legacy systems that hinder their ability to create innovative digital experiences through the customer journey. "There are lots of reasons for this, some innate to the complexity of airline business models, but others very much focused on underlying technology and architecture."
Bonza is app-based and underpinned by a next-generation Order Management System, giving flexibility and agility. "This system is a collaboration between our talented engineering teams and Bonza as part of our new 'GO7' technology brand and associated travel suite," says Raniga. "At the highest level it enables them to curate their own experiences, provide relevant recommendations, enable expanded payment solutions through digital wallets, and onboard content, retailing and entertainment that is fully integrated and available through the mobile app."
"App and digital strategy at heart of our proposition"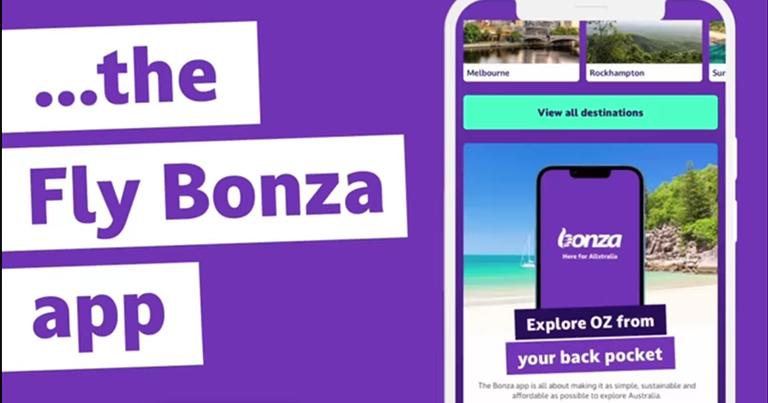 The airline is utilising the Fly Bonza app before travel and inflight to engage with passengers. Before travel, customers can find destination information and over time the airline will integrate inspirational content from tourism boards and influencers. Onboard, the service experience has been reimagined with no traditional trolley service and customers order from the all-Aussie menu through the app and have their purchases delivered directly to their seats.
"The app and digital strategy are at the heart of our proposition," Raniga explains. "It's not an 'add on' but a central part of the Bonza brand experience, helping us be closer to customers and drive the commercial and customer metrics that matter."
It's early days, but so far Bonza has seen travellers embrace the app-first approach. "The Fly Bonza app is number one in Google – beating many renowned free apps, such as WhatsApp and TikTok – and number one in the iOS travel store," Raniga adds. "260,000 customers have downloaded the app in less than two weeks (of being on sale) and 99% of our bookings are direct through the app. Customers are responding incredibly well."
Sophisticated, technologically-advanced aircraft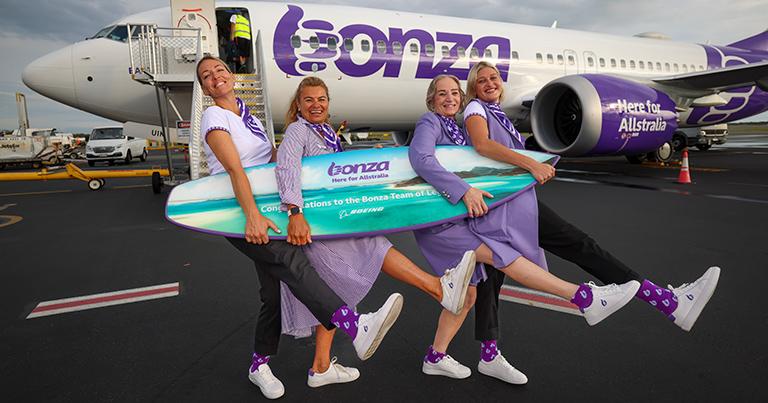 Bonza has a fleet of brand-new Boeing 737-MAX 8 aircraft – one of the world's most sophisticated and technologically-advanced aircraft that has 20% less fuel burn than a 737NG or A320CEO. "This is important to us from both a sustainability and cost perspective, as the fleet's fuel efficiency means savings are passed on to customers," says Raniga. "The MAX contains over 800 sensors, enabling airline operations to be fully digitalised through countless streams of data and insights into aircraft and operational performance. The cabin contains slimline lightweight seats that are comfortable and spacious, yet we have 186 seats onboard!"
Each aircraft has a local network for onboard inflight streaming and retailing, and in-seat USB and international charging points. Indeed, Raniga reports that customers are feeding back really positively about the onboard experience. "We have been thrilled with the response from our first flight on 31 January. The reviews speak for themselves when it comes to the onboard experience and the app. Now, we focus on earning the right to grow by delivering on our promise to Aussie travellers."