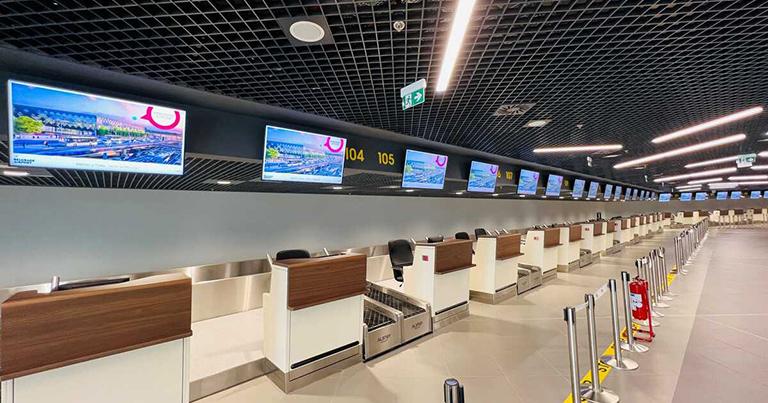 VINCI Airports has opened a new phase of the modernisation and expansion project at Belgrade Airport. The new central processing building improves passenger experience and provides a more efficient flow at check-in, security, and passport control. Ongoing major works will be fully delivered by the end of the year.
The newly-built central section of the terminal comprises more than 11,000sqm connected to the other terminal facilities. It improves passenger processing with two important upgrades to flow management:
New check-in counters 100 and 200 (201-212) are now placed on the ground floor of the newly-built central section of the terminal.
First security, then passport control, is now conducted on the first floor, prior to boarding.
The new central section is delivered according to VINCI Airports' standards in terms of design, materials, colour palettes, signage and information system, furniture and other elements. It also features VINCI Airports' commitment to sense-of-place, with a large glass façade displaying the airport name and decorated with traditional ornaments.
In addition to these works, other major upgrades are moving forward in the area after passport and security control to create a new duty free area of almost 3,000sqm, and a large central square with a variety of new food & beverage and commercial facilities. Works on reconstructing and adapting over 16,000sqm of the existing terminal section are also planned in the course of 2023.
These upgrades are part of VINCI Airports' ambitious €732 million extension and modernisation project for Belgrade Airport over the whole concession period.
Completion of all key works related to the concession project is expected in the course of 2023, enabling Belgrade Airport to reach a total capacity of 15 million passengers per year by the end of the concession period.