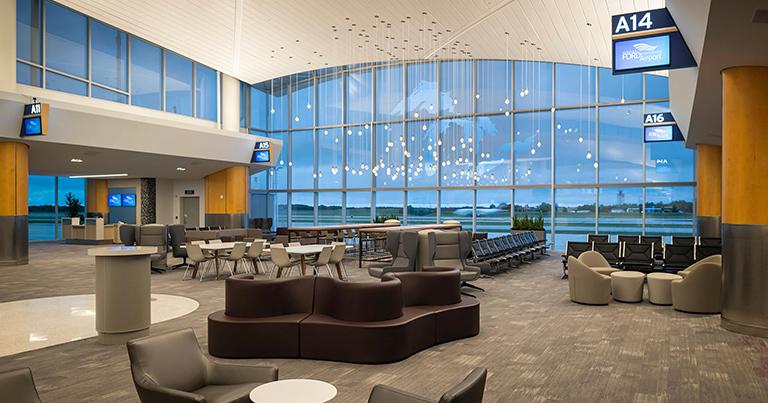 Gerald R. Ford International Airport has completed Phase 1 of its newly-expanded Concourse A – part of a $110 million project to accommodate passenger growth.
This includes eight new gates for a total of 14, expanded gate space areas to accommodate larger size aircraft, new concession and retail concepts, a greater variety of seating options, and a new companion care restroom with an adult changing table.
The expansion is part of the ELEVATE programme, which is designating more than $500 million in critical infrastructure investments to improve the guest experience while positioning the airport for continued growth.
"We are delighted to celebrate this significant milestone in the monumental transformation of our state-of-the-art Concourse A," said Tory Richardson, President and CEO, Gerald R. Ford International Airport Authority. "This investment positions us for our anticipated passenger growth trajectory for the next two decades – and ensures we continue to deliver a world-class experience as West Michigan's gateway to the world."
The airport will now transition to Phase 2 of the project, which will close the gates of the existing portion of Concourse A to undergo widening and renovations, add a second-level executive lounge and additional amenities for passengers. It is expected Phase 2 will be completed in 2024.
"The airport is the first view guests see when they come into town and the last moment they'll remember when they leave so we worked hard to create a concourse that reflects the spirit of our community coupled with the hospitality we're known for," Richardson added.