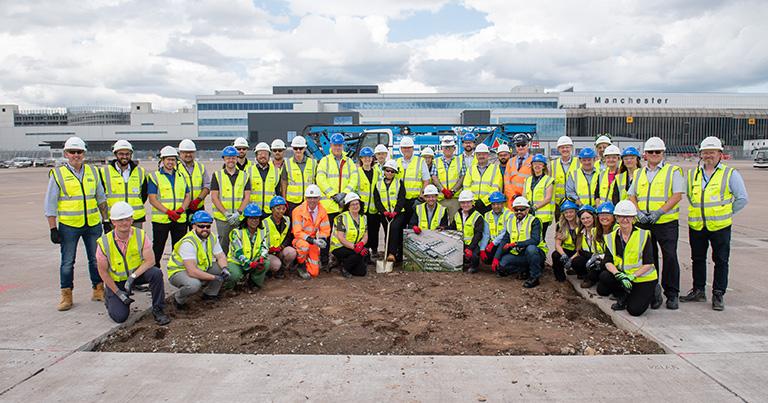 Manchester Airport has started work on the next major phase of its £1.3 billion Transformation Programme, which includes construction of a new pier that will connect to Terminal 2.
The pier is the most significant new structure being built in the second and final phase of the Manchester Airport Transformation Programme (MAN-TP), first announced in 2015 with a 10-year vision to revolutionise the passenger experience.
The new pier will mirror Terminal 2's Pier 1, which opened in 2019, and will provide 12 new spacious boarding gates and flexible aircraft stands for next-generation aircraft.
"We are pleased to be beginning work on what is a major milestone in our transformation of Manchester Airport," said Ken O'Toole, Deputy CEO, Manchester Airports Group. "Our £1.3 billion Transformation Programme is the largest investment ever made in Manchester Airport, and will create thousands of jobs, revolutionise the customer experience and ensure we connect the North to even more global destinations in the years ahead. We are already seeing the benefits of the first phase of our investment, with passengers and airlines providing excellent feedback on our extended Terminal 2. Through this second phase, we will deliver yet more improvements to the passenger experience and cater for the growing network of airlines operating from Manchester. As we break ground on this pier, I look forward to seeing the project progress to its conclusion in 2025, cementing Manchester's role as the UK's global gateway in the North."
The first phase saw Terminal 2 more than double in size and the second phase will see the original building upgraded with a second security hall and a new-look, extended departure lounge, along with reconfigurations of the airfield to make operations more efficient.
Upon completion in 2025, around 80% of all passengers will use the expanded Terminal 2, which will also feature 27 new shops, bars and restaurants, including a high-street style shopping area, a champagne bar and a food hall.
"The new pier will future-proof Terminal 2 by offering extra capacity and ensuring we are equipped to flexibly deal with all types of aircraft," said Jill Fraser, Transformation Programme Delivery Director, Manchester Airport. "This work forms part of a much wider programme, which will ensure passengers travelling through Manchester Airport will have an experience befitting a major global hub and allow us to operate in a sustainable way into the future."