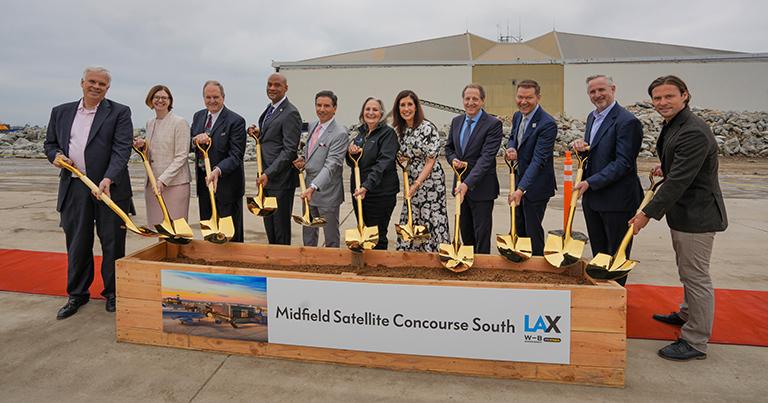 Los Angeles World Airports (LAWA) – host of FTE Global (19-21 September 2023) – has begun the next phase of the multi-billion-dollar Capital Improvement Program at Los Angeles International Airport (LAX). The project, Midfield Satellite Concourse (MSC) South, is an extension of the West Gates at Tom Bradley International Terminal and will add approximately 150,000 square feet and eight gates for narrowbody aircraft.
Utilising a first-of-its-kind construction technique called Offsite Construction and Relocation (OCR), MSC South will be built in nine segments roughly a mile-and-a-half away from the project's site and then carefully delivered and assembled in place.
"It is a testament to LAWA's consistent focus on innovation that LAX's new Midfield Satellite Concourse (MSC) South is being delivered with a first-of-its-kind Offsite Construction and Relocation technique that will enable an accelerated project timeline, save money, and be flexible enough to adapt to meet future needs if required," said Justin Erbacci, Chief Executive Officer, LAWA. "MSC South is original in both the way it is being constructed and in its overall design, which celebrates our transformation while paying tribute to the architectural legacy of our airport."
MSC South represents another example of LAWA's dedication to design excellence. Architecturally, the concourse creates a sense of place that celebrates and pays homage to the City of Los Angeles, with elements of the design strongly influenced by notable modernist homes. This is especially true of the project's exterior 'brise soleil' system – a solar shading feature on the concourse's façade – that frames sightlines of the surrounding LA landscape. Inside MSC South, passengers' comfort and well-being are of utmost importance, with the interior designed to feel more like a domestic space than a traditional airport concourse.
Enabling work for the project is now underway, with significant project completion planned for 2025.