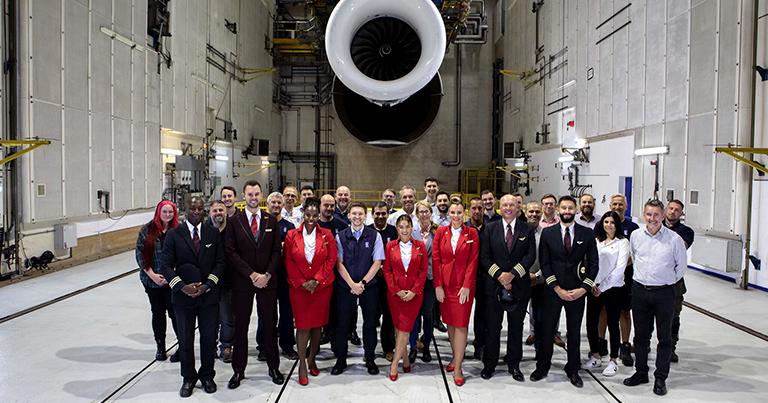 Virgin Atlantic and Rolls-Royce have confirmed the successful Sustainable Aviation Fuel (SAF) blend ground test on the Rolls-Royce Trent 1000 engine. The test marks a key milestone in the project which will see the world's first 100% SAF flight travel across the Atlantic from London Heathrow to New York JFK on a Boeing 787 Dreamliner on 28 November 2023.
In addition to the test, fuel suppliers Air BP and Virent have been announced to supply the 60 tonnes of SAF to be used, supporting consortium research, testing and the flight itself. The SAF will be produced through the Hydroprocessed Esters and Fatty Acids (HEFA) pathway, as well as synthetic aromatic kerosene (SAK) SAF at an 88% and 12% blend ratio.
"The 100% Sustainable Aviation Fuel transatlantic flight will be a historic moment in aviation's roadmap to decarbonisation," said Shai Weiss, CEO, Virgin Atlantic. "Alongside fleet transformation, SAF is the most readily available way for our industry to decarbonise, but currently there's not enough supply and without it and the radical collaboration required to produce it, we can't meet our 2030 targets. We need UK Government support to create a UK SAF industry to allow for every single flight out of the UK to operate with 100% SAF – if we make it, we can fly it."
Virgin Atlantic is committed to finding more sustainable ways to fly on its mission to Net Zero 2050. The realisation of the 100% SAF transatlantic flight requires cross-industry collaboration. The Virgin Atlantic led consortium, joint funded by the UK Department for Transport, includes Rolls-Royce, Boeing, University of Sheffield, Imperial College London and Rocky Mountain Institute.