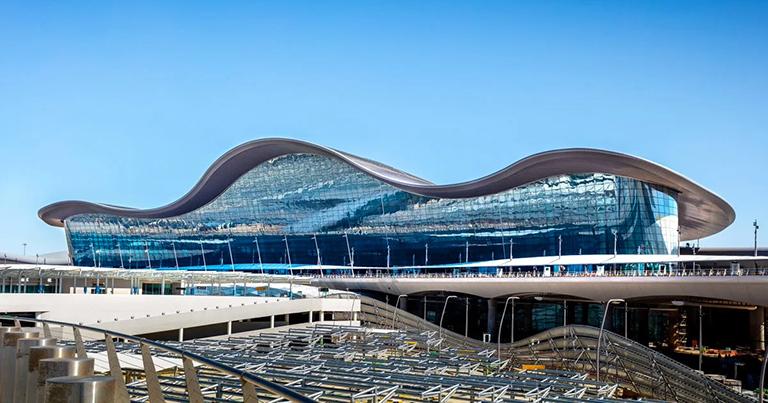 Abu Dhabi Airports has announced the forthcoming opening of its state-of-the-art new terminal at Abu Dhabi International Airport. Known as Midfield Terminal Building during the construction phase, Terminal A – for which Kohn Pedersen Fox (KPF) was the architect – is scheduled to begin operations in early November 2023.
Equipped with the latest technologies, Terminal A features a range of interconnected biometric systems that Abu Dhabi Airports says "will invite passengers to enjoy the speed and comfort of a seamless, digitised journey from pre-travel to boarding gate, facilitated by self-service kiosks, streamlined security checkpoints and state-of-the-art baggage handling systems".
Covering 742,000sqm of built-up area, Terminal A will significantly increase Abu Dhabi International Airport's capacity. Once operational, the new terminal will accommodate up to 45 million passengers per year, be able to process 11,000 travellers per hour and operate 79 aircraft at any given time.
"Terminal A underscores our dedication to providing our international passengers and partners with a premium airport experience," said Elena Sorlini, Managing Director & Interim CEO, Abu Dhabi Airports. "The terminal exemplifies our commitment to excellence and offering exceptional services that meet the evolving priorities of today's travellers. Through leveraging the latest technologies, Abu Dhabi's reimagined airport experience will offer a seamless passenger journey, fostering connectivity, interactions, business, trade and tourism, all of which are essential elements in strengthening Abu Dhabi's position on the world stage."
The terminal will also feature an array of amenities, including luxurious lounges, relaxation zones, and spa facilities where travellers can rest and rejuvenate before or after their flights. With 163 retail and food & beverage outlets catering to a wide variety of tastes and preferences, the retail offering within Terminal A will appeal to both leisure and business travellers.
"As Abu Dhabi's new gateway to the world, Terminal A is an embodiment of Abu Dhabi Airports' commitment to support the emirate's sustainable economic development," said His Excellency Sheikh Mohammed bin Hamad bin Tahnoon Al Nahyan, Chairman, Abu Dhabi Airports. "The opening of the facility, which is on par with the largest and grandest on our planet, turns over a new page in Abu Dhabi's 55-year aviation history. A beacon of modernity and sophistication, it be a will be a pivotal driver for our emirate's growth by spurring tourism and trade."