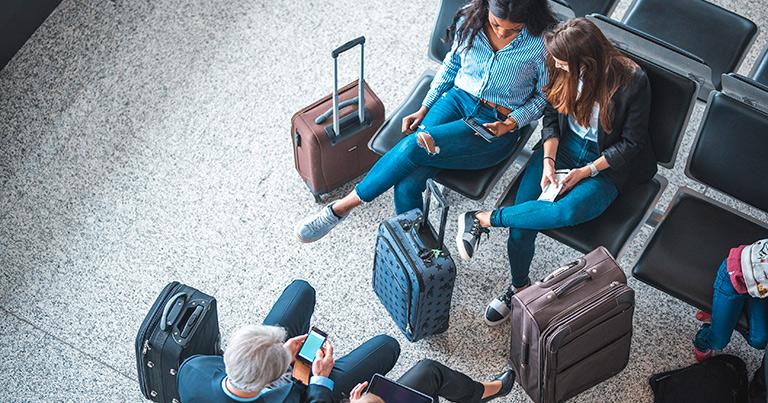 By Stephanie Czaplicki, Vice President of Account Management, Boingo Wireless
The next generation of airport wireless is here, improving the passenger experience and accelerating innovation. From biometric ticketing to digital signage, security cameras, mobile concessions and more, airports are undergoing monumental change.
To keep up with passenger demands and operational efficiencies, private 5G has emerged as a go-to solution for airport IT teams. Airports must provide reliable, secure and fast connectivity for passengers and staff. Private 5G, leveraging CBRS spectrum, rises to the challenge. Providing extensive bandwidth and increased latency – working alongside existing public cellular distributed antenna systems (DAS) and Wi-Fi – private 5G enables secure on-premise data management and uninterrupted coverage for critical operations.
While Wi-Fi has solidified its rightful place in an airport's network infrastructure, Wi-Fi alone can no longer handle the multifaceted demands of passenger mobile traffic and myriad connected IoT devices. And, when it comes to connected devices for critical airport operations such as biometric checkpoints and advanced cameras, security is a chief concern.
Private 5G networks complement existing public Wi-Fi networks, providing the added security and bandwidth needed. The 3.5 GHz Citizens Broadband Radio Service (CBRS) shared spectrum plays an essential role in unlocking the full potential of private wireless. Utilizing the shared spectrum, airports can quickly and cost-effectively isolate mission-critical connectivity solutions, keeping public networks separate from private ones. Private CBRS networks are flexible, scalable and fully optimizable for unique demands. Furthermore, the favorable mid-band spectrum can be more cost-effective than traditional licensed LTE.
With the right technology, 5G can bring an environment to life. Take, for example, the state-of-the-art converged network Boingo designed and deployed at Newark Liberty International Airport's new Terminal A, featuring Wi-Fi 6, cellular DAS, and private LTE over CBRS. The Boingo Private Network supports daily activity on the airport apron, including airside and outdoor areas where aircraft are parked, loaded and unloaded, refueled, boarded and maintained. This network solution provides a cost-effective deployment for outdoor connectivity in a tough to access area requiring extensive bandwidth for connected devices.
Private networks are much-talked about today by airport IT teams nationwide. They are also a network solution with a history of proven success. Boingo Wireless launched the first CBRS airport private network at Dallas Love Field in 2018. Since then, private 5G and LTE networks have been successfully launched by Boingo at several large venues including: Petco Park, home to the MLB San Diego Padres, to power outdoor mobile point-of-sale transactions; Chicago O'Hare Airport for touchless wayfinding; and, the United States Naval Air Station Whidbey Island where a private 5G network is supporting Department of Defense base operations and mission-critical naval functions.
An airport's 5G network should be designed to offer fast, reliable, and secure connectivity to passengers and airport staff, while also being flexible, scalable, and able to integrate with existing systems. While these requirements may sound lofty and difficult to achieve simultaneously, CBRS private networks check all the boxes and make airport digital transformation possible. Learn how private 5G and CBRS can benefit your airport by visiting boingo.com.
Boingo Wireless is a Gold Sponsor of FTE Global, hosted by Los Angeles World Airports (LAWA) and taking place in LA on 19-21 September 2023.
Register for FTE Global 2023 >>