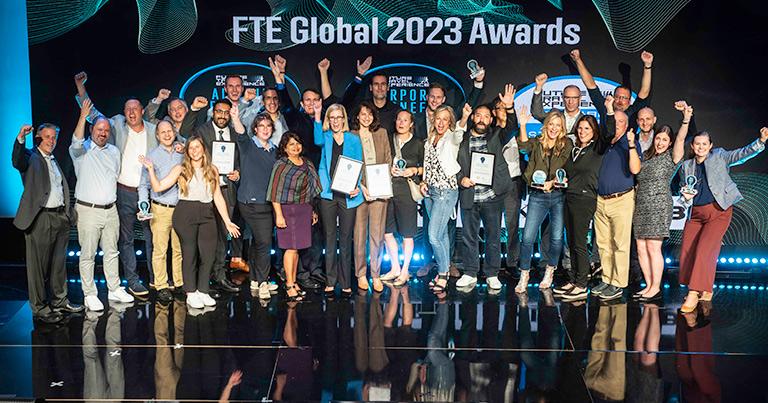 The world's most pioneering airports and airlines were recognised for their outstanding efforts to transform the passenger experience and define the future of the air transport industry at the Future Travel Experience Global 2023 Awards ceremony, which took place on 19 September in Los Angeles. One vendor was also recognised with the 'Best Exhibitor Presence Award' during the event.
The Awards ceremony took place during the FTE Global 2023 Networking Party, hosted by Los Angeles World Airports at Ovation Square, with the FTE Global Awards sponsored by Smithgroup, Kohn Pedersen Fox, and HNTB.
More than 1,400 senior industry figures representing airlines, airports, government agencies, industry vendors, technology giants and startups gathered at FTE Global on 19-21 September to learn, collaborate and be inspired on their next moves to transform the industry's approach to the passenger experience, business performance and sustainability strategies.
During the ceremony, Daniel Coleman, Founder & CEO, Future Travel Experience, took the opportunity to announce that FTE Global 2024 will take place on 28-30 October at the Long Beach Convention Center in California.
Mark your diary for FTE Global 2024 – 28-30 October 2024, Long Beach Convention Center >>
FTE AIRLINE PIONEER AWARDS
Delta Air Lines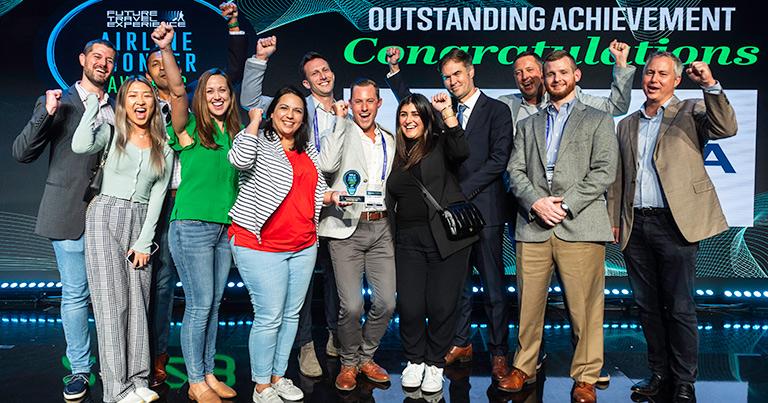 Delta Air Lines was recognised in the FTE Airline Pioneer Awards for a range of pioneering initiatives, including the announcement of a "first-of-its-kind" aircraft seat that allows travellers who use a powered wheelchair to remain in their own wheelchairs for the entire journey. This truly enhances accessibility and facilitates a more seamless boarding and disembarking experience. Delta is also the first traditional long-haul airline to introduce free high-speed Wi-Fi for all passengers as a core element of the customer experience. Meanwhile, it has also deepened its commitment to transforming the future of travel by embarking on a commercial and operational partnership with Joby Aviation to deliver eVTOL transportation service to its customers, beginning in New York and Los Angeles.
Lufthansa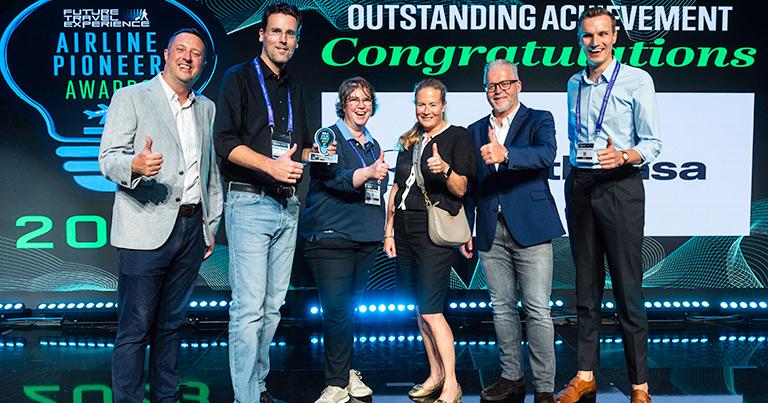 Lufthansa was awarded for taking personalisation to a whole new level with the launch of Allegris – its new long-haul travel experience. The guiding principles in the development of Lufthansa Allegris were 'choice' and 'simplicity' and at its heart it is about individualising travel and doing so in a way that is simple for customers. With more than 100 new aircraft that will be equipped, new options on ground services, as well as an improved, simplified flow to select seats in all booking channels, this transformational experience offers a truly premium, innovative and thought-through product with individual choices for customers in all travel classes, including no less than seven different kinds of seat. The airline also made innovative use of the Metaverse and Mixed Reality in the launch of Lufthansa Allegris, in what is possibly the biggest use of the technology in the industry to-date.
United Airlines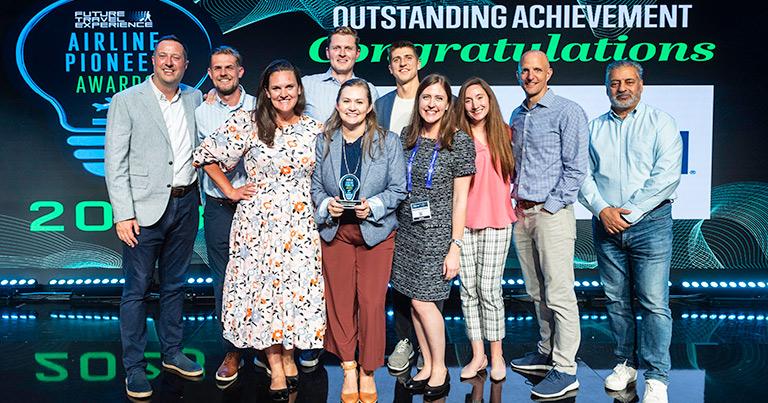 United Airlines secured an FTE Airline Pioneer Award for its commitment to providing unique services to customers. The airline has developed its own kiosks in a two-year collaborative project with imageHOLDERS, in a great example of mass personalisation at scale. The future-proof kiosks provide a compelling, user-centric solution. Unique initiatives also include becoming the first U.S. airline to support 'Live Activities' for iPhone, as well as to add Braille to aircraft interiors, helping travellers with visual disabilities more easily navigate the cabin independently. United was also recognised for its pioneering, collaborative approach to sustainability. Its Sustainable Flight Fund is a way for companies and consumers to come together and increase the supply of Sustainable Aviation Fuel through the support of startups – and it has increased its investment power to nearly $200 million, adding eight new corporate partners, just five months after its initial launch. The airline is also entering the Urban Air Mobility space, with plans to launch electric commuter flights throughout the Bay Area of San Francisco.
Mark your diary for FTE Global 2024 – 28-30 October 2024, Long Beach Convention Center >>
FTE AIRPORT PIONEER AWARDS
Pittsburgh International Airport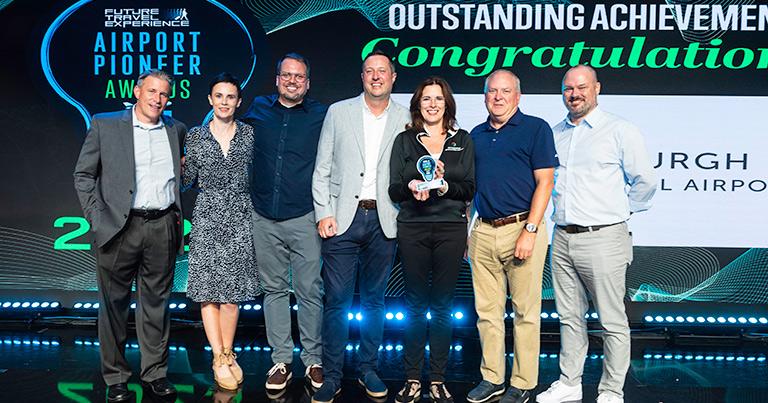 Pittsburgh International Airport (PIT) – located in the 'Robotics Capital of the World' – was awarded for its pioneering efforts in this space. For example, in April it launched an innovation partnership with International Airlines Group (IAG) that will explore exciting new solutions with the robotics and tech community. PIT is also innovating with plans to produce Sustainable Aviation Fuel onsite. The goal is to accelerate the adoption of cleaner fuels and builds on the airport becoming the first in the world to be completely powered by natural gas and solar energy as part of its microgrid. Another important element of PIT's strategy is workforce development, tackling three major barriers to entry for people entering the workforce – childcare, job training and transportation. Providing a childcare option on the same site as an employee's workplace helps strengthen parents' work-life balance and supports workforce development. PIT considers the new childcare centre a critical piece in its ongoing workforce development efforts.
Fraport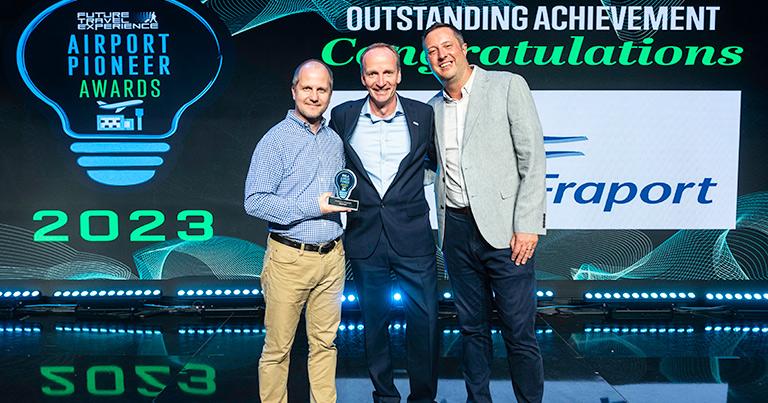 Fraport was recognised for the biggest biometrics implementation in the world. From enrolment at a kiosk or counter, to pre-security automated gates and self-boarding gates, passengers can use biometric technology to seamlessly pass through each stage of the journey. The project breaks new ground in the development of digital travel by providing a true common-use biometric platform at all terminals, open to all airlines operating at Frankfurt Airport. The implementation also plays a key part in paving the way for the rollout of biometrics across the Star Alliance global network, as it endeavours to have more of its 26 member carriers using biometric technology progressively. Fraport's Digital Factory is also key to its innovation efforts, further increasing the level of digital maturity and driving forward digital transformation alongside customer processes. The progressive approach of the Digital Factory is to identify market innovations early on and facilitate the implementation of compelling digital solutions.
Amsterdam Airport Schiphol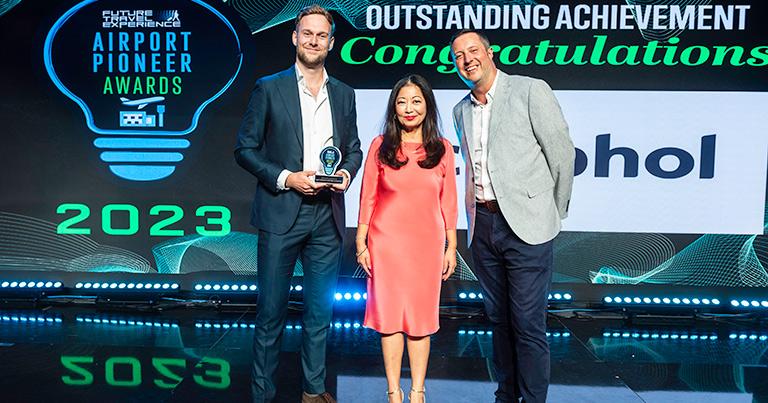 Amsterdam Airport Schiphol secured an FTE Airport Pioneer Award for its leadership and agility in the area of robotics and automation. It recently completed a Proof of Concept for collaborative robots in baggage handling. This has since been followed up with a decision to purchase 19 COllaborative Baggage RObots to be installed by the end of January 2024 – less than one year after the successful POC was initiated. This work also involved designing effective and innovative ways for human/robot collaboration. This has only been possible through the visionary approach of Amsterdam Airport Schiphol in aiming to improve the working conditions for staff and ensure a positive traveller experience. Meanwhile, it has also laid out a future-looking vision to create fully autonomous airside operations by 2050, as it "reaches for the Moon and Mars". This programme will see all airside vehicles be replaced by an interconnected fleet of autonomous, emission-free vehicles and all associated processes will be automated.
Mark your diary for FTE Global 2024 – 28-30 October 2024, Long Beach Convention Center >>
BEST EXHIBITOR PRESENCE AWARD 2023
NEC won the Best Exhibitor Presence Award in recognition of the company's impressive showcase and activities at FTE Global. During the show in Los Angeles, FTE Global attendees had the opportunity to experience NEC's comprehensive identity management platform, NEC I:Delight, along with its bag detection, perimeter security, and other AI solutions. There was also an exclusive demonstration of PARALLEL REALITY™ technology from Misapplied Sciences. All FTE Global 2023 exhibitors had an opportunity to enter the Best Exhibitor Presence competition and the winner was selected by FTE Advisory Board members.
Mark your diary for FTE Global 2024 – 28-30 October 2024, Long Beach Convention Center >>