As the aviation sector continues to adapt to ever-changing passenger needs and technological advancements, FTE spoke to Julie Wienberg, Aviation Practice Leader at Perkins&Will; Chris Runde, Director of Innovation at Introba; and Ibrahim Ibrahim, Managing Director at Portland Design, about the future of the industry.
Perkins&Will, Introba, and Portland Design – along with Dar, Landrum & Brown, TYLin, and Penspen – are familiar names to many in the aviation sector. But together, they form a strategic, multidisciplinary collaborative unlike any other. In fact, according to Engineering News-Record (ENR) 2020, this international group of firms is collectively ranked number one in the world for its design of airports, having planned, designed, constructed, and innovated over 300 of them across six continents.
Today, the group is collaborating on a vision for air travel that is human-centric, digitally empowered, and sustainable. Here's how some of the firms' visionaries see the future of the air transport industry:
Designing for the Future
Julie Wienberg, Aviation Practice Leader at Perkins&Will
To meet increased demand for air travel and address aging infrastructure, the U.S. is currently making its largest investment in aviation and mobility infrastructure in recent history. In line with this, airports and airlines are embracing new technologies to improve both the passenger and employee experience. Those of us in design and construction are responding by streamlining operations, introducing innovations from other markets, and accelerating construction through means and methods unimaginable just a decade ago.
These developments are exciting, but this era also presents an opportunity to do some soul-searching. With the emphasis on upgrading infrastructure and the unmatched ingenuity coming to market, now is the time to not only imagine a more sustainable and resilient future for aviation, but also take bold steps to create it.
We are a curious, research-driven firm, augmenting our design work with applied research in topics like biometrics, future mobility, and occupant health. And through our precedent-setting CoCreate approach to inclusive design, we join forces with like-minded M/WMBEs (minority- and women-owned business enterprises) to ensure that our work authentically addresses the needs of every community we serve.
After yet another summer of wildfires, floods, and extreme weather events, the aviation industry needs to address the complexity of climate change and take serious steps to ameliorate it. Airports can lead by example, setting precedents for resilience and the public good. From leading the whole-system sustainability approaches for large-scale projects like the planned Al Maktoum International Airport (a collaboration with Dar), to meticulously coordinating details that reduce the costs of construction and operations for Charlotte International Airport's Concourse A expansion and TransLink Canada's rail stations, we help our clients conserve resources, reduce carbon emissions, and withstand severe climate events. Health-focused hospitality design also enables our clients to stand out in a crowded market, particularly to frequent travellers. We also seamlessly integrate service and design, infusing lounges and other passenger-facing spaces with a localized sense of place, culture, and history. Airports are evolving, and lounges are no longer just places to wait. They are designed to increase traveller productivity, promote wellness, differentiate the client's brand, and provide amenities and services that travellers would expect from a high-end experience.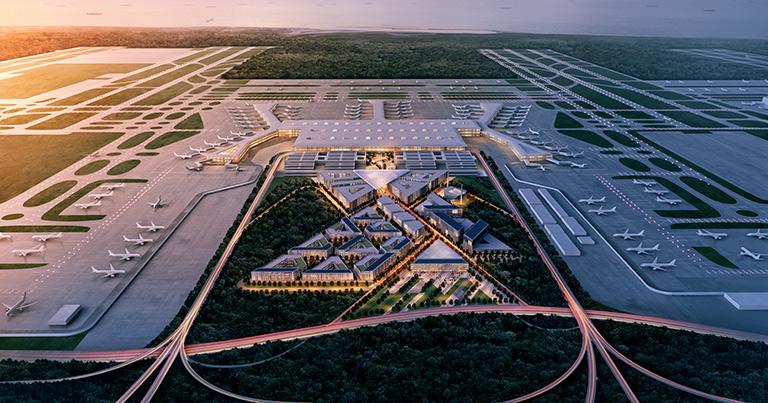 Delivering Impact through Innovation
Chris Runde, Director of Innovation & Strategy, Introba
The massive investment in aviation is an opportunity and a challenge. We are being asked to create infrastructure that must endure for decades during a time of unprecedented technological and environmental change.
The irony of innovation is that it requires structure to produce results. Proven innovation processes, like design thinking, curate ideas and test hypothesis with the idea of failing fast. Unfortunately, aviation investments can't fail fast in the same way as a software company.
Knowing the high stakes of aviation development and operations, the team created an innovation framework called Fusion that de-risks creative planning and delivers proven results. The only way we can succeed is by embracing an innovation mindset and remaining future-flexible. The methodology focuses on discrete areas of transformation, cross-market benchmarking, and constructive innovation planning to deliver actionable, impactful ideas. The team applied the Fusion framework to the challenges of Advanced Air Mobility (AAM). Experts across technology, regulations, mobility, and aviation followed the rapid innovation process and identified the challenge of building awareness and buy-in for AAM benefits. The result of the AAM Fusion team is a new tool for AAM visualization and planning that dynamically plots mobility options like the LA-region example below:
https://www.youtube.com/watch?v=sj_ZXpZb-wQ
Transformation of Airport Commercial
Ibrahim Ibrahim, Portland Design's Managing Director
Retail
Airport retail has always been about four things: (customer) recruitment, transaction, fulfilment, and retention. But transaction and fulfilment are gradually shifting away from the physical store. Therefore, the physical store will behave less like a distribution channel and more like a media platform. We must consider how to shift the emphasis from a functional "supermarket" model that passengers are finding increasingly boring to an inspiring experiential model that drives engagement, sharing, and serendipity.
Physical stores in airports have the potential to be the most powerful media platforms available to a brand, where the opportunity is to monetize not only the experiences but also the data that these experiences generate. We must plan to deliver data-responsive environments and experiences. The key challenge will be to capture the data that demonstrates the value of the physical space to a brand in generating media impressions, social media engagement, and online sales.
Well-Being
Providing work environments that support travellers' physical, emotional, and mental well-being is fundamental to letting them know they're valued and respected. That's why airports are evolving. Lounges, for example, are no longer just places for travellers to wait; they're now designed to increase productivity, promote wellness, differentiate an airline's brand, and provide amenities and services that travellers would expect from a high-end experience. We must also develop biophilia strategies to ensure that passengers are connected to nature: Airport environments need to be softer, more natural, and more human in scale.
The acceleration of working from home represents a great opportunity for airports, too. As part of the commercial offer, they could develop a compelling co-working space that would encourage passengers to arrive much earlier; if the facilities are world-class, travellers may prefer this to working from home – and actually spend more time at the airport! In this scenario, they would see the space less like a shopping mall and more like a town square.
Ultimately, airports that create experiences to drive well-being, social participation, and entertainment will engage travellers' interests and passions and get them flocking back.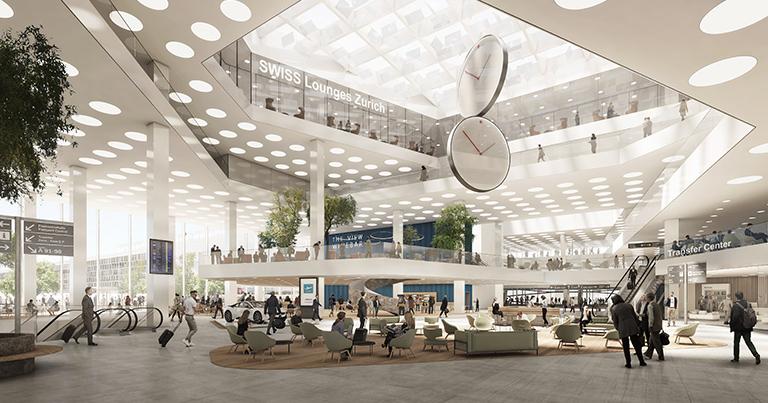 In this remarkable moment, everyone in architecture, design, and engineering has the opportunity (and the responsibility) to make a positive difference in the future of air travel. Perkins&Will, Introba, and Portland Design – along with Dar, Landrum & Brown, TYLin, and the other organizations that make up their unique global collaborative – offer what few firms can:
Unrivalled collective expertise in designing, planning, and engineering innovative, healthy, and sustainable aviation environments around the world.
Meet some of the collaborative's experts and hear what they have to say about global trends affecting the air transport industry at Future Travel Experience, 19-21 September 2023, in Long Beach, California.