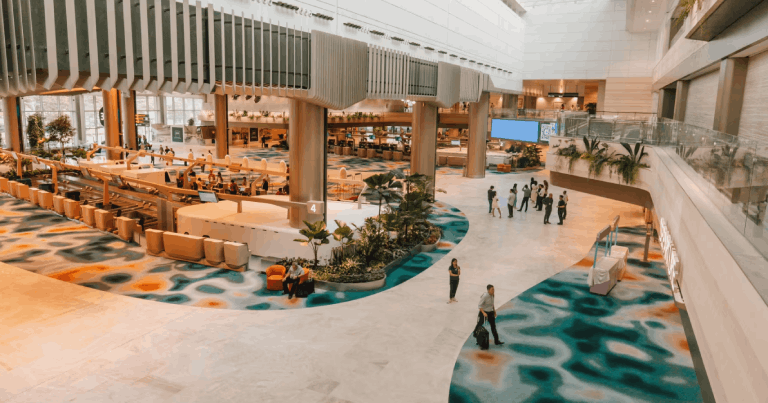 Changi Airport, a Headline Partner of FTE APEX Asia Expo 2023 (8-9 November, Singapore), has commenced operations in the northern wing of Terminal 2 (T2) after three and a half years of engineering works to extend the life of critical systems, and expansion works to bring Changi's overall capacity to 90 million passengers per annum (mppa). T2's handling capacity has increased by five mppa to 28 mppa.
This boost in capacity is timely as air travel in Changi Airport continues to recover. Passenger traffic at Changi Airport for August 2023 was about 87% of pre-Covid levels. The southern wing of T2 was reopened in May 2022 (arrivals) and October 2022 (departures) to provide capacity to serve an increasing number of passengers following the easing of international border restrictions earlier in the year.
While a number of shops and dining options, as well as facilities and amenities are already open, passengers can look forward to the full suite of T2 attractions, stores and restaurants as these are launched progressively in the coming weeks. The full reopening of T2 will be celebrated with an event in early November 2023. Also, during FTE APEX Asia Expo 2023, Changi Airport Group will facilitate guided tours of the new-look T2 for Premium Pass holders.
The T2 expansion project has added 15,500 square metres to the terminal building to support additional infrastructure, new systems and more retail offerings. The departure hall now houses a central common-use Fast and Seamless Travel (FAST) zone, with more automated check-in kiosks and bag drop machines, while the immigration halls have been expanded to support additional automated immigration lanes. T2 is the first terminal in Changi to have automated Special Assistance Lanes at both arrival and departure immigration.
T2's critical systems and building equipment which have reached end of life were upgraded to more efficient models. A new chiller plant delivers cooling at 30% lower energy consumption. At the baggage claim hall, two existing baggage belts have been lengthened to handle a higher volume of bags, to cater to wide body aircraft. The terminal's baggage handling system has enhanced security features, and its early baggage storage system has been upgraded from semi-automated to fully-automated, allowing some 2,400 bags to be stored at any time. These features significantly enhance manpower productivity.
The design concept of T2 draws inspiration from nature. It incorporates natural materials in its wall cladding and flooring, complemented by lush green columns showcasing a distinctive array of plants. The terminal design creates a serene and soothing atmosphere for both passengers and visitors, fostering a sense of tranquility and relaxation.
Tan Lye Teck, Changi Airport Group's Programme Director for the Terminal 2 Expansion Project, said: "We extend our deep gratitude to the Ministry of Transport, Civil Aviation Authority of Singapore and Immigration & Checkpoints Authority, as well as other agencies and partners for their support toward the T2 Expansion Project. We also greatly appreciate the entire airport community for their close collaboration and steadfast partnership. We commit to delivering exceptional customer service and look forward to taking the passenger experience to new heights with the refreshed T2."
Changi Airport Group will facilitate guided tours of the revamped Terminal 2 for Premium Pass holders at FTE APEX Asia Expo 2023. To learn more, visit the event website.