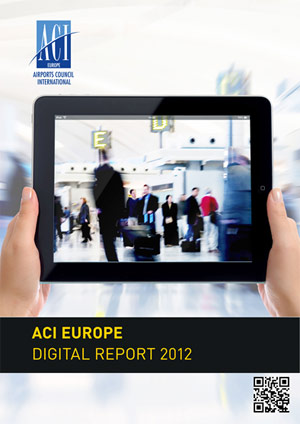 ACI EUROPE released its 'Digital Report 2012' at this week's 21st Annual Airport Trading Conference & Exhibition in Oslo. The report focuses on the effect that social media, smartphones and tablet computers are having on the interaction between airports and passengers.
According to the report, 77% of Europe's air passengers now travel through airports that are active in social media channels such as Facebook and Twitter. Comparing these figures to last year's 'Airports 2.0' report, social media use among Europe's airports increased by 43% year-on-year. In Central Eastern Europe alone, social media use by airports grew by 800% over the 12-month period.
The report also highlights five ways in which airports are using social media as a communication tool: corporate communications, crisis communications, customer service, informal relationship building and commercial promotion.
Another finding of the 'Digital Report 2012' is that one-third of Europe's airports either have or are currently developing a smartphone app. 98.7% of Europe's airports currently offer internet access to their passengers, over half of which offer some form of free internet access.
Olivier Jankovec, Director General, ACI EUROPE, said: "These latest figures reflect just how much more direct the relationship between the airport and the passenger has become. Europe's airports are making a wide variety of information immediately available on a smartphone or similar device, empowering passengers to make their experience of the airport as informed and hassle-free as possible."