FTE was onsite at Aircraft Interiors Expo in Hamburg – here is our independent, honest assessment of what we heard and saw on Day 1 in the Passenger Experience Conference.
flydubai: Suppliers must do a lot more to help improve passenger experience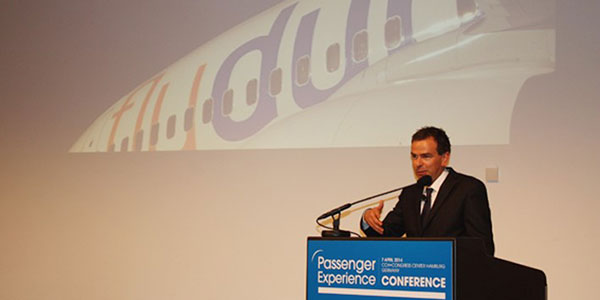 Here at FTE, we're always very keen to hold airlines and airports to account to ensure they are doing everything possible to improve the passenger experience and we were duly impressed by the visions outlined by Turkish Airlines and flydubai, and equally intrigued by the latter's brutally honest assessment of the sector's suppliers.
Daniel Kerrison, Vice President Inflight Product, flydubai told attendees that the airline "was never destined to just be another low-cost carrier" and that "challenges have driven flydubai to continually evolve and innovate." Despite officially being a low-cost airline, he said the very fact the airline is associated with Dubai brings with it a level of pressure. "With the word 'Dubai' down the side of the fuselage comes expectations of a certain level of comfort and a certain level of service," he stated.
Kerrison was full of praise for the likes of Geven (the airline's Business Class seat provider, which met the airline's six-and-a-half month turnaround schedule for launch) and Lumexis (the airline's in-flight entertainment provider that he says offered a unique proposition that was one-third the weight and half the price of its competitors), but he was less complimentary of other suppliers in the sector.
"We have an insatiable appetite for innovation," he said. "We need to work with like-minded suppliers who share our values, who will challenge the status quo, and refuse to accept mediocrity." While he praised the Lumexis 'Fiber-to-the-Screen' system, he called the otherwise lack of long-term economically viable, HD-ready IFE systems "embarrassing". As the pace of development in the consumer sector increases, he said the "greatest challenge is not just to keep up, but to catch up".
Kerrison criticised the fact that he is still offered seats that have been in the marketplace for 10 years and which have a lead time of 18 months. He referred to a story of one supplier writing to him to say "you are very lucky I've convinced senior management to respond to your RFP" to illustrate what he perceives to be complacency and arrogance from some of the big suppliers in the marketplace.
He stated that in order to provide a truly great in-flight experience, you must have a "commitment to innovation, energy, agility, cost effectiveness" and also be willing to embrace new technologies and opportunities. "This is a recipe for success for our airline and the industry," he added.
Turkish Airlines' guide to survival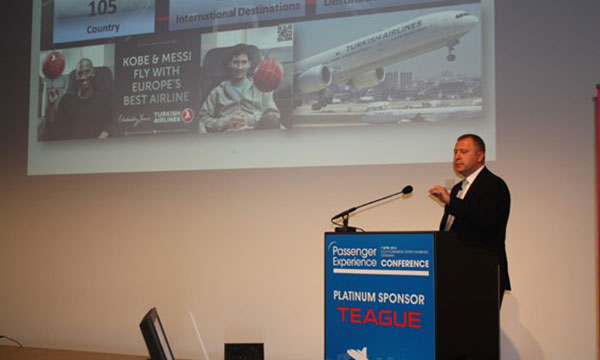 Mehmet Büyükkaytan, Senior Vice President Ground Operations, Turkish Airlines, spoke of the carrier's desire to create "something different" for passengers. The new 150 million capacity airport for Istanbul, which is expected to open in 2018/19, will play a significant role in providing this experience on the ground, he explained. The forthcoming introduction of Bluetooth-based push notifications which are currently being trialled in an airport environment to inform passengers of gate changes and flight updates is a welcome personalisation effort, while the brand new Turkish Airlines Lounge Istanbul at Atatürk Airport and a soon-to-open CIP lounge at Moscow Vnukovo Airport are setting a benchmark for airline lounges worldwide.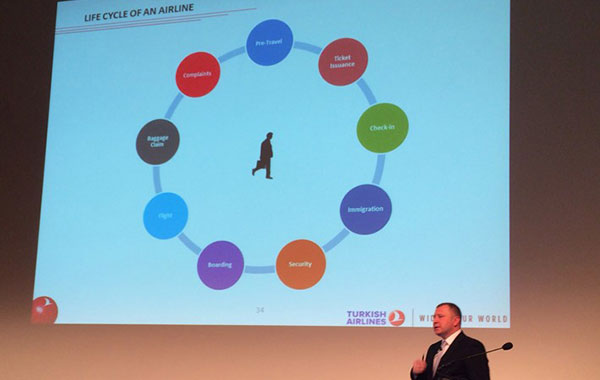 However, he went on to explain that the entire travel experience should be prioritised and that every passenger should be treated as a guest, rather than just another traveller. FTE particularly likes the offer aimed at transfer passengers – those with a wait of six hours or more can now make the most of a free tour of Istanbul courtesy of Turkish Airlines, to ensure they don't have to spend their time just sitting around the airport while they wait for their flight.
As for the in-flight experience, Büyükkaytan explained that Turkish Airlines plans to offer connectivity on all flights, while it will standardise the seating across the fleet in a design and development project driven by the airline itself. A number of other initiatives were also highlighted, ranging from the introduction of special sleeping sets to increase passenger comfort, to the use of 'Flying Chefs' in Business Class on flights as short as two-and-a-half hours.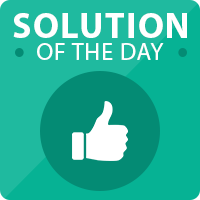 Solution of the Day
Turkish Airlines revealed that transfer passengers with a connection of six hours or more can make the most of a free Istanbul sight-seeing tour courtesy of the airline. People travel to see destinations, not airports, so let's hope more airlines and airports follow suit.
'We need to rediscover air travel's romanticism'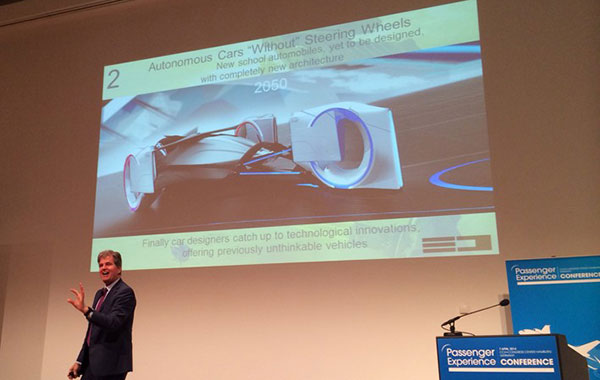 The second plenary session was chaired by Blake Emery, Director, Differentiation Strategy, Boeing Commercial Airplanes, and refreshingly he insisted on deciding the topic of the session – 'Challenging the status quo: New directions for the passenger experience' – and choosing his own speakers.
His first speaker, Michael Robinson, Chief Executive & Design Director of ED Design, provided an outside-of-the-industry perspective, delivering a fascinating presentation that leveraged his findings and experiences from working in the area of digital automobiles. He bemoaned the fact that romanticism is now lost in air travel, often at the point a business plan is shared across an organisation. He asked: "What do airplanes, airlines and airports do to make you yearn for more?", suggesting that the answer is often "not much".
Robinson also emphasised the fact that younger flyers are now getting more and more technologically savvy and that airlines must adapt to meet their changing demands. "Children are now born into the new digital era," he said. "When they start to buy plane tickets, they're not going to be happy – they're going to be really tough on all of us," he warned, referencing the interfaces and technologies that are second nature to them, and the fact they will expect them to be a part of their flying experience.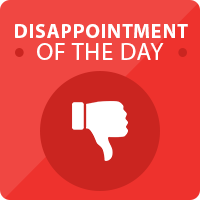 Disappointment of the Day
In a conference session focusing on making the onboard experience memorable, most energy was focused on free amenities and the 'taste of a brand'. This makes us think too much airline energy is being spent on areas we don't believe are truly fundamental to creating a memorable experience across all classes. A lot more effort should go into the reducing queues, creating more legroom and better managing disruption situations. Does this sector have its priorities in the right order?
Teague: Airlines must leverage partnerships, create lifestyle brands and learn from other industries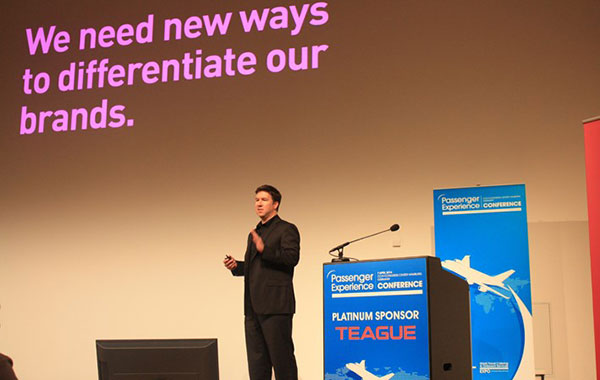 The thought-provoking nature of the session carried over to the presentation from Devin Liddell, Principal Brand Strategist at Teague, who delivered an address entitled 'Breakthrough: The impact of transformative collaboration between brands'. "Partnerships are our most powerful currency," he told the audience, before explaining that the meaning of "co-branding" has moved on and now is more about "co-making" rather than "co-marketing." He continued: "We need new ways to differentiate our brands. There are too many ways in which airlines are the same."
Among the examples of "co-branding" best practice he pointed to were tie-ups between Puma and Ferrari, and Red Bull and Quicksilver. He told the airlines in attendance the key word is "only", as being the only company to offer something is a highly valuable business tool.
Liddell also explained that airlines must do far more to exploit the potential of making their brand a lifestyle brand, highlighting that even some banks do a better job of doing this. "Aviation can be a bit insular," he claimed. "We are not very good at finding ways to say 'yes' in this industry. We need to be able to bring unexpected brands in unexpected ways to our aircraft."
Scoot's child-free class and Delta's 'innovation class' were among the examples of good practice he offered, suggesting even that airlines could differentiate themselves by offering a connectivity class, "because passengers value connectivity more than the window or aisle seat".
Among the panellists who joined in the session following Liddell's presentation was Toby Smith, General Manager, Product, Cathay Pacific Airways, who explained that the airline now sees the benefit of embracing this more innovative approach and has made a concerted effort to provide a platform to members of staff who have original ideas on how the passenger experience can be enhanced.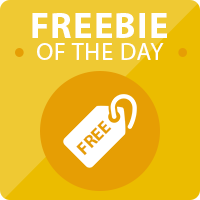 Freebie of the Day
We appreciated the complimentary Wi-Fi from the organisers. As organisers of three Future Travel Experience shows globally, we know this is not always easy or cheap to facilitate.
Gogo says 38% of passengers would pay for in-flight Wi-Fi. So why is current uptake only 4-8%?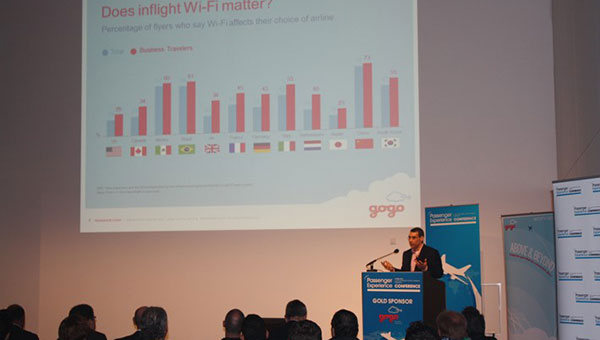 In the in-flight entertainment and connectivity session Ash ElDifrawi, Gogo's Chief Commercial Officer, revealed the results of some new, wide-reaching research carried out on travellers. He explained that we are now starting to see more demand for in-flight Wi-Fi from leisure travellers, as well as business travellers, and that 38% of all travellers are "extremely interested in purchasing in-flight Internet access". Despite these findings, onboard connectivity uptake still hovers between just 4-8%, something ElDifrawi says is partly down to a lack of widespread access among passengers. He also added that companies are more frequently showing a willingness to foot the bill for employees flying for business purposes, which will help to increase uptake.
He added: "Overwhelmingly, consumers want to consume content on their own devices, rather than embedded IFE. This is pretty consistent across all the markets we surveyed."
Will PEDs kill IFE?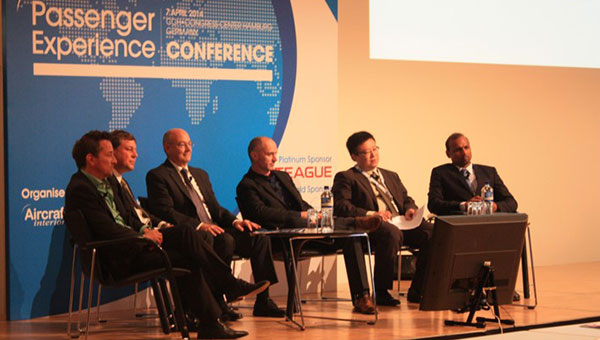 Following Gogo's assessment of the onboard connectivity market, Panasonic Avionics Corporation's Matthias Walther, Manager, Integrated Marketing, explored whether personal electronics devices (PEDs) are a threat or opportunity for IFE&C. He started with the question: 'Will PEDs kill IFE?' and given the fact company's main business is providing airlines with embedded IFE&C systems, it wouldn't have been too much of a surprise for him to simply say "no"! However, he explained that the debate is not necessarily about a competition of equals, a substitute or a symbiosis, and told the audience that the debate must be contextualised. The screen alone is not the "determining factor", he said.
He highlighted the fact that as a traveller he is "lost without my phone" and that the future could be in connecting the smartphone with the aircraft's IFE system. This approach would allow the IFE system to make recommendations on what the passenger might be interested in, creating a "personal and more valuable experience" that leverages the connected aircraft. He added: "Our aim is to put airlines in a position where they can curate their own experience for their passengers."
Best of the rest – Southwest, LIFT, Saudia, Global Eagle and more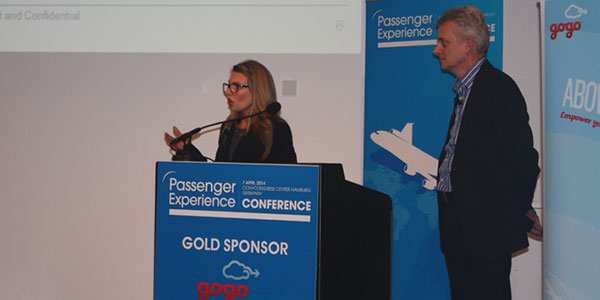 What does your brand taste like?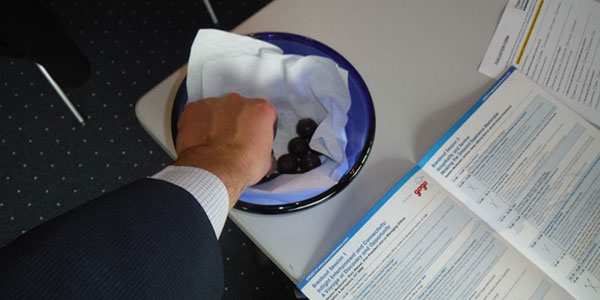 Getting the basics right + human interaction = greatness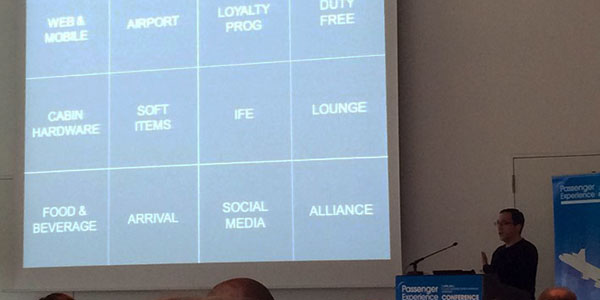 'People will never forget how you made them feel'