FTE was onsite at Aircraft Interiors Expo in Hamburg – find out here what we thought of the latest IFE-related solutions on offer in the Aircraft Interiors Expo from some of the biggest, and newest, IFE providers.
Thales' personalised Immersive Business Class Seat – featuring next-gen IFE
Thales provided an overview of its futuristic Immersive Business Class seat concept, demonstrated by Brett Bleacher, Director of R&D, Thales Avionics IFE. He showed us how the system makes use of Near Field Communication (NFC) technology to interface with the passenger's personal electronic device (PED), while the IFE system can be controlled by the user's eye movements or hand gestures, or alternatively via a track pad. Thanks to the interface between the passenger's PED and the system, as soon as the two devices interact, the cabin lighting and seat position adjust to suit their preferences, and if you had been watching a film on a previous flight but missed the end of it, the system can even bring the same film back onto the screen at the very point that the passenger stopped watching it on their last flight, which would be especially popular among transfer passengers. The Immersive Business Seat has been developed in conjunction with BE Aerospace and BMW Design Works.
Aside from the impressive Business Class IFE concept, Thales' Dominique Giannoni, CEO, In-flight Entertainment and Connectivity, provided an update on the company's flagship IFE product – the TopSeries AVANT IFEC platform. As FTE reported last month, China Southern is the first airline to offer the system on a widebody aircraft, and Giannoni divulged that the system has passed the factory test ahead of installation on Qatar Airways' A380s, while the same airline will also be the product's launch customer on the Airbus A350.
Panasonic: HD IFE with a real personal touch
FTE was given a personal tour of the Panasonic Avionics stand, the highlight of which was the new IFE concept developed specifically for the Recaro 3710 seat. Neil James, the company's Executive Director, Sales & Marketing, explained that high definition display has been custom-made for the specific seat and we were blown away by the crystal clear clarity of the 1080p resolution screen.
As James highlighted, the seat features mood lighting that can be controlled from the IFE system and can either be adjusted by the individual passenger, or controlled by the airline crew, while a reading light is integrated into the seat, so that using it will not disturb other passengers sitting around you. Each seat also features a digital information panel, which an airline could use to inform passengers of when the meal service will begin or to fasten their seatbelt, for instance, without having to interrupt the IFE. James explained that the concept could make a big difference "especially in Economy Class" and when quizzed on when it could potentially be installed by an airline, he commented: "If an airline said to us today that they wanted it, it could be in service in around 18-24 months."
Leveraging BYOD and the connected aircraft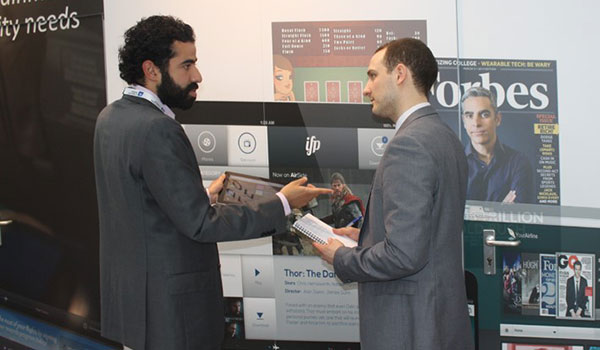 Our visit to the Global Eagle Entertainment stand centred on one product – the WISE portal – which has been developed by DTI and embraces the rise of Bring Your Own Device (BYOD) and the e-enabled aircraft. We were stepped through the AVOD streaming system by Elie Perez, Senior Director, Partnerships & Business Development. The software and content solution offers a range of functions, including thousands of magazines, newspapers and songs, as well as movies, all of which can be consumed on a passenger's own device via a web-based service. As you would expect, the movies can only be viewed if the passenger has downloaded the app ahead of their flight in order to allow for the encryption of the content, as demanded by the Hollywood studios.
FTE's concern was that passengers won't know that they have to download an app and could therefore miss out on the most valuable function, but Perez allayed these fears, explaining that the company helps airlines ensure passengers are notified, whether it's via email, posters at the gate, or another convenient means of communication.
Also interesting to note is the fact that DTI and Global Eagle Entertainment are not trying to sell WISE directly to the airlines; instead it is the "solution vendors" that are the target customers. In fact, Perez explained that agreements have already been reached with the likes of KID Systeme and OnAir, while "we're in discussions with around five others at the moment".
Zodiac releases new IFE innovations and moves towards total cabin integration solutions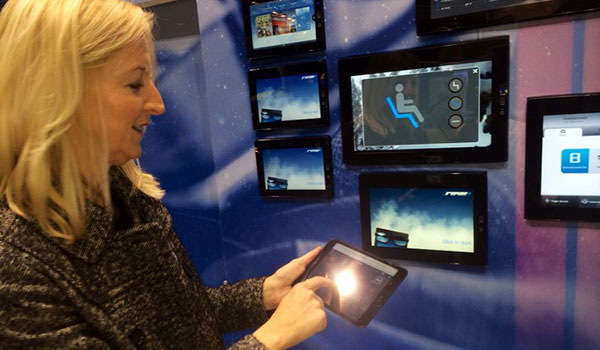 On the Zodiac Inflight Innovations stand, FTE found the big push to be "bring your lifestyle to the sky", which is built around syncing your personal mobile device with the IFE, enabling you to operate the system in the intuitive manner you are used to from your device. So, while your HD film is running you could look at the map on your device, adjust lighting and change your seat pitch. The demo was on an Apple iOS device, but it will be available across all key platforms. This system was launched in Hamburg and Zodiac Inflight Innovations already has two big customers very interested in placing an order. On the wireless side of the business the company revealed it has received orders from ANA, Philippine Airlines and Air Transat.
FTE also quizzed them on their capability to supply an entire working cabin, from overhead bins to seats with IFE. They revealed discussions with airlines and airframe manufacturers to achieve that have begun and we will no doubt hear more about that at the Cabin Integration Symposium taking place at FTE Global this September 24-26 in Las Vegas, where Scott Savian, EVP, the Design and Innovation Studio, Zodiac Aerospace will be speaking alongside other senior representatives from Airbus, Panasonic Avionics, Acro, Emirates, Lumexis and Thales.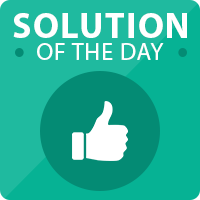 Solution of the Day
Gogo's launch of 2Ku – which will enable in-flight connectivity speeds of more than 70 Mbps – was the deserving recipient of the Day 2 FTE Solution of the Day accolade. Gogo CEO Michael Small described the launch of the new technology as "momentous", while Chief Technology Officer Anand Chari explained that speeds could reach 100 Mbps when new spot beam satellite technologies become available.
BAE and Samsung impress with IntelliCabin offer and promise this is just the beginning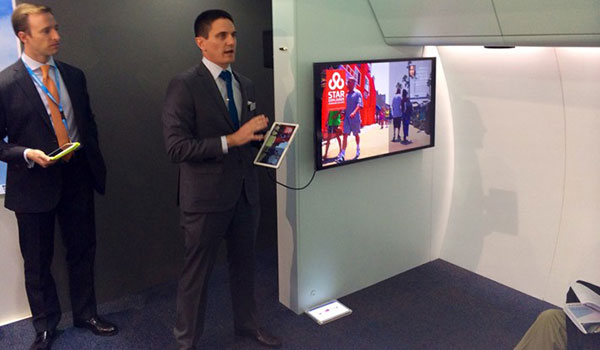 FTE visited the BAE Systems stand for a live presentation and demo from Jared Shoemaker, Director – Cabin Programs, BAE Systems, and Reginald Jones, Global Account Manager, Enterprise Business Team at Samsung Electronics, on how they are working together exclusively to enhance passenger and crew experiences.
We were interested to hear more about Samsung's onboard efforts following the inspirational keynote at FTE Europe 2014, which focused more on what the company believes it can achieve with airports and airlines at passenger experience touch-points outside of the aircraft. Perhaps unsurprisingly they talked about how their consumer market range of tablets and smartphones could be used as a primary IFE platform, which besides obvious benefits for passengers, could greatly help with space optimisation. In addition, devices like the Note 3 could enable crew to adjust lighting, move power around the cabin and take control of IFE. Jones also showed how Samsung's wearable technology such as the Gear 2 watch could be very useful to crew to provide reminders on key workflow actions, as well as specific needs of passengers that were time sensitive.
In a demo of the IFE, they showed how their system could display lots of information on the destination and enable you to book a taxi on arrival, or book a restaurant that evening through Yelp. Plus, when choosing a film, it would also display trailers, and review relevant articles on the film and the actors who star in it. Interestingly, when quizzed about providing content they said the fact Samsung has it's own equivalent of iTunes called 'Samsung Hub' offers new opportunities going forward. The fact Samsung has a mobile wallet too suggests this is an area of the business they are no doubt looking at also. In terms of target market, they think wide-bodies are very interesting because of the huge weight benefit this approach offers, plus LCC narrow-bodies utilised by LCCs who want to avoid installation and other key costs related to embedded IFE.
We were impressed with what we saw and you can see there is much to be gained from leveraging Samsung's product and consumer reach, and they were keen to stress what we saw today was just the beginning of what they will go on to achieve together. Samsung looks set to have a big impact on travel when you consider they are also working with Boeing on the future of IFE, plus automating factory processes, and are already deeply involved with improving security checkpoints and facilitating interactive wayfinding and digital displays at airports.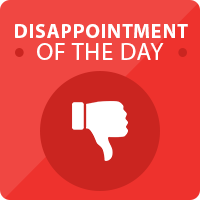 Disappointment of the Day
Like many others at AIX, FTE had been hoping to see a mock-up of the new 11-abreast economy class seating configuration that Airbus has developed for the A380. So, we were naturally disappointed when the manufacturer revealed that the mock-up would not be on show following a components delivery issue.
Pre-loaded, tablet-based IFE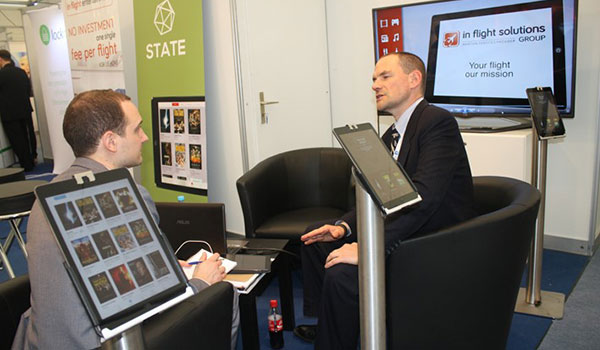 Solid State Inflight may only have started out in mid-December, but when FTE paid a visit to the company's stand, we could sense a real optimism that a chunk of the IFE market is there for the taking. The company provides a software and content solution for airlines that wish to offer content to their passengers on airline-owned iPads pre-loaded with movies, TV programmes, magazines and audio, which can be automatically updated. Arthur Drewitt, Co-founder of Solid State Inflight, explained although the company only launched a few months ago, it gained its first customer in March – PrivatAir, a private charter operator – but sights are now firmly set on winning customers in the commercial sector.
"We've had a lot of interest today, especially from Asian airlines," Drewitt told FTE. While the platform is currently available on iOS devices, it will soon also be available on Android, something that the company hopes will make its proposition even more attractive. So, we asked, which type of airline is likely to opt for a pre-loaded, tablet-based IFE product, rather than embedded IFE or a solution that taps into the rise of BYOD? "There are lots of airlines that don't want the cost or weight of traditional IFE systems," Drewitt stated. "Also, for companies with an older, more unreliable IFE system, they might want this solution too, so if screen breaks down in First Class, for example, you can give the passenger a tablet with all the content." Then, of course, there are the airlines currently without IFE looking for an additional revenue stream. Although the company doesn't expect tablet-based IFE to replace traditional solutions, he did have a word of advice for the big players in the market: "I think the traditional IFE providers at least need to recognise what's been happening in the consumer space."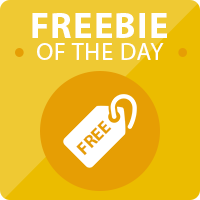 Freebie of the Day
To complement the showcasing of its bar concept, Altitude was giving away to valued airline customers a rocket shaped cocktail shaker. They made a special exception, however, and gave one to FTE Founder Daniel Coleman, and in turn won the prestigious award of FTE Day 2 Freebie of the Day at AIX!