Almost 400 senior travel industry figures from 35 countries gathered in London for Future Travel Experience Europe 2014, where airports, airlines, suppliers and various other leading travel industry stakeholders came together to debate how they can improve and differentiate their passenger experience.
The high-profile conference included presentations from the likes of Samsung, London Heathrow, IATA, Ryanair, London City Airport, Air-France-KLM, AirAsia, London Gatwick, Japan Airlines and Virgin Atlantic, while the industry's most innovative organisations showcased their latest products and services in the FTE Europe exhibition. Here we round up some of the key announcements, launches and discussion points from the first ever standalone FTE event in Europe. Also, lots of information and images are available on Twitter via the #fteEurope hashtag, which is still being updated with the latest announcements and findings from the show.
Welcome Reception – 'Best of British'
At the 'Best of British' themed Welcome Reception, delegates were treated to a performance by The Beatlez, while they also had their first look at the FTE Europe exhibition, where the likes of Samsung, SITA, ARINC, Boon Edam, Kaba, Portr and Vision-Box were showcasing their latest innovations.
Samsung: The connected travelling experience is closer than you think
The Inspirational Keynote was delivered by Samsung European Enterprise Business Team's Andy Guile, Chief Technology Officer, and Asier Sinde, Head of Manufacturing, Retail and Transportation, before both were grilled by Simon Calder, Senior Travel Editor at The Independent.
Guile told delegates: "Airports offer a unique situation because there are so many businesses that come into one confined space that rely on creating an experience." He added: "Your technology has to enable the passenger experience and optimise the passenger experience, not dictate it."
Meanwhile, Sinde stated that the industry needs "a connected infrastructure to enable this experience" and outlined a visionary passenger journey in which the passenger's mobile device is the key enabler in the end-to-end process, interacting with the surrounding technology and even being used as a "temporary passport" enabled by biometric technology. He told delegates: "The connected travelling experience is closer than you think. It's not just a dream, it's a reality, and we're here to work with you to make this a reality."
Virgin Atlantic and SITA demo Google Glass technology
Virgin Atlantic and SITA provided a live demo of the innovative Google Glass technology that is currently being trialled at Heathrow Airport's Upper Class Wing. Tim Graham, IT Innovation and Development Manager, Virgin Atlantic, told delegates: "Feedback has been really positive and it has generated a lot of interest in the wearable technology area." While the device itself has proved to be reliable, Graham explained that "connectivity has sometimes been a bit more problematic", so this will be a key area of focus for the remainder of the trial.
FTE Europe Exhibition: Google Glass, self-boarding gates, bag drop and interactive display screens
Among the innovations on show in the FTE Europe exhibition was the SITA/Virgin Atlantic Google Glass and Sony Smartwatch solutions, which are currently being trialled at London Heathrow's Upper Class Wing. Among the other innovations delegates had the chance to preview were the latest self-boarding gates, self-service bag drop systems, interactive digital touch-screens and Europe's first baggage delivery service.
IATA Workshop: Smart Security trials to start soon at Schiphol and Heathrow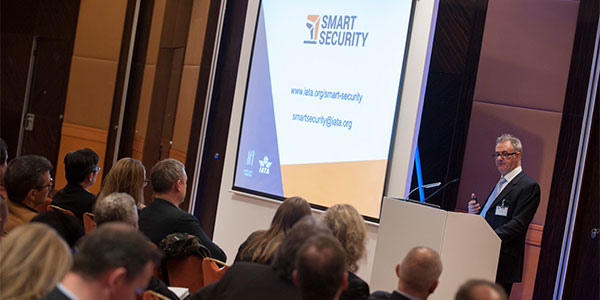 Paul Behan, Head – Passenger Experience at IATA, hosted an IATA Workshop in which he provided a detailed insight into the projects currently at the top of the association's agenda. He explained that by 2020, IATA hopes for 80% of global air travellers to be able to take advantage of a secure Fast Travel experience; an ambitious target given the figure stands at 16-17% at present.
Behan also highlighted the important role that home-printed and permanent bag tags will play in the coming years. "53% of travellers would prefer to use a permanent luggage tag that can be re-used every time they travel," he explained.
In terms of the risk-based Smart Security project, which IATA is partnering with ACI on, Behan stated that trials will get underway at Amsterdam Airport Schiphol and London Heathrow Airport later in 2014.
Heathrow Airport: We're ready for a seamless T2 opening
John Holland-Kaye, Development Director at London Heathrow, led the official Heathrow Airport Terminal 2 Symposium which also included contributions from the airport's T2 Operations Director, Brian Woodhead; T2A Project Director, Duncan Pickard; Commercial Director, Fidel Lopez; as well as Star Alliance's VP Customer Experience and Technology, Justin Erbacci.
Having provided an overview of what passengers can expect (which you can find out more about here), Holland-Kaye explained that lessons learned from the T5 opening and other projects around world will help to ensure the opening of T2 on 4 June "will be as seamless as possible."
Woodhead explained that every possible step has been taken to ensure all staff are fully prepared for the opening. "It's the people that will bring this terminal to life," he said. "We will have more than 3,000 people on-site for the end-to-end trials before the terminal opens, and on opening day itself, for every member of staff it will be at least their third day in the terminal."
Ryanair: We've reshaped the passenger experience in Europe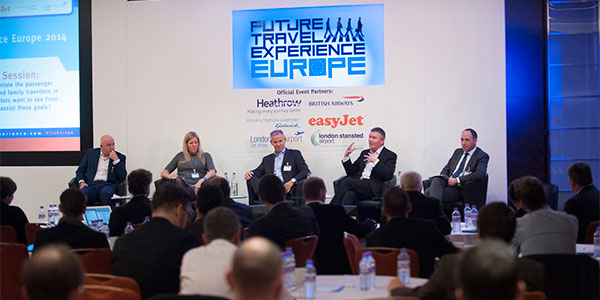 Ryanair, Swedavia, Thomson Airways, Aer Lingus and ICTS Europe came together on stage to debate how the passenger experience can be improved and differentiated, and what each of them want to see from their fellow travel facilitators to assist these goals.
Referring to Ryanair's customer service drive, David O'Brien, Chief Commercial Officer, started by saying: "I had the pleasure of working for the most differentiated airline in the world and now we're trying to un-differentiate ourselves," before boldly stating "we've done all the heavy lifting in reshaping the passenger experience in Europe." He continued: "Passengers avail of self-service now mainly because we forced them to. The panellists owe Ryanair a debt of gratitude."
Lena Rökaas, Head of Operations at Stockholm-Arlanda Airport highlighted the importance of collaborating to improve the passenger experience; a point supported by Carl Gissing, Thomson Airways' Customer Service Director. "If we fail to collaborate, we will fail to deliver for our customers, and that means failing to deliver for our business," he said.
London Stansted: Minimising stress and reducing confusion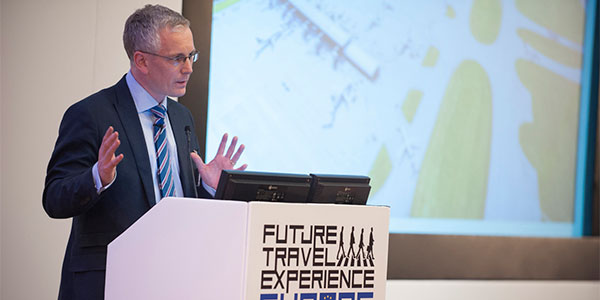 Andrew Harrison, Managing Director of London Stansted Airport, delivered one of five keynote presentations in the FTE Europe conference. He explained that as part of the £80 million investment in terminal facilities, the airport worked with psychologists to establish how it could "minimise stress for passengers, take away the confusion and make people more relaxed when they get to the plane".
He also explained that given English is a second language for more than half of the people travelling through London Stansted, the airport has invested in dynamic signage to ensure that "the different messages are available in different languages".
Capgemini announces project to achieve improvements through collaboration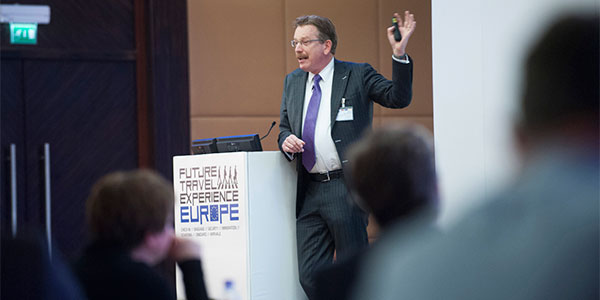 Capgemini's Vice President Business Innovation, Hans van Grieken, announced that Capgemini will facilitate a project aimed at bringing key industry stakeholders together to achieve improvements through collaboration. The project has been inspired by the FTE Airports 2025 Think Tank, and the first challenge is to establish how the industry can develop a single passenger token to create a walk-through, secure travel process. FTE will be publishing further details of the project in the coming weeks.
'Unless you can reinvent your DNA, you won't be around in five years'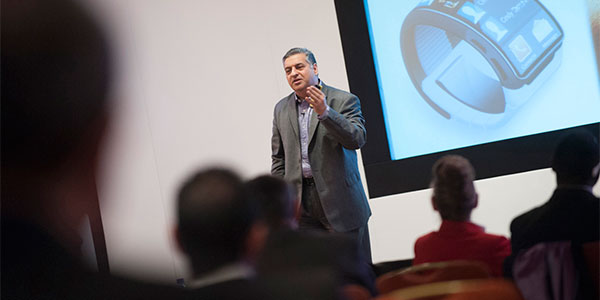 Rohit Talwar, CEO of Fast Future Research, provided a gripping insight into the new technologies that are going to reshape travel over the next 15 years. He highlighted the likes of wearable and even embedded technology, and the increasing popularity that they will experience in the coming years. He also warned the many airports and airlines in attendance that they cannot afford to ignore these advancements.
"Unless you can reinvent your DNA, you won't be around in five years time," he stated. "Of course, airports will still be here, but maybe under different management." He highlighted the importance of mastering big data, while also raising more practical concerns: "How is airport security going to handle dealing with people who have six or seven pieces of technology built into what they're wearing?"
London City Airport: Creating a smarter airport experience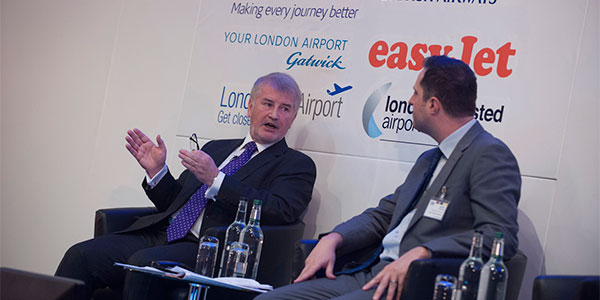 London City Airport CEO Declan Collier highlighted how the airport is creating what he calls "a smarter airport experience" through the use of next-generation technology and the 'Internet of things'.
He said the airport is using more than 200 cameras to map every single airport process to measure passenger flows in real-time to create a clear picture of potential pinch-points before they become a problem. He also explained that London City is developing a new functionality for its smartphone app, which will make use of detailed information from other travel providers such as Transport for London to provide passengers with the most relevant information to their journey. "You might be sitting in the office and get a message that says 'You should head to the airport now as there are delays on the DLR (Docklands Light Railway)'," he revealed. Collier also stated that London City Airport is exploring using Google Glass for operational processes.
Interactive Unconference sessions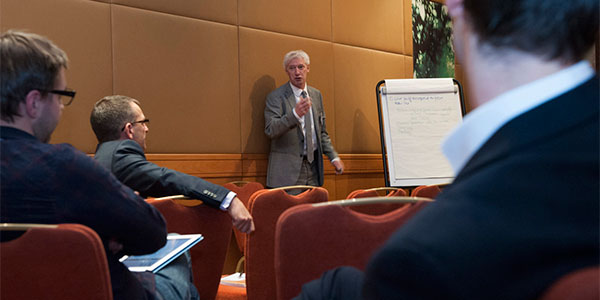 The FTE Europe conference concluded with interactive 'Unconference' sessions in which four facilitators led discussions on specific subject areas. Among the facilitators was Alan Lamond, Aviation Director at Pascall+Watson architects, and Vice Chairman of the British Aviation Group, who worked with delegates to establish the future of airport facility design and layout.
Airport tours at London City, London Stansted, Gatwick and Heathrow T5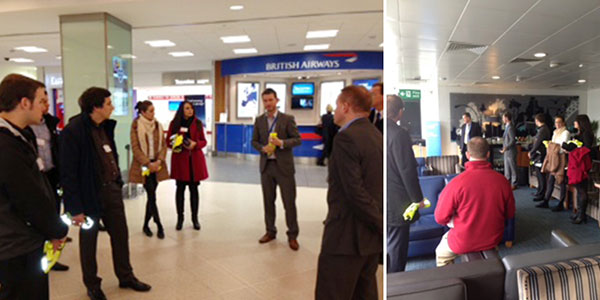 FTE Europe delegates had the chance to take part in guided tours of London City Airport, London Stansted, London Gatwick and London Heathrow T5 to see the airports' passenger-focused initiatives in action. At London City Airport, delegates explored the airport's various self-service facilities and got to experience London's fastest 'tarmac to kerbside' arrivals process.
Check out the #fteEurope hashtag on twitter for even more news and reaction to FTE Europe 2014: