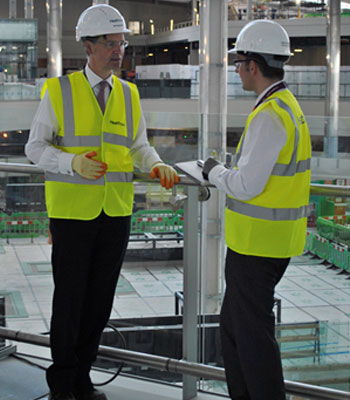 Heathrow Airport's dedication to enhancing the passenger experience is encapsulated by its motto – 'making every journey better' – and one of the most significant features of this commitment to date will be unveiled on 4 June 2014, when the new and improved Terminal 2 opens its doors to passengers.
Having had a rare opportunity to have a behind-the-scenes look at the facility, there can be no doubting that the passenger experience is at the very heart of the Terminal 2 development that includes the main Terminal 2A building and the Terminal 2B satellite building, which are connected by a passenger tunnel.
"We started by thinking about what passengers really want," said John Holland-Kaye, Development Director, Heathrow Airport.
"What they really want is to get from their car, or bus, or train to their plane as quickly as possible, so we planned for the shortest possible walking distances between transportation and the gates, making the passenger journey as easy and intuitive as possible."
T2 to provide an all-encompassing self-service experience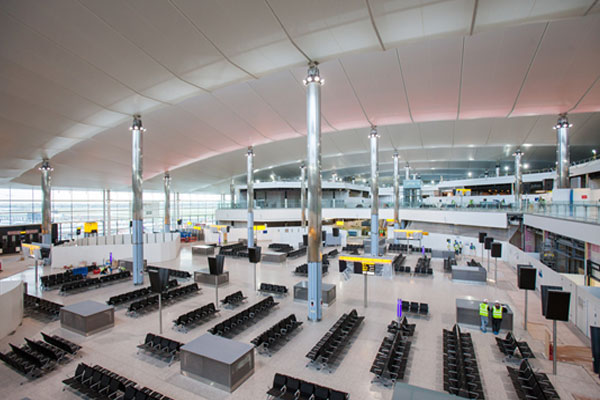 Inside the terminal, at every key passenger touch-point, the latest technology has been installed, and is currently undergoing intensive testing ahead of the opening. The check-in process in Terminal 2 is configured in three waves across four zones. This wave approach, supplemented by clear signage, provides passengers with choice, an intuitive route and a simplified process.
Holland-Kaye, who will provide an overview of how T2 has the needs of the passenger at its heart in the Heathrow T2 Symposium at FTE Europe, outlined that Wave 1 consists of 66 self-service kiosks, at which passengers can check-in, print their boarding cards and bag tags and tag their own bags, before moving on to the bag drop at Wave 2. 56 traditional check-in desks can be found in Wave 3 – this wave features dedicated premium desks and full service economy check-in desks for those who do not wish to make use of the self-service facilities.
Once they have checked in and dropped their bags, passengers can advance to the security checkpoint and departure lounge, where entry is granted using automated boarding pass scanners. Self-boarding gates have also been installed to allow for the boarding process to be automated, while arriving passengers can make use of e-gates at the immigration checkpoint in order to avoid queuing to see an agent. Holland-Kaye explained that arriving passengers can expect to get from the gate to their car in just 5-10 minutes.
Meeting the needs of every passenger
The key to making every journey better for every passenger, Holland-Kaye stated, is to ensure that the needs of all passengers are met. "A lot of passengers do now want to use self-service – not all of them do – and it depends very much on your personal experience and to some extent where you come from," he explained.
"If you're Northern European, you are typically very comfortable with self-service and you want to be in control of your time, so as much as possible you will check-in at home, you will want to use self bag tagging and drop the bag off at a fast bag drop, and get on your way. But if you're from the subcontinent, you probably prefer to have a more personal service and with Heathrow being the world's most international airport, we need to cater to all different types of tastes, so that's exactly what we have done."
Common use facilities for Star Alliance carriers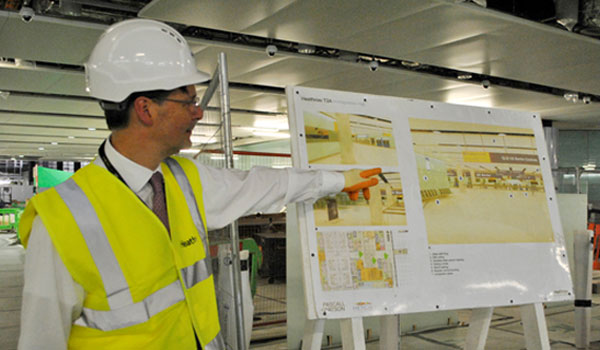 As the new home to 22 Star Alliance carriers – plus Aer Lingus, germanwings and Virgin Little Red – Heathrow Airport has also made the most of the opportunity to simplify the airport experience for transfer passengers.
Holland-Kaye explained: "A lot of passengers are now transferring between individual Star Alliance carriers, so they might be flying across the Atlantic on United and then connecting to an SAS flight to Sweden. By having all the Star Alliance airlines together in one terminal, they will be able to make that journey quickly and efficiently."
This grouping together of alliance partners has enabled the installation of common check-in and bag drop facilities that can be used by passengers flying with any of the Star Alliance carriers.
In the Heathrow T2 Symposium at FTE Europe, Justin Erbacci, Vice President, Customer Experience and Technology, Star Alliance, will offer a detailed insight into how the Star Alliance members will offer a unique passenger experience in the new T2, and explain the challenges they have had to overcome along the way.
Terminal 2: London in an airport
While a major part of Heathrow's focus has been on ensuring passenger and baggage processing is conducted in the most efficient manner possible, great thought has also been given to the terminal's design and architecture, which will help guide passengers through each stage of the airport journey and ensure it has a true sense of place. "This is the Queen's Terminal, recognising the 60-year relationship that we've had with the Her Majesty the Queen, so we wanted to make sure we could bring that to life," Holland-Kaye commented. "You get a sense when you're in the terminal that you could be nowhere other than the UK, and nowhere other than London."
With the opening of Terminal 2 now less than four months away, Holland-Kaye and Heathrow Airport are clearly confident that the new facility will help provide travellers with an overwhelmingly positive first and last impression of London.