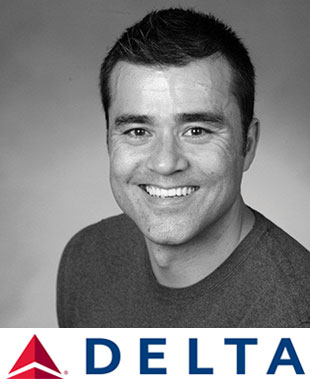 We are delighted to announce that Matt Muta, Vice President Innovation & Commercial Technologies at Delta Air Lines, will deliver a Visionary Keynote at FTE Global 2014.
In a presentation entitled 'Using new technology to leverage consistency across the entire journey', Matt Muta will share details of Delta's strategy to make use of new and emerging technologies to enhance the end-to-end passenger experience.
He is uniquely positioned to offer insight from both an airline and technology perspective, given he was previously Microsoft's Managing Director of Global Hospitality and Travel before joining Delta earlier this year.
Delta Air Lines joins the likes of Disney, Norwegian Air Shuttle, McCarran International Airport, Air France-KLM, Vancouver Airport Authority, All Nippon Airways, Fast Future Research, Montréal-Trudeau International Airport, Dubai Airports, IIT Institute of Design, Hilton Worldwide, Droiders, Vuzix, Bags Inc., Intel Labs, Teague and JD Power in confirming its participation in the conferences at FTE Global 2014, 24-26 September, Las Vegas.
»More information on FTE Global 2014
»Register to attend FTE Global 2014