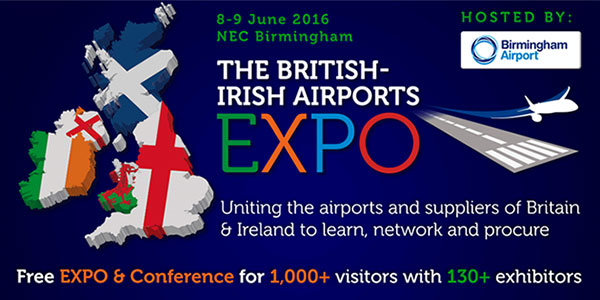 Here at Future Travel Experience, we would like to bring to your attention the British-Irish Airports EXPO & Conference, which will take place in Birmingham, UK from 8-9 June 2016, and is brought to you by the same company that brings you FTE.
Hosted by Birmingham Airport, the British-Irish Airports EXPO & Conference is a dynamic new airport show for Britain and Ireland, which are renowned for having some of the most sophisticated and successful airport networks in the world. This new event will unite the airports and suppliers of Britain and Ireland to learn, network and procure.
The show is free to attend and provides an invaluable showcasing platform for leading airport industry suppliers, both large and small. In addition to the biggest expo of its kind in Britain and Ireland, it will include a leading conference, Birmingham Airport tours and an Evening Party, providing a perfect opportunity for the 1,000-plus attendees to network.
The expo itself will be split into three zones and will feature in excess of 130 exhibitors. Each zone will display the latest solutions, services, products and equipment for enhancing airport performance, customer experience, and safety and efficiency. The British-Irish Airports EXPO will give equal billing to national, regional, hub and military airports.
Paul Kehoe, CEO of Birmingham Airport, commented: "The emergence of a major industry expo for the British Isles, which celebrates our world-respected airports network and provides a platform for the community to come together to plan and seek inspiration on its next moves is long overdue and we here at Birmingham Airport are very proud and excited to host it."
»  Visit the British-Irish Airports EXPO & Conference website
» Sign-up to the British-Irish Airports EXPO & Conference newsletter
»  Enquire about exhibiting at the British-Irish Airports EXPO