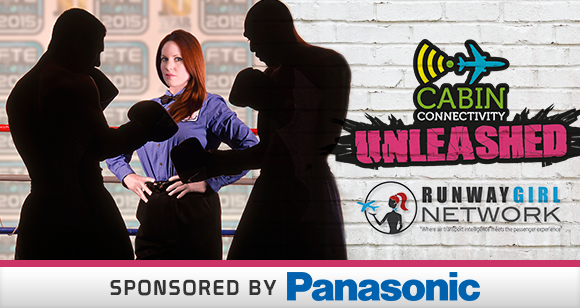 We are delighted to announce that Panasonic Avionics is a Gold Sponsor of Future Travel Experience Global 2015 and will also sponsor the "Cabin Connectivity Unleashed" session in the "Up in the Air" conference, which will take place in Las Vegas from 9th-11th September.
Cabin Connectivity Unleashed, which will be refereed by Mary Kirby, Founder & Editor of Runway Girl Network, will explore how the Internet of Everything will change airlines and aviation forever.
These days, you'd be hard-pressed to find a serious aviation conference or exhibition that isn't dedicating resources to hosting at least one or more panels about inflight connectivity. Knowing that your options are manifold – and that the traditional speaker format for such discussions can only cover limited ground – FTE has created a fresh new platform that aims to maximise the benefit for attendees. After Mary has set the scene, she will host a no-holds-barred, spin-free discussion with the industry's leading in-flight connectivity providers about how nose-to-tail connectivity will change the game and reinvent the passenger experience onboard.
The panellists joining Mary on stage are: David Bruner, VP, Global Communications Services, Panasonic Avionics; Mike Moeller, VP, Business Development – Connectivity & TV, Thales InFlyt Experience; Anand Chari, Chief Technology Officer, Gogo; Don Buchman, VP Commercial Mobility, ViaSat; Aditya Chatterjee, Chief Technology Officer & SVP of Engineering, Global Eagle Entertainment; Richard Nordstrom, Sr. Director, Global Marketing, Rockwell Collins; and David Coiley, VP Sales for Europe, Inmarsat Aviation.
» View the full 'Up in the Air' conference agenda
» Register to attend