More than 1,000 senior figures from airlines, airports, vendors, government agencies, technology companies and various other travel industry stakeholders attended Future Travel Experience Asia EXPO 2015 in Singapore from 17-19 November. The event – for which the International Air Transport Association (IATA) and the Airline Passenger Experience Association (APEX) were official event partners – hosted Asia's largest free to attend end-to-end passenger experience expo with zones dedicated to 'On the Ground', 'Up in the Air' and 'Inflight Entertainment & Connectivity', as well as premium 'On the Ground' and 'Up in the Air' conference streams, a complimentary EXPO Seminar Stage, the FTE Collaboration Forum Asia and the 1st Future Travel Experience Asia Awards ceremony.
Welcome Reception – sponsored by Panasonic
Future Travel Experience Asia EXPO 2015 started with a bang thanks to a fantastic performance by Drum Cafe Singapore at the Welcome Reception sponsored by Panasonic. First Class delegates had their first look at the largest exhibition to date in FTE's 10-year history, before being invited to take part in an inclusive drumming session.
At the opening of the exhibition, Daniel Coleman, Founder, Future Travel Experience, and Joe Leader, CEO, Airline Passenger Experience Association (APEX), announced that FTE Asia EXPO 2016 and APEX EXPO 2016 will be co-located in Singapore during the week commencing 24 October 2016.
Asia's largest end-to-end passenger experience exhibition
The 1,000 visitors to the expo had plenty of solutions to demo, ranging from single passenger tokens and permanent electronic bag tags to the latest inflight entertainment and connectivity solutions. For the first time ever, visitors were also able to make use of the Personalised EXPO Boarding Pass and Single Token Travel Showcase initiatives to trial technology as if they were a passenger on a journey through an airport.
Inspirational keynotes
First Class delegates had access to two premium conference streams, which included three inspirational keynote sessions. Opening the conference, Jetstar Asia CEO Barathan Pasupathi provided insight into the low-cost carrier's customer-centric strategy, which has seen the rollout of self-service and digital solutions to enhance the customer experience, reduce costs and increase revenues.
Honour Branding Product and Innovation Director Mike Crump and Panasonic Avionics Corporation Senior Manager, Integrated Marketing Matthias Walther shared the FTE Onboard 2025 Think Tank vision in Asia for the very first time, while delivering the closing keynote was Microsoft's Hammad Rajjoub,, Enterprise Mobility and Devices Lead, Enterprise & Partner Group, who outlined how the technology giant is using next generation technologies to create consistency across the entire journey.
'On the Ground' conference – next generation technology strategies, future proofing facilities and expediting passenger processing
Delegates were spoilt for the choice in the 'On the Ground' conference stream, with senior figures from the likes of Japan Airlines, Tigerair, Sydney Airport, Changi Airport Group, Peach, Melbourne Airport, IATA, Saudia and Japan Airport Terminal Co., Ltd. delivering presentations on how they are leveraging new technologies to realise efficiencies and enhance the customer experience on the ground.
'Up in the Air' conference – differentiation strategies, crew empowerment and the future of IFEC
Meanwhile, the 'Up in the Air' stream focused on all thing inflight, ranging from cabin design and differentiation strategies, to crew empowerment and the next generation of inflight entertainment and connectivity (IFEC). Delegates heard from the likes of Boeing, Scoot, JPA Design, SITAONAIR, Panasonic Avionics and Qatar Airways, including three members of crew who joined Rossen Dimitrov, Senior Vice President Customer Experience, on stage to offer their thoughts and experiences on crew and passenger empowerment.
Insight & Innovation Symposium and FTE Collaboration Forum Asia
In addition to the dedicated 'On the Ground' and 'Up in the Air' sessions, conference delegates came together at certain points to jointly participate in sessions of mutual interest. Among these was the FTE Collaboration Forum Asia, which brought various industry stakeholders together to discuss key topics and establish how they can work together more effectively, plus the Insight & Innovation Symposium, which included speakers from the likes of IATA, Google, TripAdvisor and BT.
FTE Asia Awards 2015 – 14 airlines and airports recognised for passenger experience leadership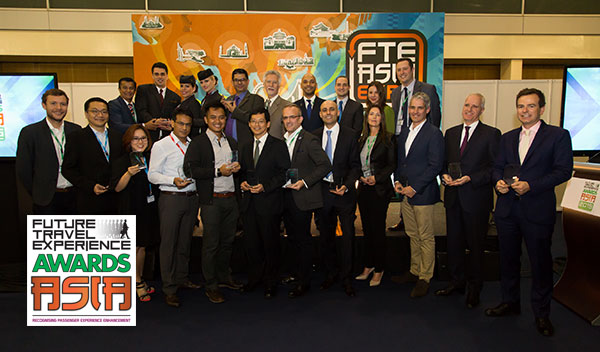 FTE Asia EXPO 2015 also hosted the inaugural FTE Asia Awards ceremony, in which 14 airlines and airports from Asia and Oceania were recognised for their customer experience leadership and achievements. Awards were presented across five regional categories: West Asia, North & East Asia, Central & South Asia, Southeast Asia and Oceania. Find out who won and view the winners' photos here.