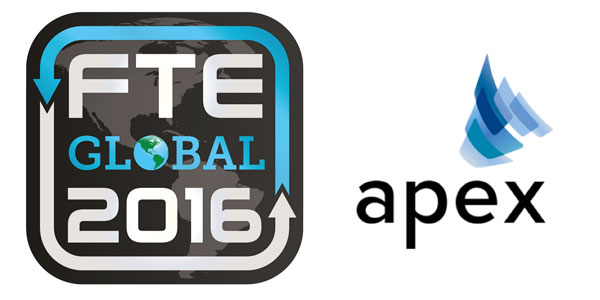 Future Travel Experience (FTE) today announced the Airline Passenger Experience Association (APEX) as the Headline Partner of Future Travel Experience Global 2016, which will take place in Las Vegas from 7-9 September 2016.
The 11th edition of the annual FTE Global show will attract nearly 1,000 air transport and travel industry leaders from around the world. Senior figures from airlines, aircraft manufacturers, airports, vendors, government agencies, destination partners, consumer technology giants, and various other industry stakeholders will gather in Las Vegas. The event will provide a platform to share the latest passenger experience plans and visions, showcase the best products and concepts, and collectively define the end-to-end passenger experience of the future.
APEX Chief Executive Officer Joe Leader will participate in FTE's latest future-focused Think Tank project, the findings of which will be exclusively revealed in the "Up in the Air" conference at FTE Global 2016. This pioneering Think Tank will tackle the theme of "Harnessing the full potential of the connectivity pipeline between now and 2025". Leader will work closely with FTE and various other air transport industry experts on this unique project, which will provide priceless insight to airlines and the wider industry.
Leader said: "FTE and APEX share a goal to improve the passenger experience. In that spirit, we are delighted to be partnering on FTE Global in Las Vegas. APEX's membership base has rapidly expanded to serve more areas both in the air and on the ground. With our annual EXPO this year taking place in Singapore alongside FTE Asia EXPO, FTE Global in Las Vegas offers a unique opportunity to collaborate in the Americas.
"APEX will work closely with the Future Travel Experience team to help craft the FTE Global 2016 event to provide another valuable meeting platform for our strong membership base. I have every confidence that FTE Global 2016 with APEX will provide a vital forum for our members to take advantage of the educational, exhibiting and networking opportunities."
Daniel Coleman, Founder, Future Travel Experience, added: "Enhancing the in-flight passenger experience is a key element of FTE's overall mission of improving every stage of the end-to-end travel experience, and we are very pleased that our working relationship with APEX now extends to our FTE Global show. Like us, APEX is dedicated to strengthening the air transport community, promoting innovation and ultimately improving the passenger experience, and their support in delivering our biggest event in the Americas to date will add great value.
"We are pulling out all the stops to inspire our delegates at FTE Global 2016, which will host Up in the Air and On the Ground conference streams, an inspirational end-to-end exhibition, the first ever FTE Terminal Design & Delivery Summit, interactive co-creation workshops, the 6th Future Travel Experience Awards ceremony, and an unforgettable social and networking programme. We are delighted to have APEX's invaluable support in delivering this."