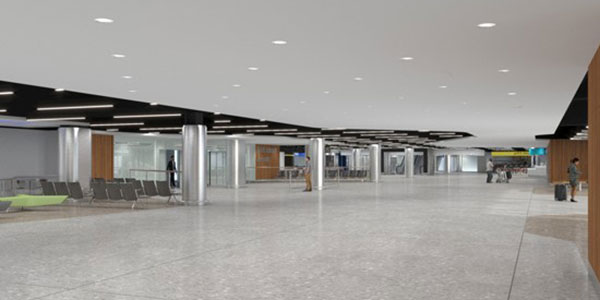 Dublin Airport has revealed plans for the €10 million redevelopment of the Terminal 1 Arrivals Hall and façade.
The renovations include the removal of desks currently situated near windows to allow more natural light to flood the terminal, new flooring, a replacement ceiling and a facelift for the front of Terminal 1.
When the work is finished, all restaurants will be located in one area and services such as tourist information, onward travel and information desks will be grouped together to help create a more passenger-friendly and intuitive airport experience.
Also, screens currently positioned in front of the Arrivals Hall exit doors will be removed so that customers meeting and greeting friends and family will have an unobstructed view as they come through from the baggage hall.
Dublin Airport Managing Director Vincent Harrison said: "We are upgrading Terminal 1 on a phased basis and we have already enhanced the Departures Floor. We are now turning our attention to the Arrivals Hall. Our goal is to greatly improve the overall look and feel for our customers. We are confident that, when completed, the renovations will significantly enhance the ambience in that area."