More than 300 customer experience leaders from 25 countries gathered in Amsterdam on 25 and 26 April at Future Travel Experience Europe 2016, where the most forward-thinking airlines, airports, technology giants and air transport industry vendors shared their visions of the passenger experience of 2025.
The event – the third standalone Future Travel Experience Europe show ­– included inspirational keynotes from Philips, Microsoft, Virgin Atlantic and SkyTeam, "On the Ground" and "Up in the Air" conference streams, an "Insight & Innovation Symposium", an end-to-end exhibition of pioneering solutions for airlines and airports, Co-creation Forums, the first FTE Bag Drop Symposium and a unique social and networking evening hosted by KLM and Scarabee Aviation Group. Here we round up some of the key event highlights, discussion points and conclusions.
Inspirational keynotes – moonshot thinking, strategising with a purpose, and the importance of personalisation, intimacy and trust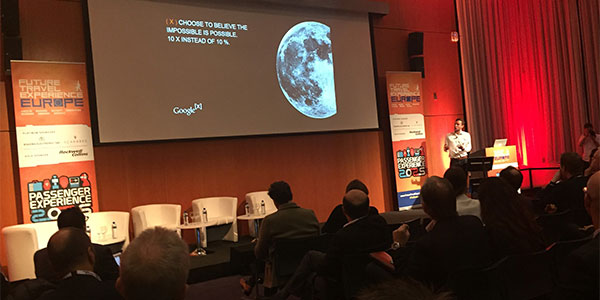 The FTE Europe conference chairman, Max Coppin, Google's Partner Development Manager, set the scene for two days of future-focused thinking with his opening address. Embracing "Moonshot Thinking" was at the heart of his introduction, and he urged the audience to embrace Google X's philosophy of aiming for a 10-times improvement instead of a mere 10%. After outlining the "nine steps to the moon" – including the need to recognise the fact that "data beats politics" – Coppin handed over to Philips Head of Design Pierre-Yves Panis.
Panis stressed to the audience the importance of "strategising with a purpose", "focusing on the full experience" of the customer, and embracing co-creation. Having shared Philips' four experience value drivers – attract and engage; empower and augment; wellbeing; and sustainability – he emphasised the role that light can play in improving customer experience, both on the ground and at 30,000 feet. "Light is experiential," he explained, "we are hard wired to experience light." Panis added that "light is way beyond illumination" and has an important role to play in the broader connected ecosystem.
Completing the opening keynote line-up was Microsoft's Fred Warren, Creative Director, Connected Digital Services and Debbie Hulme, Virgin Atlantic's Vice President of Customer Experience, who jointly delivered a presentation entitled: "Personalisation, intimacy and trust: Welcome to customer experience in 2025". Warren told delegates that "all the tools for you to optimise your travel experience exist today" – the challenge lies in establishing how exactly to make best use of them. With airlines engaged in a personalisation "arms race", the "ability to surprise, delight and excite" is what will make a real difference in customer experience terms. Warren also delivered a warning around using customer data to help deliver personalised experiences. "When the trust bond is broken, you're left in a difficult place," he said, suggesting that airlines and all other industry stakeholders must ensure that customer data is treated with the greatest deal of respect and caution.
Virgin Atlantic – which worked closely with Microsoft on the development of the "Immersive Digital Adventure" (Ida), which enables its customers to experience an Upper Class journey via a virtual reality headset – lives by the philosophy of "Not every idea is going to fly, but it's better to try", Hulme explained. She outlined how Virgin Atlantic is working to "make the journey as smooth and seamless as possible" for its customers. Facial recognition technology, iBeacons and RFID-enabled baggage tracking are examples of how technology can help to simplify the passenger experience, she said. However, simply identifying new technologies that can help drive improvements is not enough; organisations must "foster an innovation culture" in order to make meaningful change. Ranging from "Ida" to onboard gigs streamed live via in-flight connectivity to 4D experiences in the cabin, Virgin Atlantic is clearly taking a lead on creating unique customer experiences.
Insight & Innovation Symposium – 'The best way to predict the future is to work together and create it'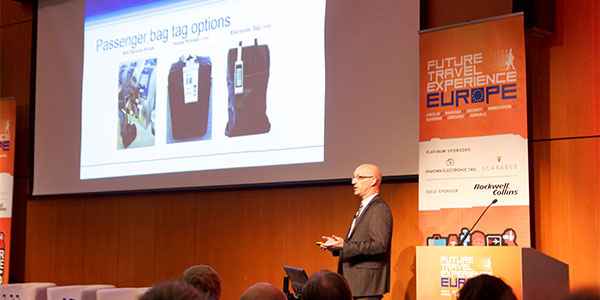 Led by Pierre Charbonneau, IATA's Director, Passenger, the Insight & Innovation Symposium explored how travel and air transport industry stakeholders should prepare for the technology, consumer and industry considerations of tomorrow. Charbonneau echoed Fred Warren's comments around the importance of trust, telling delegates: "Customers are willing to share data, but in some areas it's very sensitive. Data will be shared if there's trust, and trust comes from transparency." He explained that with air travel expected to double over the next 20 years, the "solution is not to double the size of airports and everything we do". Single passenger tokens and bag-free travel experiences are examples of how the industry can create more seamless and secure travel experiences. He concluded: "The best way to predict the future is to work together and create it."
Daan Noordeloos, Transavia's Manager Marketing & Customer Strategies, then revealed how the low-cost carrier takes a unique approach to create memorable experiences. Transavia has six core passenger experience principles, he said: Emotion, Minimal Mental Effort (for customers), Consistency, Scale, Multi-sensory and Immersive. "You have to make sure passenger experience isn't a process or management hype, you have to bring it into the culture," he added.
Alberto Rey-Villaverde, easyJet's Head of Data Science, offered invaluable insight on how big data, advanced analytics and artificial intelligence can help airlines enhance operational efficiency and improve customer experiences. "Data is an asset," he explained, "and with the help of artificial intelligence it will add value to your company over the next five to 10 years."
Outside of the industry inspiration came from Michael Levie, Chief Operations Officer at Dutch hotel brand CitizenM, who challenged the air transport industry to drastically improve what are often "bland and boring" experiences. Key to achieving this is giving staff more freedom, he said. "In-flight crew are one of the most dedicated groups of people, not just in this business but in any business, but it feels like we've put them in straightjackets," he explained. As CitizenM has found, by "freeing staff up" and allowing them to express their personality to deliver better customer service, they can make a big difference. Paying close attention to customer behaviours and demands is also crucial, he added. For instance, CitizenM recognises that having an Apple TV in the room might be more important to some customers than having a bigger screen, he said, suggesting that the air transport industry could learn from this way of thinking.
Exhibition – biometric tokens, immersive experiences, portable IFE, permanent electronic bag tags and more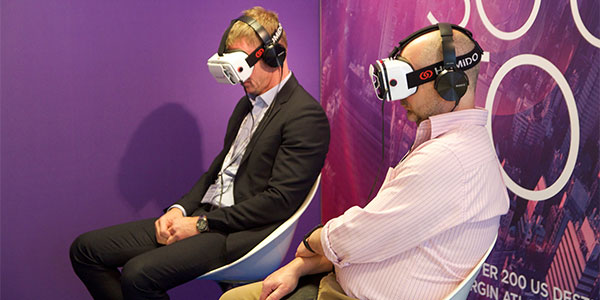 Ranging from permanent electronic bag tags to portable in-flight entertainment solutions, and biometric-based single passenger tokens to automated retail kiosks, the FTE Europe 2016 exhibition showcased the very latest technologies and products that have been created to improve the end-to-end customer experience. Traditional air transport industry vendors were joined by technology giants, KLM, Schiphol Group and the Delft University of Technology in the exhibition hall, providing attendees with a broad array of products and concepts to explore during the two-day show.
FTE Europe 2016 Opening Reception – hosted by KLM and Scarabee Aviation Group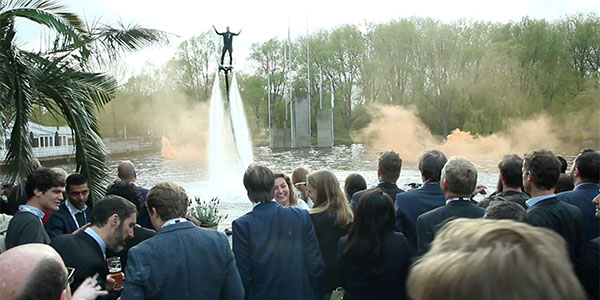 KLM and Scarabee Aviation Group hosted the FTE Europe 2016 Opening Reception at the urban beach setting, Strandzuid. The theme of the evening was "Sound Processes" and attendees were treated to an evening of food, drinks, Dutch hospitality, a showcase of the latest technologies designed to make seamless journeys a reality, and unique entertainment, including a stunning flyboarding performance.
Air France-KLM Innovation Symposium – today's technology, the future vision and the challenges that need to be addressed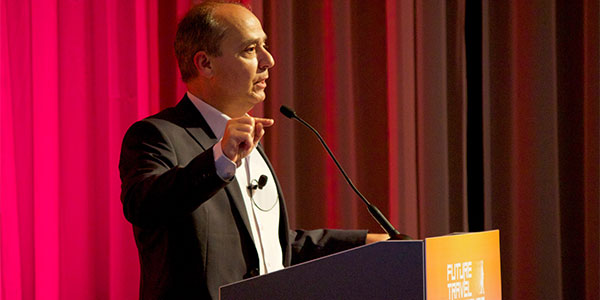 Day 2 kicked off with the Air France-KLM "On the Ground" Innovation Symposium – a unique interactive conference session in which the airline group first outlined how it is embracing new technology to drive customer experience and operational improvements. Patrice About, Air France-KLM's Director Ground Innovation, explained how the likes of robotics, biometrics, baggage tracking tools and LoRA sensors are being used, and outlined the lessons learned to date. Following the presentation, Tina Bergsma, Air France-KLM's Vice President International Stations, led an in-depth discussion in which senior figures from Schiphol Group, IATA, Scarabee Aviation Group and Vision-Box tackled questions on a number of pressing industry issues.
'On the Ground' Conference – digital personalisation and the airport experience of 2025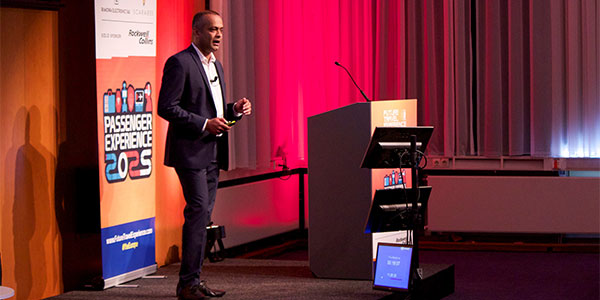 The "On the Ground" conference also played host to the Digital Personalisation Symposium. Among the speakers was Abhi Chacko, Head of IT Commercial, Gatwick Airport, who offered in-depth insight into how the Airport Community App is helping to transform day-to-day operations not just for the airport but also airlines, ground handlers, concessionaires and various other airport-based stakeholders. John Hurley, Ryanair's Chief Technology Officer & Head of Ryanair Labs, provided an update on the low-cost carriers impressive efforts to leverage the latest technological developments to create more personalised customer experiences, before Greg Jones, Microsoft's Managing Director – Worldwide Travel and Hospitality, shared with the audience how a variety of technologies, including artificial intelligence and wearable technology, can deliver operational and customer-focused benefits.
Following this, Matthew Johnson, Senior Associate at Gensler, led a session focused on "Airport Futures", in which senior figures from Lufthansa, Finavia, JetBlue, Capgemini, Air New Zealand and Arora Engineers, explored how we can transition from a "waiting" to a "moving" airport experience. Sicco Santema, Professor of Marketing, Supply Management at TU Delft and Coordinator of the PASSME project also delivered a presentation on how PASSME is on track to achieve an industry-driven, passenger-centric increase of experience and a 60-minute reduction in travel time.
'Up in the Air' Conference – immersive entertainment, in-flight commerce and the onboard experience of the future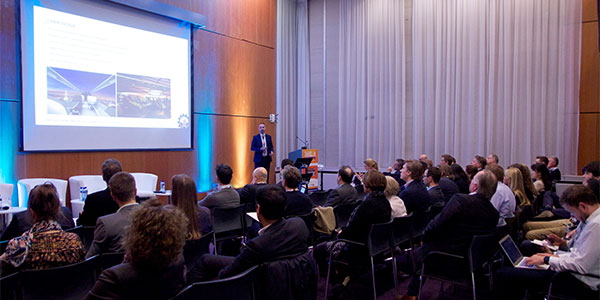 Running in parallel with the "On the Ground" conference was the "Up in the Air" stream, in which a number of experts in the customer experience field shared their own plans and visions of the passenger experience of 2025. Ranging from next generation in-flight entertainment and connectivity to new opportunities in onboard service and commerce, delegates were given unique insight into how the latest technologies and trends are shaping tomorrow's in-flight experience.
Raymond Kollau, Founder of airlinetrends.com and Joe Leader, CEO of the Airline Passenger Experience Association (APEX), were among those to lead the "Up in the Air" sessions, in which senior figures from the likes of Air France-KLM, TUIfly Netherlands, Immfly, TU Delft, Airbus, Microsoft and Zodiac Aerospace examined how next-generation connectivity, immersive entertainment experiences and fresh approaches to cabin design will help to define future in-flight experiences. Mike Crump, Managing Director of Honour Consulting, also shared the FTE Onboard 2025 Think Tank Vision for the first time in Europe.
Co-Creation Forum – data sharing, listening to the customer and accepting joint responsibility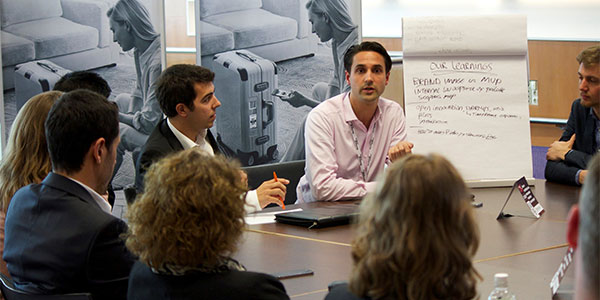 The need for closer collaboration between industry stakeholders was once again apparent at FTE Europe 2016, and delegates jumped at the opportunity to take part in the FTE Co-creation Forum in which attendees split out into nine groups to tackle a variety of "On the Ground", "Up in the Air" and "End-to-End" topics.
A number of common themes emerged across the working groups, including the need for stakeholders to establish how to more effectively share data, to listen more closely to the desires of the customer, to accept joint responsibility for improving customer experiences, and to remove friction from the travel process. Balancing experimentation with regulation, and retaining a "human touch" while adopting new technologies were also identified as important considerations. In the "Up in the Air" working groups, flexibility emerged as a key trend, both in terms of cabin design and entertainment options.
Preparing for next-generation baggage advancements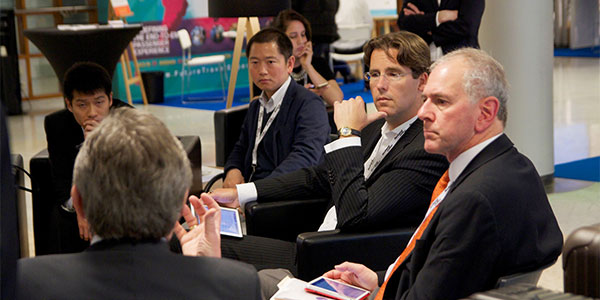 With a number of developments in the baggage field creating myriad new opportunities for airlines and airports, FTE Europe played host to a dedicated Bag Drop Symposium. Dr Bjoern Becker, Director Product Management Airport & Passenger Services, Lufthansa led a working group exploring "Bag drops as part of the digital baggage experience", and John Whittaker, Air New Zealand's Group General Manager Airports, led the "Biometric-enabled bag drop" group.
Closing Keynote – SkyTeam CEO: We're working to create a more seamless travel experience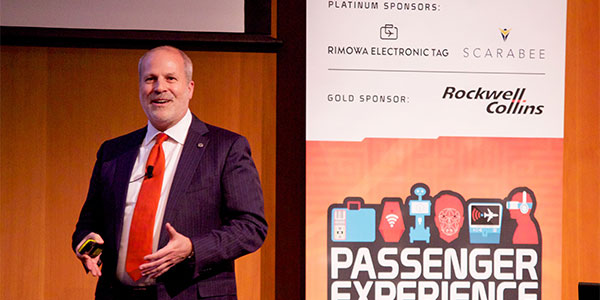 Following two full days of inspiring presentations, fruitful discussions, product showcases and invaluable networking opportunities, the Closing Keynote was delivered by Perry Cantarutti, CEO, SkyTeam. Cantarutti explained that the role of airline alliances is changing, but they remain as relevant as ever as the industry continues its shift towards a more customer-centric mindset.
He explained how the SkyTransfer product is helping to offer a more seamless transit experience, and how a focus on hospitality and creating a consistent level of service is paying off from a customer experience standpoint. Cantarutti also revealed that SkyTeam will roll out a SkyPriority Customer Audit App, which will allow travellers to report feedback directly to the alliance and its member airlines. Service recovery is also in focus, and efforts are being made to simplify the experience for travellers when they encounter disruption during their journey.
FTE will shortly publish the in-depth conclusions from Future Travel Experience Europe 2016, including the key findings and conclusions from the Co-creation Forum, which will be passed on to the relevant industry bodies to help drive future industry and customer experience improvements.