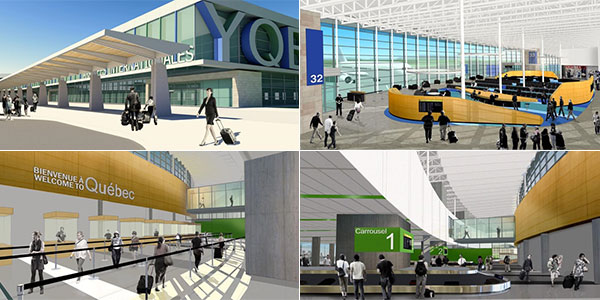 Just eight years after the completion of a major modernisation and expansion project at Québec City Jean Lesage International Airport, another significant investment is being made in further expanding facilities and preparing the airport to cope with the extra demands brought about by a consistent +7.7% annual passenger growth rate since 2002.
Aéroport de Québec inc. (AQi) is investing $277 million in the latest round of development, which covers multiple construction projects. This investment includes a doubling in size of the terminal area and the introduction of various self-service technologies to ultimately create a more intuitive and seamless airport experience for passengers.
Building a terminal fit for the future
As Marc-André Bédard, Vice President, Information Technology, AQi, explained to FTE, the project will "double the size of the terminal but quadruple the processing capacity". "Really what we're now doing is building maximum capacity and redoing all the heart elements of the airport through this new extended terminal," he said. "We're upgrading all the hard elements like baggage rooms, security checkpoints and Canadian customs, so all of these will be there to stay and we'll have the square footage needed to grow to our ultimate potential. Then as we continue to grow we can add gates, for instance, that will be relatively easy to add to the terminal later. This is about building a terminal that will be able to bring us a lot more passengers and give the level of service that people from Québec City and the regions around it expect."
Self-service technology will be very much at the front and centre of the new-look facility, which is due to be complete in 2018. Self-service check-in kiosks, self-service bag drop units and automated customs kiosks will be installed both to cater to rising demand for do-it-yourself airport processing and to optimise passenger flows, which is especially important for a point-to-point airport that experiences "peaky" passenger traffic. More dedicated baggage carousels serving international flights will be added, four new departure gates will be introduced and the customs area will be redesigned.
"The great thing about this project is that IT has been involved since the beginning," Bédard stated. "IT adds that function in the project to look at all the processes with all the stakeholders and try to optimise these processes and use technology as much as possible to be as efficient as possible. That has enabled us to build much smaller than we would have done without looking at new technology."
A lot of emphasis has been placed on exploring how passenger processing will evolve in the coming years, he said, which will help to ensure that this latest investment brings about long-term benefits as the airport's annual throughput rises to 2 million passengers by 2020. "Self-service, things like kiosks and bag drops, will be a reality at Québec City at the opening of the expanded terminal, but what about tomorrow when most of these functions will take place at home? We know this will happen, but we don't know exactly when," Bédard stated. As home-printed bag tags gain traction in North America in the "next couple of years" the check-in hall could simply become a "bag drop hall" where the majority of passengers arrive checked-in and with their bags pre-tagged, he said.
"If you build too big, what will you do in the future with this space?" Bédard continued. "It's a lot of concrete that you need to build and it's costly to maintain as well, so you need to build smart and that's definitely what we're doing through this project."
"Flexibility", he explained, is a key word at the heart of the terminal expansion. "We've found that different airlines have different processes and different preferences. We need the technology we choose to be as flexible as possible and to be able to support different types of processes for different airlines and different partners. For instance, if an airline wants to be able to use one-step self-service bag drop and it makes sense for them and their passengers, then why not? The same can be said for two-step. We need to ensure we have flexibility, because one size does not fit all."
'Self-service is better service'
Bédard is in no doubt that investment in self-service, in its various forms, is in the best interests of the airport, its airline partners and their passengers, but he highlighted the fact that those who don't yet feel comfortable taking charge of their own airport experience should not feel intimidated by the rollout of new technology.
"We really believe that self-service is better service for the passenger," he said. "Most of the time you can go through the airport using this technology and it's a breeze, but if you need additional assistance, people will be there to help and they'll be focusing on those people that need real assistance."
Ultimately, the end goal is to ensure that all passengers flying from Québec City Jean Lesage International Airport enjoy a smooth experience that meets their own specific needs.