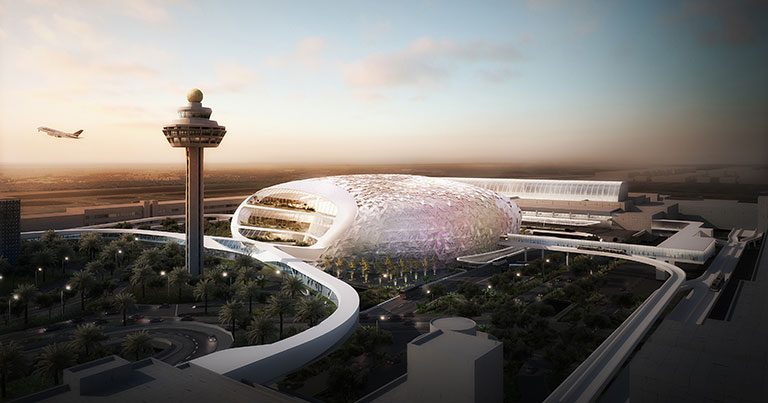 Driven by an increase in automation, commercialisation and the importance of 'sense of place', in addition to evolving passenger demands, airport terminal design has been changing. It will continue to do so as technology developments, especially in relation to passenger processing, shape how terminals look now and how they will differ in the future.
To provide insight into the key factors impacting terminal design and to explore the latest developments in this space, FTE spoke to American Airlines' Managing Director of Real Estate, Katherine Goudreau; LaGuardia Gateway Partners' CEO, Stewart Steeves; SOM Director, Derek Moore; UNStudio Founder and Principal Architect, Ben van Berkel; and Merchant Aviation's CEO, Kiran Merchant. Both Goudreau and Merchant will be speaking in the 'Terminal Design & Delivery Summit' at Future Travel Experience Global 2016 next month.
Passenger expectations
Offering a relaxing experience is one of the most important aspects when it comes to airport terminal design, and often this is shaped by how easy it is for passengers to navigate through the airport. SOM's Moore said: "I think passengers look for clarity and a sense of wellbeing. They don't want to be stressed. I think they want a relatively calm and clear passage from whatever their ground transport mode is to the aircraft and back."
Merchant commented: "Passengers today are looking for seamless flow through and intuitive design with well integrated technology to provide them with accurate current information and efficient processing to reduce their anxiety level. Terminal design should be able to strike a balance between those passengers who want to just use the terminal as a mere 'portal' for a quick entry and exit, and the ones who want the terminal to be one of the memorable milestones in their end to end travel experience."
Van Berkel of UNStudio similarly said that the terminal needs to "avoid the affect of queuing and (have) very good wayfinding for multiple experiences". He said passengers should "feel a made-in-heaven effect when you step into an airport. An airport should be like you're already stepping into your holiday."
American Airlines' Goudreau also emphasised the importance of wayfinding. She said an airport needs to have "good signage and it needs to be coupled with the ability to clearly see where you are going next. I.e. at a ticket lobby, they (passengers) need to see where security screening is; at screening, they need to see where revestiture is; after screening, they need to see how to get to their gates, etc.
"What the passenger doesn't see, but is critical, is an efficient BHS (Bagging Handling System), allowing more reliability in getting bags to the plane (outbound) and to the bag claims (inbound) in a timely fashion," she continued. "Misconnected bags cause a lot of frustration for passengers and are very costly to airlines."
Changes in terminals
According to Moore and van Berkel, terminals have become far more commercialised over the past decades. Moore said: "I think there's a tendency nowadays to over-pack terminals with retail, forcing passengers through the duty free and retail, like the new layout they've done at Stansted recently, to wring every last pound out of the travelling public. So I think that there's a balance to be struck there and it's gone a bit over to the side of being a shopping centre with planes around it. But then again, the old days where there was nothing to do or buy are not coming back, and nor do we want that."
Van Berkel said when a passenger walks into an airport, they should "feel almost as if you're walking outside in nature". He added a similar point about the commercialisation of facilities: "It should be much more human-centric. It should not only be related to how we get people to the shops as quickly as possible to buy a lot. At the moment, I find airports a bit too commercial. I think it should be a good balance between commercial and culture, human-centric qualities. Maybe call it 'active design', whereby it's healthy to stimulate people to take beautiful stairs and motivate them to walk instead of taking an elevator, for instance."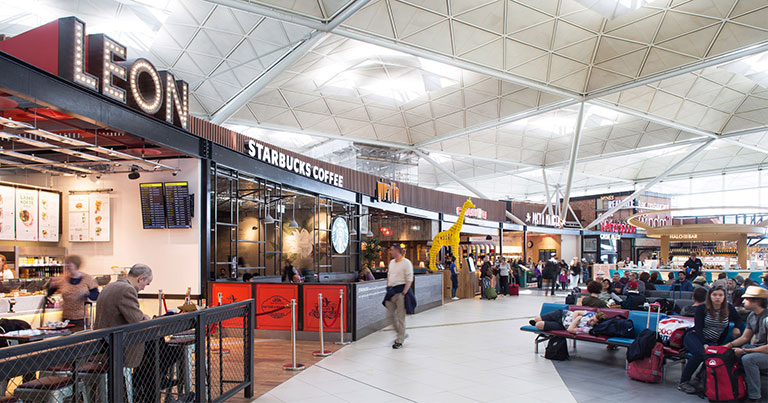 Moore also said a change he had seen in airports over the last couple of decades is the divide between passenger classes in the terminal, at least in particular regions: "I think that another aspect that's changed is, and this is not the friendliest term for it, 'passenger segmentation'. In other words, airlines and airports developing special facilities for premium passengers, often going to great lengths to lure that upper end of the passenger traffic that are paying multiples of what economy passengers would pay for special drop off areas, special lounges, a separate path through the process, almost a concierge-type service.
"We see relatively little of that in the US, but working in Asia and the Middle East, it's really become a huge part of the terminal planning and design – how you can top the latest amenities and facilitation for premium passengers. That's a big change from maybe 10 or 15 years ago that I've noticed."
'Sense of place'
Another important aspect of terminal design is creating a 'sense of place' within its surroundings. This is the idea that the airport should represent the city or country it serves, rather than just being a nondescript building. By having a sense of place, travellers can experience the destination when they are in the airport.
LaGuardia Airport hopes for its redeveloped facilities to be "truly reflective of the city", and LaGuardia Gateway Partners' Steeves emphasised the importance of that sense of place: "It's really to make it feel when somebody arrives at the airport that they really have arrived at their destination. Similarly, for departing passengers the experience should evoke what that place is. So, in the case of New York, it really represents the best of what New York is and it feels like you're there and not just in an institutional building.
"That comes through in the colour pallete, the material, the concession programme, the food and beverage offerings, the retail offerings, the services offered within the building, the architecture. This is something we've done around the world in different airports and it improves the passenger experience."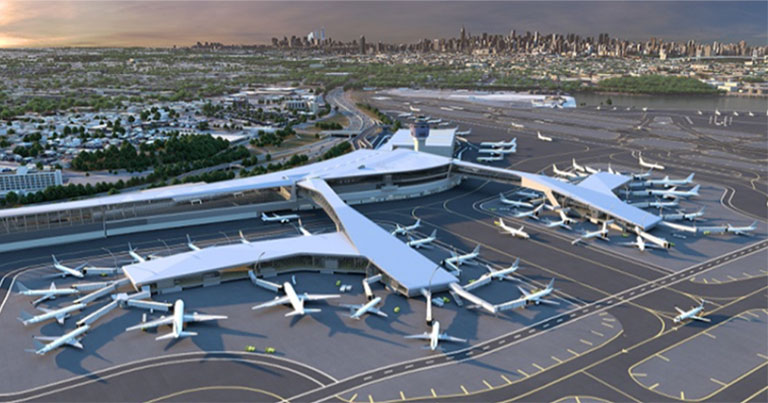 Furthering this idea about sense of place, Moore added: "It (the airport terminal) should somehow reflect the place where it is without being a caricature of the place. It should (achieve this) somehow, whether that's using local materials or involving local artists or something less tangible and more abstract. I think the terminal should have character and shouldn't just be all steel and glass, in any type of terminal, which often happened in the early days of terminal design."
Future of terminal design
In terms of the airport terminal of the future, Goudreau expects there to be developments to incorporate remote bag drop, and there to be less of a focus on traditional check-in and more onus on passengers who make use of digital check-in and boarding passes. She also expects there to be "better and more efficient checkpoint design and screening. Designers and equipment manufacturers are going to need to be more innovative on how to efficiently get passengers through checkpoints."
Merchant also discussed security developments, though he stressed the importance of passenger experience. He said: "Terminals will have to become more secure without being disruptive. Integration of security elements incorporated in the overall design will certainly reduce the anxiety levels and provide better customer experience."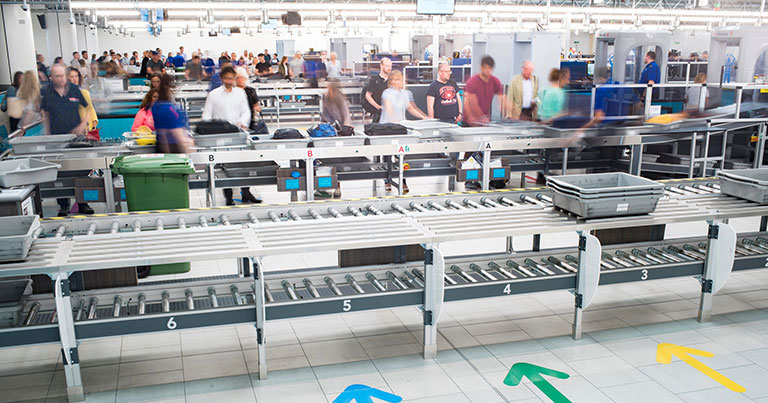 Also on the point of security, Moore referenced 'Global Harmonisation'. This is the idea of smoother transition through security, as provided, for example, by ICAO's One Stop Security project. He said: "There's a handful of nations that recognise the passenger screening and baggage screening protocols of others, and therefore passengers who are transiting through a terminal in one of those countries do not have to go through the extra security process.
"Imagine if you didn't have to build, or as a passenger you didn't have to go through a huge, elaborate immigration hall, and the customs green lanes were as simple as they can be today without any bag inspection. That would simplify the buildings tremendously."
Current terminals need to be flexible and adaptable if they are to develop in the future, and this is a key factor in terminal design. Merchant explained: "Terminals that are being designed today will have to provide a great deal of flexibility in their designs to be able to adapt to the changing needs of the world around us."
Steeves said when it comes to future-proofing a terminal, "it's around creating large, flexible spaces and considering even material choices and such things in the building that allow for easy adaptation and reconfiguration. Particularly in those areas that have evolved a lot in recent years and are most likely to continue to evolve, around the check-in processes, the security processes and as well around the key retail areas."
There are many factors to consider when designing an airport terminal, but among the most important is offering passengers the best experience possible. Providing ease of use and a comfortable environment are key, but there is still lots of room for improvement in terms of enhancing efficiency whilst maintaining the high-level experience that today's travellers have come to expect.