Almost 600 of the travel and air transport industry's most forward-thinking executives – representing a global spread of airlines, airports, technology companies, industry vendors, start-ups, travel retail concessionaires, academia and associations – gathered at the RDS in Dublin on 26-27 June 2017 for the fourth Future Travel Experience Europe event, which was co-located with the new Future Travel Experience Ancillary show.
During the two days, the hundreds of attendees set about redefining their end-to-end customer experience and digital ancillary revenue strategies. Highlights included keynote addresses from the likes of Airbnb, Ryanair, IAG, Heathrow Airport and American Airlines; four future-focused conference streams, which included the unveiling of the 'Passenger Experience and Ancillary Think Tank' vision and the exclusive launch of the revolutionary 'BARTA' initiative; a major exhibition of new products, services and concepts; co-creation forums and interactive workshops; and unique social and networking events in the heart of Dublin.
Stimulating keynotes – Ryanair's plan to 'disrupt the disruptors'; Airbnb 'democratising travel'; IAG's digital transformation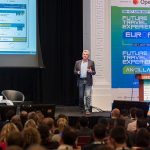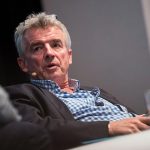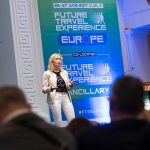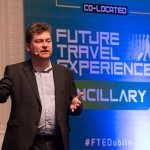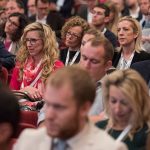 A number of big name speakers from both within and outside of the air transport industry delivered inspirational keynotes across the two days of the event. In the opening session, Aisling Hassell, Airbnb's Head of Global Customer Experience, shared the company's vision for the future of travel. Hassell spoke of Airbnb's desire to "democratise travel" and described an ambition to reshape the travel industry by promoting the idea of "living like a local" while travelling.
Later on day one, Ryanair CEO Michael O'Leary delivered his own keynote speech, before being interviewed on stage by CarTrawler Chief Technology Officer Bobby Healy. In typically frank style, O'Leary outlined his ambition for Ryanair to "own" the customer. He said that airlines are currently making a mistake by allowing third parties to overcharge passengers for flights, and even spoke of a desire to "eliminate" the likes of Booking.com by selling hotel rooms through Ryanair's digital channels for a 5% commission. This is all part of a strategy to "disrupt the disruptors", he suggested. He also took aim at "monopoly airports", and suggested that Ryanair could collaborate with airport retailers to allow passengers to purchase discounted travel retail/duty free products through the airline's app.
O'Leary also revealed that Ryanair will continue to invest heavily in Ryanair Labs, which has received around €50 million worth of investment this year. He stated in 10 years' time Ryanair will be a "digital company with an airline attached to it". One area he doesn't plan to invest in, though, is in-flight Wi-Fi, which he said is unattractive to the low-cost carrier due to prohibitive costs and a lack of will among passengers to pay for onboard connectivity.
Immediately after Michael O'Leary's Q&A, IAG Director of Strategy Robert Boyle took to the stage. In a fascinating presentation, Boyle touched upon a broad range of topics, from the top technology trends that are on IAG's radar today and its plans to tap into the potential in the start-up scene, to the potential of autonomous vehicles in the air transport industry. Making sense of data and using it to enhance the customer experience is crucial, he said, and blockchain technology could have an important role to play in turning masses of data into one source of truth.
Boyle also revealed that IAG will soon be trialling biometric boarding, and stated that seamless, hassle-free environments with flexible spaces are the future of airports. He also said IAG will continue to invest in the Hangar 51 start-up accelerator programme, which has already seen the group invest in start-ups that have the potential to aid IAG's on-going digital transformation.
'PaxEx and Ancillary Think Tank' unveiling and exclusive 'BARTA' launch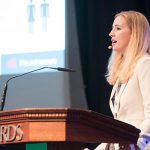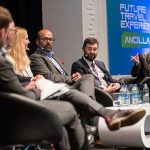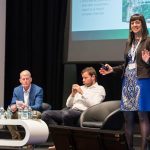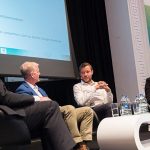 The 'FTE Passenger Experience and Ancillary Think Tank' team delivered its end-to-end vision and industry recommendations on day one of the event. The team – which comprised Max Coppin, Partner Development Manager, Google; Simon Lamkin, Chief Information Officer, Brussels Airlines; Chris Annetts, Retail & Service Proposition Director, Heathrow; Eman Barhoumeh, Head of Global Travel Insurance and Ancillaries, Expedia; and Blair Koch, Chief Technology Officer, Datalex – worked together in the weeks ahead of the show to explore how industry stakeholders can improve the customer experience and revenues at every stage of the journey.
After delivering their collective end-to-end customer experience and ancillary vision, which touched upon the potential of a raft of technologies and trends such as artificial intelligence, machine learning, big data, personalisation and collaboration, the Think Tank team members engaged in an energetic panel debate to explore some of the key recommendations. These included the need to create a "single source of truth", to be more willing to share data and best practice, to embrace multi-channel service, and to explore new working and revenue sharing models to improve the customer experience and increase revenue.
In Dublin, the details behind the revolutionary BARTA (Brand, Airline, Retailer, Technology, Airport) initiative were exclusively presented by the BARTA Task Force, which is made up of senior figures from Budapest Airport, Wizz Air, Heinemann Duty Free and FLIO. A unique trial partnership was announced, which according to the team has the potential to create €800,000 in additional Wizz Air Café onboard sales alone. Heinemann and Budapest Airport also expect to increase their respective revenues as a result of the collaborative project.
During the trial, if a departing passenger at Budapest Airport spends €50 or €75 at a Heinemann store, they will receive a voucher worth between €4.50 and €7.00 for the Wizz Air Café, the airline's onboard F&B store. Wizz Air and Budapest Airport will promote the offer digitally on passengers' travel itinerary, flight reminders, boarding cards and so on. The initiative will be trialled at Budapest Airport in Q4 2017. More details can be found in this article on the TRBusiness website.
End-to-end exhibition – omni-channel retailing, future of baggage, portable IFE, in-flight connectivity, biometric processing and more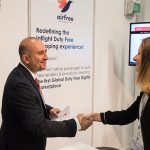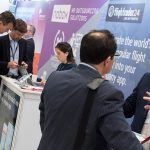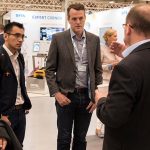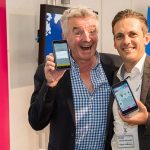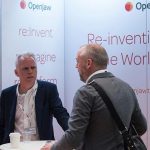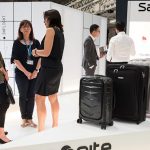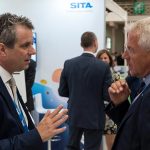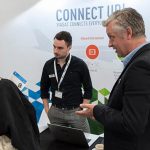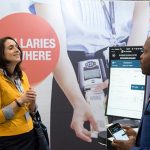 A total of 45 of the most forward-thinking vendors in the travel sector showcased their latest products and services in the FTE Europe and FTE Ancillary exhibition hall. Ranging from airline omni-channel retailing solutions and in-flight entertainment and connectivity products, to end-to-end baggage delivery services and cloud-based airport IT platforms, attendees had the opportunity to preview a broad range of the latest equipment and services. During the two days, the CEOs of the likes of Ryanair, CityJet, LSG, Samsonite, Aer Lingus, Cork Airport and Dublin Airport were among the visitors to the exhibition.
Exhibitor SITA used the event as the launch pad for its 2017 Passenger IT Trends Survey. Among the key findings from the report are that passenger satisfaction is higher during the airline journey when self-service technologies are used, particularly at bag tag and collection, and passport checkpoints. The survey shows that technology, such as biometrics, can support security while offering a better passenger experience, while automated identity checks at passport control and boarding increases passenger satisfaction. Baggage collection is another area where technology is improving the passenger experience. Airlines and airports are increasingly helping to relieve the anxiety of waiting for bags to arrive by providing real-time information to passengers, the report shows.
In the exhibition hall a number of pioneering digital baggage solutions were on show. Among them were the RIMOWA Electronic Tag, Samsonite's Track&Go technology, and Bagtag's own digital e-tag. A number of Dublin-based travel tech companies also showcased their latest solutions, including OpenJaw Technologies, CarTrawler, Datalex and Boxever, highlighting the city's standing as a hotbed of technological innovation.
Elsewhere in the exhibition, a number of other companies made big announcements. Among them was portable IFE provider AirFi, which announced a deal with UK broadcaster ITV to provide passengers with a same-day catch-up TV service onboard aircraft. Guestlogix also used the show to re-launch and debut its new brand identity.
The exhibition hall also hosted 'Elevator Pitches' and 'Just a Thought' briefings, providing suppliers with a valuable opportunity present their new solutions, and share thoughts and observations to help drive industry progress.
FTE One-to-One Meeting System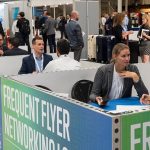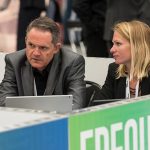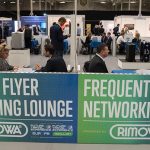 A new online One-to-One Meeting System was at the heart of the co-located FTE Europe and FTE Ancillary events, and more than 600 meetings were booked between attendees before and during the event. The system was introduced by FTE to help facilitate networking between attendees and to ensure that everyone in attendance had the chance to sit down with the people they were most keen to meet. The Frequent Flyer Networking Lounge sponsored by RIMOWA provided an ideal space for attendees to sit down and explore new business opportunities during their one-to-one meetings.
Co-creation and interactive workshops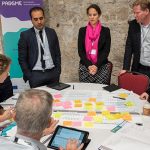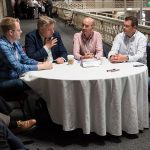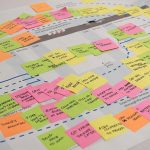 Future Travel Experience events are renowned for bringing people together from across the industry to establish how they can collaborate to deliver improvements, and FTE Europe and FTE Ancillary 2017 was no exception.
Among the highlights were 'On the Ground', 'Up in the Air' and 'Baggage Innovation' co-creation working groups, which were led by senior figures from the likes of Swedavia, Etihad Airways, TU Delft, Boxever and Almadesign, plus a 'Virtual Terminals' workshop led by daa International. In addition, Hack Horizon facilitated an interactive roundtable focusing on innovation labs and digital transformation.
The FTE Dublin Networking Party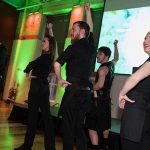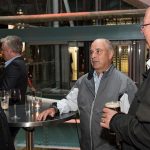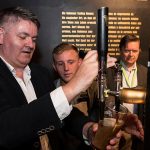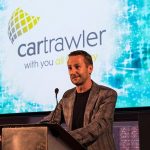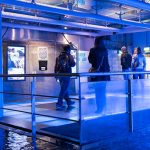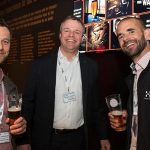 Complementing the inspiration on offer in the conference rooms and exhibition hall, FTE Europe and FTE Ancillary 2017 included a fantastic social agenda, the highlight of which was a Networking Party at the famous Guinness Storehouse. The Networking Party, which was sponsored by CarTrawler, included a tour of the Guinness Storehouse Visitor Experience, a tuition on how to pour the perfect pint, a selection of Dublin's finest food, and a perfect opportunity to network in a relaxed environment.
Attendees also had access to a Traditional Irish Pub Icebreaker, which was sponsored by LikeWhere, ahead of the start of the show, as well as a Dublin Travel Massive Breakfast Meeting on day one.
FTE Ancillary and FTE Europe Innovation Awards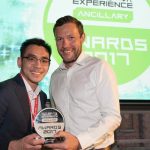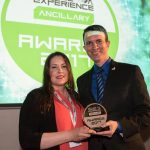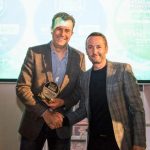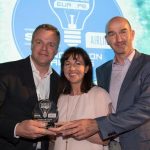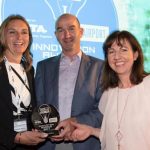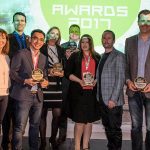 The Networking Party played host to the inaugural Future Travel Experience Ancillary and Future Travel Experience Europe Innovation Awards, the latter of which was sponsored by SITA. Lufthansa, Amsterdam Airport Schiphol, Finnair, AirAsia and Ryanair were recognised for their customer experience and digital ancillary leadership. The full list of winners, as well as the photos from the awards ceremony, can be found here.
Plenary conference – digital ancillaries and customer experience innovation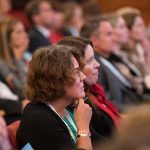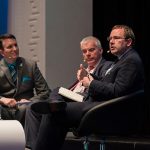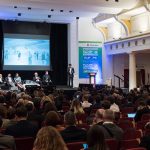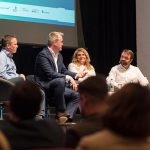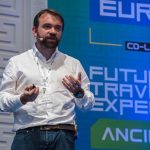 The plenary conference room, which included a big focus on digital ancillary revenue, played host to a variety of captivating sessions during the two-day event. Joe Leader, CEO of APEX and IFSA, led a high-level session focused on leveraging technology to enhance customer experiences and increasing revenue, which included speakers from AirAsia, Dublin Airport, KLM, Etihad Airways and Salesforce. Leader also led a wide-reaching on-stage Q&A with Aer Lingus CEO Stephen Kavanagh and Cork Airport Managing Director Niall MacCarthy.
In addition, speakers from Ryanair, Google, Gatwick Airport, TUI UK&I, Amazon Web Services and Hack Horizon participated in an enthralling session in which they explored "The secrets of innovation".
'On the Ground' conference and 'Baggage Innovation Summit'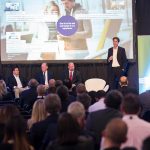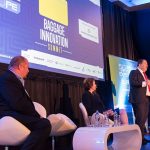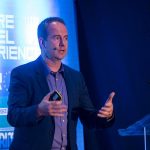 FTE Europe 2017 also hosted an 'On the Ground' conference stream, as well as the first 'Baggage Innovation Summit', which included big focuses on the future of passenger and baggage processing.
The 'Baggage Innovation Summit' was chaired by IATA's Head of Global Baggage Operations, Andrew Price, and included keynote addresses by Christine Druce, Head of Baggage Strategy, Heathrow, and Mark Matthews, Director Customer Planning Operations, American Airlines. This conference stream was introduced to help airlines, airports and the wider industry prepare for a "baggage revolution", and covered lots of ground, including the future role of e-tags, baggage delivery, RFID, touchless bag drop, and offsite processing.
Other organisations that shared their future plans and visions in the 'On the Ground' and 'Baggage Innovation' streams included Delta Air Lines, Lufthansa, easyJet, Dublin Airport, Schiphol, RIMOWA Electronic Tag, SITA, Rockwell Collins, oneworld, AirPortr and Travel Light. Led by members of the EU-funded PASSME team, delegates also participated in a co-creation discussion to explore how they can collectively overcome the challenges of rolling out door-to-door baggage delivery services to help simplify the travel experience.
'Up in the Air' conference – redefining the in-flight experience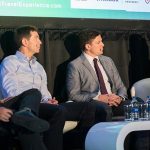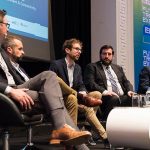 Another of the four conference streams was the 'Up in the Air' track, which covered everything from the future of IFEC and in-flight shopping strategies, to onboard customer experience differentiation. Among the sessions was a panel dedicated to enhancing customer experiences and revenue opportunities in-flight. Raymond Kollau, founder of AirlineTrends, opened this session with a presentation entitled "The future of onboard service and in-flight merchandising in the connected era", before senior figures from JetBlue, American Airlines and XL Airways France took to the stage.
Another highlight in the 'Up in the Air' conference was the "Future of short-haul: balancing passenger experience and profit" session, which was moderated by Runway Girl Network Contributing Editor Seth Miller. Trevor Martin, Chief Commercial Officer, Iberia Express; Nigel Fanning, Head of Product & Ancillary Revenue, Jetstar Group; and Sarah Panthou, Retail & Ancillary Revenues, Air France KLM, delivered insightful presentations outlining their latest plans, before participating in a quick-fire panel discussion.
Guided tours of Dublin Airport for FTE delegates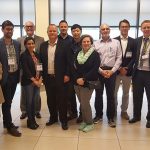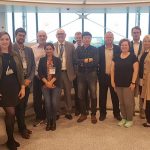 To round off a successful two days in Dublin, event partner Dublin Airport facilitated guided tours for Future Travel Experience Europe and Ancillary delegates. The tours covered a range of the airport's most innovative facilities and services, including the fast track and US Preclearance facilities, and the new '51st & Green' lounge, which is Europe's only dedicated US Preclearance lounge. Attendees from the likes of Manchester Airports Group, Brisbane Airport, Jeju Air, Ericsson and Southwest Airlines are among those pictured above.