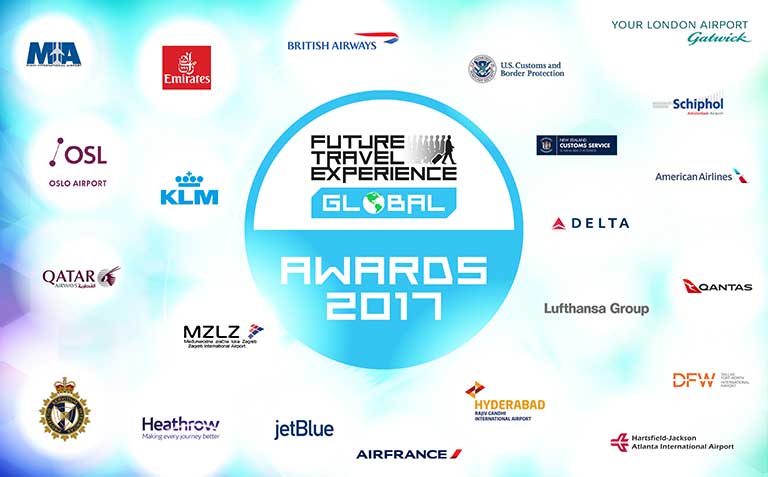 The final shortlists for the Future Travel Experience Global Awards 2017 have been released. These awards celebrate the outstanding efforts of organisations that have gone the extra mile to improve the passenger experience both on the ground and in-flight. The winners will be announced at the FTE Awards Ceremony at the FTE Global Gala Evening, which will take place at Future Travel Experience Global 2017, 6-8 September, Las Vegas.
Best Check-in Initiative shortlist

British Airways – First Wing, Heathrow Airport Terminal 5
Delta Air Lines – 'Nomad' device
Lufthansa Group – Direct ancillary payment at check-in desks
Best Baggage Initiative shortlist

American Airlines – Customer Baggage Notification
British Airways – AirPortr + Bag Check-in
Qatar Airways – HAQIBA baggage management system
Best Passenger Assistance Initiative shortlist

Emirates – 'Together' initiative
GMR Hyderabad International Airport Ltd. – 'Passenger is Prime' initiative
KLM Royal Dutch Airlines – Facebook/Twitter/WeChat flight documents, information and updates
Best Airport Security Initiative shortlist

American Airlines – Automated security screening lanes and computed tomography technology
Amsterdam Airport Schiphol – 'Small bags' security lane
Hartsfield-Jackson Atlanta International Airport – Smart security lanes
Best Initiative at the Gate shortlist

Delta Air Lines – Redesigned gate and boarding experience at ATL
Heathrow Airport – Biometric boarding e-gates
JetBlue and U.S. Customs and Border Protection (CBP) – Paperless/deviceless boarding trial
Best Up in the Air Initiative shortlist

Air France – Immersive inflight entertainment headsets
Delta Air Lines – Delta One suite
Qatar Airways – Qsuite
Best Immigration Initiative shortlist

Canada Border Services Agency – Primary Inspection Kiosks and CanBorder eDeclaration app
Miami International Airport – App-based Mobile Passport Control
New Zealand Customs – Family Processing
Best Mobile Technology Initiative shortlist
Gatwick Airport – Beacons, indoor navigation and augmented reality wayfinding
Heathrow Airport – High fidelity maps and indoor wayfinding
Qantas Airways – Virtual reality app
Best Airport Terminal Design Project shortlist

Dallas/Fort Worth International Airport – Terminal A redevelopment
Oslo Airport – 'New Oslo Airport' expansion
Zagreb Airport – New passenger terminal
The winners of the Future Travel Experience Global Awards 2017 will be announced at the FTE Global Gala Evening, which will take place at Omnia at Caesars Palace on Thursday, 7 September. In addition to the above nine awards, the winners of the 'Best Start-up' (in partnership with JetBlue Technology Ventures) and the 'Best Supplier Innovation' awards will be announced.
Find out more about FTE Global 2017
Register to attend