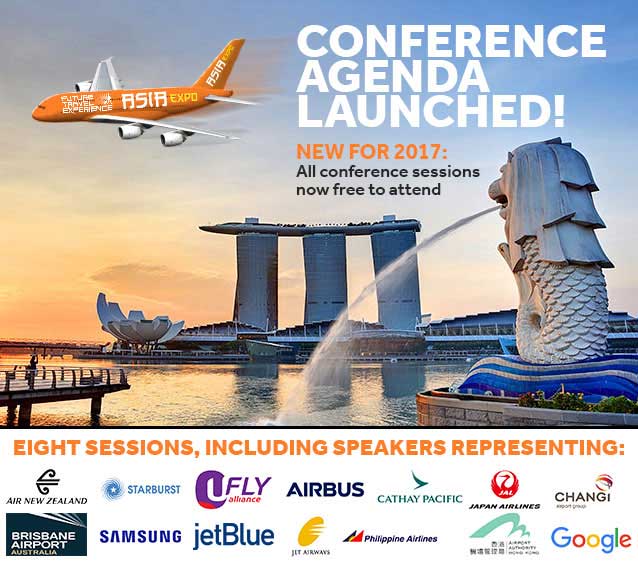 Future Travel Experience Asia EXPO 2017 (7-8 November, Singapore) will host a free to attend Premium Conference and we are delighted to reveal that a number of the industry's most pioneering airports and airlines are already confirmed to speak.
While it is free to attend, the Premium Conference promises to provide the most inspirational and progressive education in the region and will offer unrivalled insight into how airlines, airports and their partners can enhance customer experience, business performance, ancillary revenue and customer loyalty.
Confirmed speakers include:
Joe Chan, VP, Regional Enterprise & Channels, Samsung Electronics
Poh Li San, Vice President, T4 Programme Management Office, Changi Airport Group
Avi Golan, Chief Digital Officer, Air New Zealand
Eash Sundaram, Chair, JetBlue Technology Ventures and EVP Innovation & CIO, JetBlue Airways
Chris Au Young, General Manager of Smart Airport, Airport Authority Hong Kong
Vinoop Goel, Regional Director – Airport, Passenger, Cargo & Security/Member & External Relations, Asia Pacific, IATA
Max Coppin, Partner Development Manager, Google
Akira Mitsumasu, VP Marketing Strategy & Research, Asia Oceania Region, Japan Airlines
Ralf Schliwa, Vice President – Executive Expert Overall Cabin, Airbus
Narendra Mansukhani, Head of Guest Experience, Jet Airways
Salvador Britanico, Vice President of Inflight Services, Philippine Airlines
Vivian Lo, GM Customer Experience & Design, Cathay Pacific Airways
Steven Greenway, CEO, reward-U and Deputy CEO, U-FLY Alliance
Roel Hellemons, GM Strategic Planning & Development, Brisbane Airport Corporation
Joe Leader, CEO, Airline Passenger Experience Association (APEX)
François Chopard, CEO & Founder, Starburst Accelerator
Satyaki Raghunath, Chief Innovation Officer, GMR Airports
Sumesh Patel, President, Asia Pacific, SITA
Ian Wilson, Senior Vice President, Hotel Operations, Marina Bay Sands
Rei Kigoshi, Designer – Product Innovation Office, Jamco Corporation
Tony Chapman, Senior Director, Product Management & Strategic Programmes, Global Airports, Rockwell Collins
More speakers will be announced in the coming weeks – please see the Premium Conference agenda for the very latest speaker line-up.
The free to attend Premium Conference will run in a specially designed area on the expo floor and will help airlines, airports and their partners future-proof their businesses, improve customer experiences, increase ancillary revenues and boost customer loyalty.
Attendees will also have access to Asia's biggest free to attend passenger experience and business performance expo, featuring live product demos from the most pioneering vendors in the marketplace.
Find out more about FTE Asia EXPO 2017
Register for your FREE pass