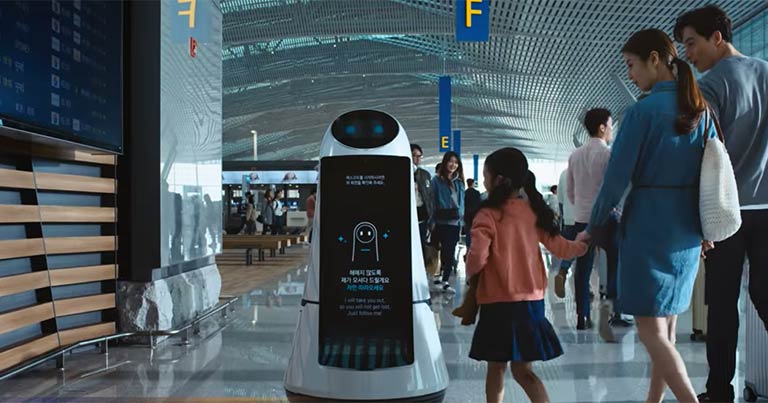 Incheon Airport has celebrated the successful opening of the new Terminal 2, which has increased the airport's capacity by 18 million passengers per year.
The new terminal, which is initially being used by Korean Air and fellow SkyTeam Alliance carriers Delta Air Lines, Air France and KLM, makes extensive use of self-service processing. Passengers flying from the new facility can use self-service check-in kiosks, self bag drop and automated immigration processing.
Passengers may also find a robot guide roaming the terminal, which can provide assistance and information about the services in T2. Since mid-2017, Incheon International Airport Corporation (IIAC) has been working with LG to trial customer-facing robots.
A big effort has also been made to create a unique passenger experience in Terminal 2. For example, there are cultural performances to complement the airport's Korean Cultural Experience Centres, an observation deck offers views over the airfield, and artwork displays and exhibition areas also help to provide a sense of place. The terminal building is also flooded with natural light and includes areas of greenery to help create a calming atmosphere for passengers.
To help avoid disruption during the early days of operation, passengers who arrive at the wrong terminal for their flight are being issued with an "I'm late" card. This card can be used to access priority check-in counters and security lanes to fast-track the passenger through the check-in and security processes once they arrive at the correct terminal.
IIAC has reported that the opening of the new terminal has been "stable". Continuous checks will be undertaken in the coming days to fine-tune operations in the new terminal ahead of an influx of arrivals for the 2018 Pyeongchang Winter Olympics, which starts on 9 February.
Look out for more coverage from FTE on the new Incheon Airport Terminal 2.