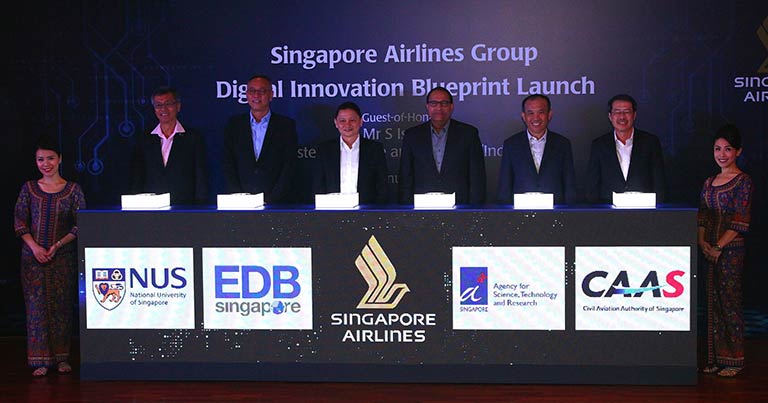 Singapore Airlines (SIA) has launched its Digital Innovation Blueprint and unveiled bilateral partnerships with the Agency for Science, Technology and Research (A*STAR), Civil Aviation Authority of Singapore (CAAS), Economic Development Board (EDB) and National University of Singapore (NUS).
The Digital Innovation Blueprint is part of the airline's ongoing transformation programme, a key focus of which is boosting its digital capabilities. According to SIA, it has been progressively building an open innovation culture across the Group through staff involvement in digital projects, and supporting employees through digital training, such as in digital innovation and design and agile methodologies. As FTE recently reported, a digital innovation lab is also being set up to enable staff to work with innovative companies including startups, incubators and accelerators, and to help stimulate new ideas and facilitate collaboration in a creative environment.
Singapore Airlines CEO Goh Choon Phong stated: "The SIA Group has been investing heavily to enhance our digital capabilities as part of our ongoing transformation efforts, and the new bilateral partnerships announced today will take things to the next level. Our partnerships with these key agencies also signify our commitment to developing Singapore as a digital hub in the wider aviation and travel industry."
He added: "With the launch of our Digital Innovation Blueprint, we aim to be the leading digital airline in the world."
Transforming the aviation industry
Lim Kok Kiang, Assistant Managing Director of Singapore Economic Development Board, said: "SIA is a key partner in the transformation and growth of Singapore's aerospace and aviation sectors. EDB is happy to support SIA on its digital innovation journey to strengthen its digital capabilities. This will not only help SIA to optimise its operations but potentially catalyse new growth opportunities for SIA."
Kevin Shum, Director-General of the Civil Aviation Authority of Singapore, added: "CAAS is pleased to support SIA's Digital Innovation Blueprint, in collaboration with A*STAR, EDB, NUS, and NUS Enterprise, to develop innovative digital solutions to personalise passengers' end-to-end travel experience and transform ground handling processes. The Blueprint will help to transform the aviation industry for the future. It will complement the other key initiatives under the Air Transport Industry Transformation Map (ITM). We look forward to an exciting and fulfilling journey ahead."
A Master Research Collaboration Agreement (MRCA) has also been signed with A*STAR to identify and develop applied research partnership opportunities, which include research fields in areas such as data analytics, Internet of Things, and virtual and augmented reality to boost efficiency of maintenance processes. The goal is to develop smart solutions that help lower maintenance costs, decrease aircraft delays, and aid the airline in enhancing service standards.
Two Memoranda of Understanding (MOU) have been signed between SIA and NUS. Under the first MOU, Singapore Airlines and three NUS faculties – namely Business, Computing and Engineering – will establish and pursue joint research projects, with a focus on longer term research related to business challenges that do not have immediate solutions available today. The partnership will enable both parties to exchange scientific, academic and technical information, as well as participate in joint research and development activities, seminars, conferences and workshops in the areas of digital aviation and travel experience.
Under the second MOU, SIA will collaborate with NUS Enterprise, the entrepreneurial arm of NUS, to jointly develop an innovation ecosystem around the themes of Digital Aviation and Travel Experience, to create and grow new technologies, startups and talents that can solve SIA's businesses challenges via a joint accelerator programme.
NUS President Professor Tan Eng Chye said: "NUS is pleased to be a knowledge partner of SIA's Digital Innovation Blueprint. Leveraging our strong and deep capabilities in data science, analytics, optimisation, cybersecurity and automation, as well as our comprehensive innovation and enterprise networks in Singapore and the region, we hope to open new opportunities for our researchers, students and startups to create and commercialise disruptive technologies that could accelerate the digital transformation of Singapore's aviation sector and redefine the air travel experience."