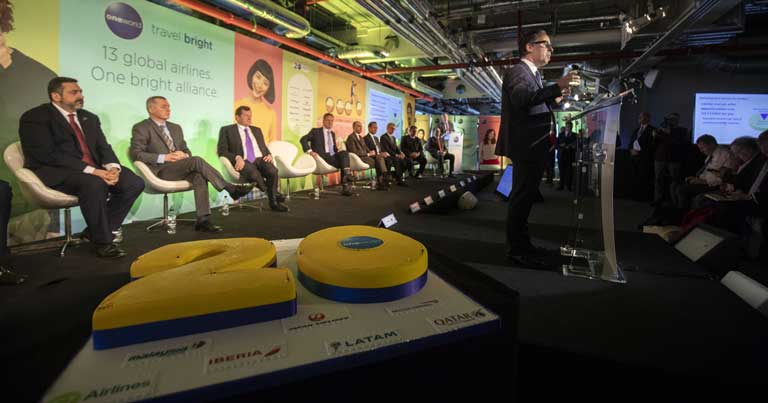 oneworld has unveiled a radical transformation of the global alliance, as it marks the 20th anniversary of its launch. The move is designed to increase the value that oneworld delivers to customers and to its member airlines.
As part of the transformation, the alliance will progressively introduce a new oneworld digital platform that will focus on the alliance's core promise of seamless connectivity for customers flying on multi-sector, multi-airline journeys, via the convenience of their preferred member airline's mobile app or website – without having to download any additional app or enter more log-in credentials.
Via their own apps or websites, the alliance's member airlines will provide connecting passengers on any oneworld alliance partner with the ability to check in, obtain their boarding pass, receive information and updates on their flight, and track their luggage.
Other services will be added in the future such as full seat selection, including when payments are required, the ability to pay for additional baggage, locations of lounges, and priority lanes through security for those eligible to use them.
This functionality is being facilitated by a platform developed by oneworld, internally called "carrierconnect", which facilitates exchange of interline data in a standardised format through individual member airline apps and websites to deliver an elevated digital experience for customers transferring between the alliance's airlines.
Cathay Pacific and Qatar Airways are the first oneworld members to enable their customers to use either the airline's app or website to check-in and receive boarding passes for connecting flights on either airline.
Other member airlines will be added progressively in the next year to 18 months. As more carriers link to the platform, it will cover an increasing number of transfers between oneworld member airlines. With its full roll-out, every journey involving a connection between two or more oneworld member airlines will be more seamless.
Seamless connectivity in the digital era
Additional capabilities due to be added to the platform's portfolio, also from this year, include flight information and baggage status. Looking ahead, the alliance plans to expand it to provide the capability of paying for additional baggage and other extras for connecting flights.
oneworld CEO Rob Gurney said: "The role of global alliances, like oneworld, is to connect the networks of airlines, making it easier and more rewarding for customers to travel to many more places beyond the reach of any single carrier. Our new digital platform brings our promise of seamless connectivity to life in the digital era – delivering multi-airline, multi-sector journeys the way they should be in this millennial day and age."
"Three-quarters of oneworld's frequent flyers use at least one airline app. Half of them have at least three airline apps on their mobile devices – but there is a strong preference for using just one single app to cover a journey involving a transfer between different airlines. Yet, until today, the technology to support that has not been available. It is now, progressively throughout the oneworld network.
"From the trials and consumer research we have conducted as part of this development, we know our customers are going to love it."
oneworld airport lounges
oneworld is also ramping up co-location activities at key airports around the world and will unveil its first alliance-branded and managed lounge later this year – with more to be rolled out progressively thereafter.
Gurney added: "By working together, it may be feasible at some locations for our members to offer customers improved facilities – bigger and better lounges than they could justify individually."
A number of airports are now being considered for the development of the first lounge to be branded as "oneworld" and managed by the alliance on behalf of its member airlines with the location of the first due to be unveiled later in 2019.
Meanwhile, the number of critical co-location projects at key airports worldwide being managed by the alliance is increasing, including projects in Beijing, Sao Paulo, London and Frankfurt.
Gurney continued: "oneworld aims to bring its member airlines operating at all airports worldwide together under one roof, to smooth transfers for passengers connecting between different carriers' flights, wherever the opportunities are available and wherever it makes sense."
"We are working on once-in-a-lifetime opportunities at some of our most important gateways in Asia, the Americas and Europe with the aim of delivering the best experience for customers at each of these locations."