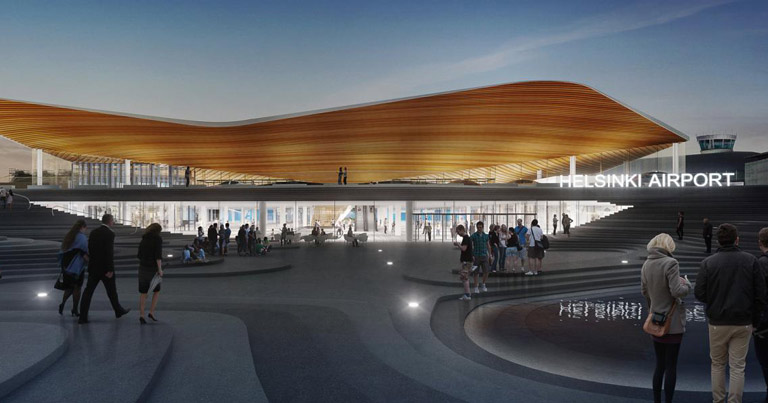 Following the opening of the new Helsinki Airport (HEL) extension, Aukio, FTE spoke to Heikki Koski, Chief Digital Officer at Finavia, to find out more about how the company is investing in the customer experience at HEL and Finland as a destination.
Finavia served nearly 25 million passengers at its airports in 2018, marking a 10% growth in passenger volumes. Koski says: "I think our great growth story during recent years is that we welcomed 20.8 million passengers at Helsinki Airport in 2018, achieving the 20 million mark two years before we set this goal."
This growth truly reflects a successful year in terms of air traffic, the popularity of Finland as a destination, as well as the increasingly important status of Helsinki Airport as a vital hub between Asia and Europe. Finavia is building on this with a €1 billion development programme, which will facilitate the company's continued growth and strengthen the competitive position of HEL. The expansion is the largest development programme in Finavia's history, and will prepare Helsinki Airport to serve 30 million annual passengers.
On other fronts, Koski highlights: "In my own responsibility area, I think the biggest achievement is that we established our digital strategy implementation team and already during the first year got great tangible deliverables. For example, airport situational awareness processes and systems; a super modern planning tool for apron management in Kittilä Airport in Lapland; and a new shiny transfer security process providing great throughput and customer experience."
The ultra-modern Aukio extension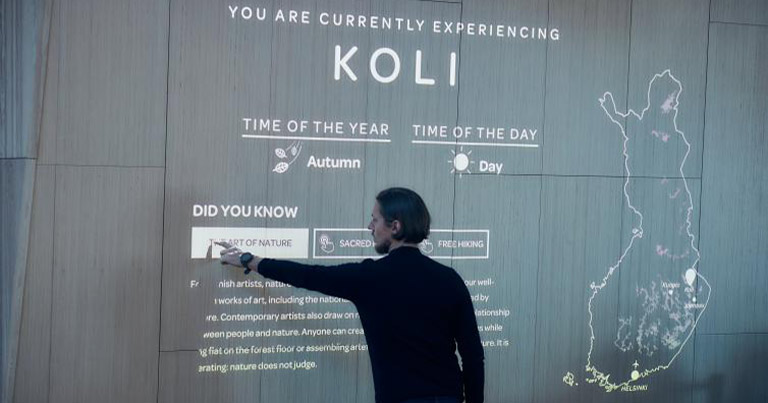 The recently-opened Aukio extension is a great example of how in order to create solutions that will best serve passengers, all stakeholders must be involved – from employees, to executives, to passengers. Koski says that the airport's security officers were involved in the planning process and their ideas were used in finalising the concept.
"I must say I'm very proud of our people and partners in making Aukio happen," enthuses Koski. "There are actually two sides to Aukio. The first one is the new transfer security checkpoint, with ultra-modern security lanes and processes, providing efficiency but also greatly improved passenger experience. In addition to the new lanes and process, the whole area creates a great experience for passengers. A spacious area with Finnish architecture and modern guidance using, for example, dynamic digital signage."
He continues: "The second side of Aukio is truly magical. An immersive experience of Finnish nature at the airport. Over 70 metres of video screen showing beautiful scenes from Finnish nature, added with auditive experience and spatial projections, including interactive elements for passengers. You can't describe it, you need to experience it! It is also very versatile, the plan is to use the area for events, promotions and different themes in the future."
Creating "digi-physical" services for passengers – from biometrics to 5G robotics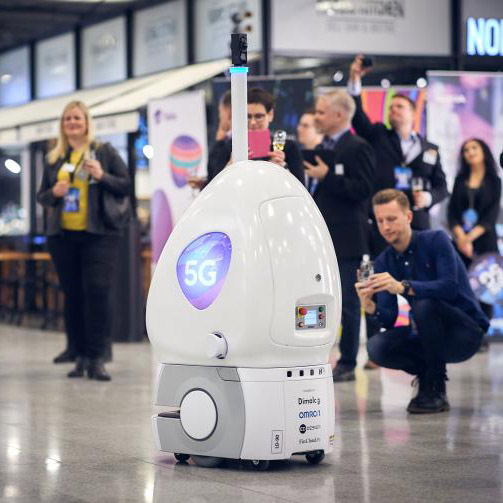 The development programme at Helsinki Airport is expected to be completed by 2021 and will increase the overall terminal floor space by 45%, create additional bridge gates for wide- and narrow-body aircraft, increase both luggage handling capacity and passport control by 50%, renovate the apron area, and open a new multi-modal travel centre. Just as importantly, the airport will invest heavily in improving the service levels and creating all-new experiences for passengers.
"We are building digital services together with the airport ecosystem and developing even smoother processes to make the passenger journey enjoyable." Koski further stresses that his team is constantly working on improving the company's digital channels and services, as well as creating new ways of personalising the travel experience at the airport.
"We are working very closely with our ecosystem to share data and help each other create better digital and physical world – or digi-physical, as we call it – services to passengers. In the end, we are serving the same passengers, so why not do it together."
Finavia's vision is to have biometric identification of passengers in place at the airport in time for the opening of the new check-in facility in 2021. However, this year will be crucial for the development of the technology. Koski says: "During this year, we will be studying and prototyping this type of more general digital ID together with partners, and possibly also doing some real end-to-end process pilots with currently available infrastructure. And yes, the target is to build readiness so that we can deploy biometric identification in 2021 when our new check-in facility is planned to be taken into use – however, we haven't done the implementation decision yet. We will see this year's pilot projects first."
He adds: "However, I think the industry is currently in a consideration mode, putting together plans on what is the right way to implement biometric identification and when, and of course, what is the business case. There are many initiatives around the world, and it's great to have movement around this important topic. Our vision is to have more than a "register every time, use once" type of biometric ID, so that passengers wouldn't need to enrol for every trip as part of the check-in process. However, it is easier said than done."
Pioneering partnerships
To drive this ambition forward, Finavia has also partnered with Finnair and Finnish Customs and Border Guard in the Business Finland dLab workshop. While biometric identification is at the core of this initiative, the parties are working on other projects in order to develop digital solutions that facilitate and speed up travelling through its airports.
"I think one of our key competitive advantages in Helsinki is that we are compact. As a physical airport, but as much or even more so as a community. We plan and share plans very openly with different partners, and we have extremely good co-operation with, for example, airlines and authorities like in dLabs."
Last year also saw the launch of a 5G robot in the non-Schengen area of Helsinki Airport's T2. Meanwhile, the airport introduced digital interpreters for Chinese and Russian passengers. In fact, catering for its Asian customers is increasingly important for the airport, as traffic between Europe and Asia continues to grow. "We are improving also our digital presence on platforms such as WeChat, and building dynamic signage that changes languages based on arriving flights. And of course, person-to-person services are still one of the key factors in great customer experience – we have Chinese speaking airport guides ready for transferring passengers' needs, whether they are travel information or shopping related."
"Don't get lost in the world of rapid development of new technology"
Finavia has chosen prototyping as a way of exploring new technologies – from biometric identification and machine learning to radical change of processes and tools. "Only after trying can you really estimate which technologies are worth investing in more, and what is the purpose."
Such technological advancements are, of course, a key business driver, however Koski explains they are not the purpose. "The purpose is to improve the passenger experience, improve our B2B business cases at the airport, drive our own growth and profitability, and improve the employee experience. Those are important things to keep in mind when talking about innovation, not to get lost in the world of rapid development of new technologies."