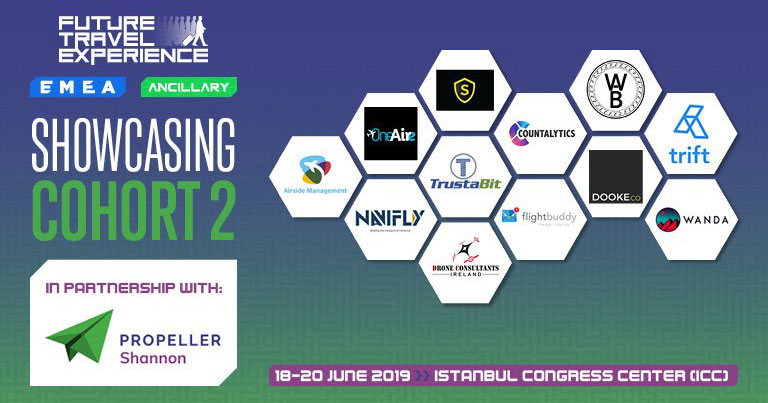 Future Travel Experience has partnered with Propeller Shannon, a global startup programme for early-stage companies in the aviation and travel tech sectors, to provide a unique platform for 12 startups to showcase their solutions at the co-located FTE EMEA and FTE Ancillary events in Istanbul, 18-20 June 2019.
The 12 startups, all selected as part of Propeller Shannon's Cohort 2, will exhibit their products and services in the free to attend expo and participate in a dedicated pitch session.
The Propeller Shannon programme is designed to assist with the development of young companies in the aviation, aerospace and travel tech industries, with a focus on boosting growth and creating jobs in the Shannon region. Partnering on the programme are the Irish Aviation Authority, Boeing HorizonX and Datalex, with the support of Enterprise Ireland, Shannon Group's International Aviation Services Centre (IASC) and DCU Ryan Academy for Entrepreneurs.
The successful startups in the second cohort of the Propeller Shannon are from a range of travel tech and aviation niches, and feature companies and entrepreneurs from around the world. FTE EMEA and FTE Ancillary attendees will be able to meet the following 12 startups:
Airside Management (Ireland) – airport wildlife deterrent technology
Countalytics (USA) – onboard inventory management through image recognition and machine learning
Dooke (Sweden) – travel community that allows people to travel the world by using their talents
Drone Consultants (Ireland) – provide innovative search and rescue UAVs
Flightbuddy (Ireland) – delivers immediate flight information to passengers, ground operations and airline staff
Navifly (UAE) – an air traffic control technology for drones
OneAire (Estonia) – uses big data to help airlines enhance their maintenance processes
S-MAN (Ireland) – enhances security of employees and individuals when abroad
Trift (UAE) – machine learning platform allowing travellers to book experiential trips curated by travellers from around the world
TrustaBit (USA) – innovative flight disruption solution which enhances passenger experience
WalkABit (UK) – allows users to earn while visiting landmarks and using daily-life services like restaurants, taxis or events
Wanda (Poland) – makes personalised travel easy by letting you discover, pin and share trip ideas on a map
Clyde Hutchinson, Co-Lead, Propeller Shannon and Partner at Journey Partners, said: "We're entering a new era of innovation in aviation and travel tech, with Ireland developing on its reputation as a true leader in the space. Propeller Shannon is an acceleration programme led by industry innovators and offers unique access to senior players across the space. With this group of disruptive companies, we look forward to solving industry problems in new ways and driving the future of travel."
The FTE EMEA and FTE Ancillary exhibition is free to attend, while airline attendees can upgrade to a Premium Pass for free. Airport attendees are also entitled to a discounted Premium Pass, which includes access to the premium conferences, awards, tours of the new Istanbul Airport, and the social and networking agenda. Register to attend today >>