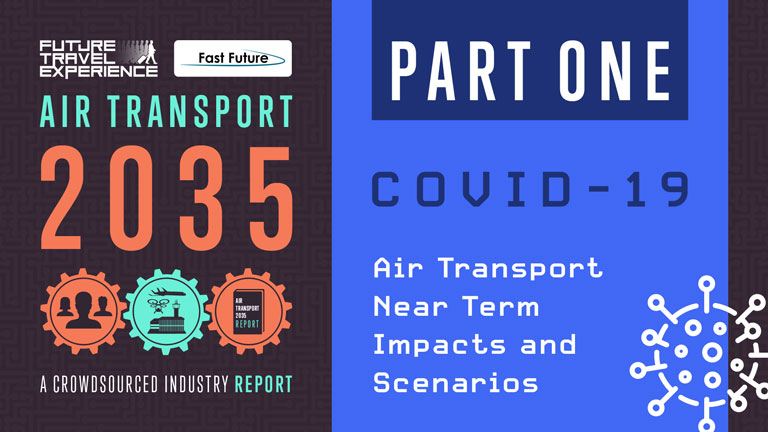 As they plan the journey out of the COVID-19 pandemic, airlines, airports and other air transport industry stakeholders will prioritise investment in digital transformation, automation, sustainability, innovation and customer experience, according to a new report jointly released by Fast Future, Future Travel Experience (FTE), and the Airline Passenger Experience Association (APEX). Safety and trust building are also highlighted as central pillars to the industry's recovery.
The COVID-19 Air Transport Near Term Impacts and Scenarios report, which is the first instalment of the four-part Air Transport 2035 series, explores how stakeholders expect the COVID-19 crisis to impact passenger volumes and investment strategies. It also highlights four possible scenarios for how the industry might emerge from the pandemic.
A global survey conducted as part of the report found that over the next two years 68.4% of respondents expect investment in digital transformation to increase; 60.3% expect investment in automation and the deployment of artificial intelligence (AI) technology to rise; and 54.2% expect spending to increase on sustainability and environmental initiatives. More than half (53.5%) expect investment in innovation to increase during the same period, and 48.5% expect to see an upturn in customer experience and service spending, with less than a quarter (22.9%) expecting investment in this area to fall.
At the other end of the scale, three-quarters (75.5%) of survey respondents expect investment in aircraft orders to decrease over the next two years, while 55.3% expect to see a decrease in terminal design and construction spend.
Air transport facing two to three-year recovery period
During a webinar on 23 April, which included the unveiling of the initial survey results, a live poll of the 900-plus attendees found that 44.6% of respondents expect it to take up to two years for the air transport industry to return to 2019 levels of business, and a further 36.8% expect it to take up to three years. Only 5.8% think the industry will recover to 2019 levels within 12 months.
Another live poll during the webinar found that 39.9% of respondents expect the public to feel comfortable flying again once new procedures are introduced to protect passengers. 32.4% expect consumer confidence to return once a COVID-19 vaccine is disseminated; 11.6% expect people will only fly if they have to; and 10.3% expect World Health Organization (WHO) advice to dictate when people will feel comfortable flying again.
Daniel Coleman, Founder & CEO, Future Travel Experience, commented: "There is no doubt that the impact of the COVID-19 pandemic will be felt for some time to come and it is more important than ever that airports, airlines, and their partners take steps now to prepare for the new reality. Prioritising health and safety is a given but all stakeholders must also commit to delivering a contactless, queueless and fully sanitised end-to-end travel experience that is as automated as possible. Some radical new approaches, and collaboration between all parties, are essential to achieve this vision and support the survival of the air transport industry."
Rohit Talwar, CEO, Fast Future, and lead author of the report, said: "The findings highlight that the industry is experiencing and anticipating devastating impacts on flight volumes, passenger numbers, and revenues. The sector's recovery is dependent on government policy, health factors, passenger confidence, the nature of the economic recovery, and the extent of collaboration between industry players. We developed four scenarios exploring the interaction of these latter two driving forces and tested them on the webinar attendees.
"'Survival of the Safest' (Deep Recession / Fragmented Industry Response) was ranked the most likely by 32% of respondents. This was followed by 'Love in a Cold Climate' (Deep Recession / Co-ordinated Industry Response) with 30% of the votes, and a further 20% selecting 'Hope and Glory' (Robust and Integrated Economic Recovery / Fragmented Industry Response). The scenario considered least likely and selected by just 18% was the most optimistic one of 'Sealed and Secure' (Robust and Integrated Global Recovery / Co-ordinated Industry Response)."
Dr. Joe Leader, CEO, Airline Passenger Experience Association (APEX) and International Flight Services Association (IFSA), added: "Over 75% of survey respondents still believe in five key areas where airline and airport spending will grow or remain the same despite the COVID-19 headwinds. The winners during this challenging time include digital transformation, automation, sustainability, innovation, and customer experience and service. That's positive news for APEX and IFSA member airlines and suppliers."
Download the full report – free for airlines, airports and government agencies
The COVID-19 Air Transport Near Term Impacts and Scenarios report can now be downloaded via the Fast Future website. As part of the study partners' commitment to the sector in these difficult times, airlines, airports and government aviation agencies can access the report for free – email aviation@fastfuture.com to request your copy. It costs just $50 for others, and all four reports can be pre-ordered at a discounted rate. Visit the Fast Future website for full details: https://fastfuture.com/product-category/ebooks/
Part 2 of the Air Transport 2035 report is now being developed. Contribute to our latest flash survey – The Aviation Impacts of COVID-19: Innovation and Digital Transformation. Click here to complete the survey >>