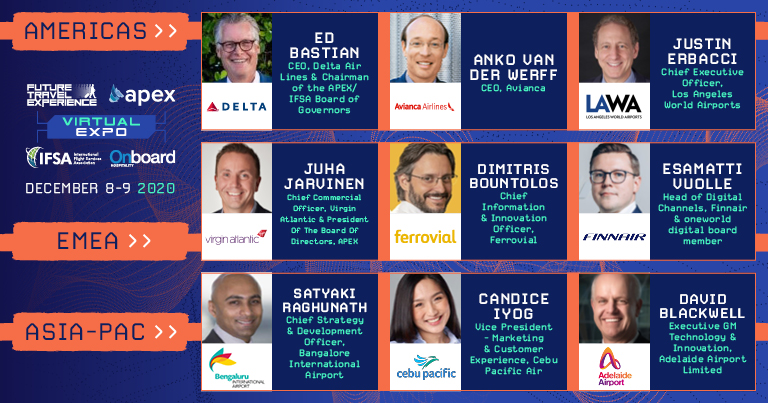 Our speaker line-up is heating up for the ground-breaking FTE APEX Virtual Expo, which will take place on 8 and 9 December 2020 for 24-hours a day to accommodate all time zones.
The interactive virtual conference sessions will provide attendees with the chance to hear from some of the most inspirational speakers from inside and outside of the air transport industry across Asia-Pacific, EMEA and Americas regions.
We are delighted today to reveal the initial line-up of outstanding speakers including:
Americas
Ed Bastian, CEO, Delta Air Lines & Chairman of the APEX/IFSA Board of Governors
Anko van der Werff, CEO, Avianca
Justin Erbacci, CEO, Los Angeles World Airports
EMEA
Juha Jarvinen, Chief Commercial Officer, Virgin Atlantic & President of the Board of Directors, APEX
Dimitris Bountolos, Chief Information & Innovation Officer, Ferrovial
Esamatti Vuolle, Head of Digital Channels, Finnair & oneworld digital board member
Asia-Pacific
Satyaki Raghunath, Chief Strategy & Development Officer, Bangalore International Airport
Candice Iyog, Vice President – Marketing & Customer Experience, Cebu Pacific Air
David Blackwell, Executive GM Technology & Innovation, Adelaide Airport Limited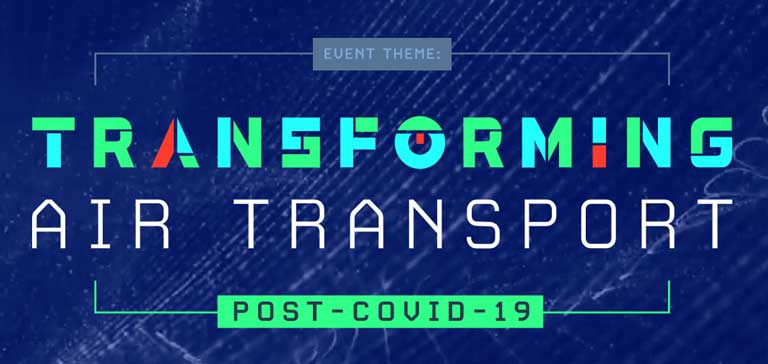 Significant disruption for the air transport and travel sector is well underway because of the COVID-19 pandemic. Our virtual conference will provide critical insights and learnings to all attendees to help them understand the future trends and successful transformation strategies that will help businesses survive, bounce back, and future-proof their propositions.
The conference will be split into CEO, Airport, Inflight, Commercial and Digital sessions, which will focus on a wide range of the most pertinent topics, including: Biosecurity; Touchless & Socially Distanced Travel; Digital Transformation & Automation; Cost Reduction & Operational Efficiency; Reimagined Guest Experiences; Protecting & Empowering Workforce; Offsite & New Processing Practices; and Commercial, Retail & Ancillary Innovation to help create new revenues streams at the earliest opportunity. Our case study focused approach will help to champion innovations from around the world, all in keeping with our "Transforming air transport post-COVID-19" theme.
The event will be co-located with IFSA Onboard Hospitality Virtual Expo, which will include a host of content tailor-made for buyers of inflight passenger comfort and catering products and services, with topics ranging from IFEC, World of Content and Interiors, to Service & Catering, Comfort & Amenities and Retail.
The conference will be complimented by a free-to-attend, interactive online exhibition with live product demos, which will include 'Airport' and 'Inflight' halls as well as a dedicated 'Startup Zone'.
To learn more, visit the FTE APEX Virtual Expo website. New speakers will be announced every week, so make sure you subscribe to the Future Travel Experience Newsletter to receive regular updates on the latest conference developments.