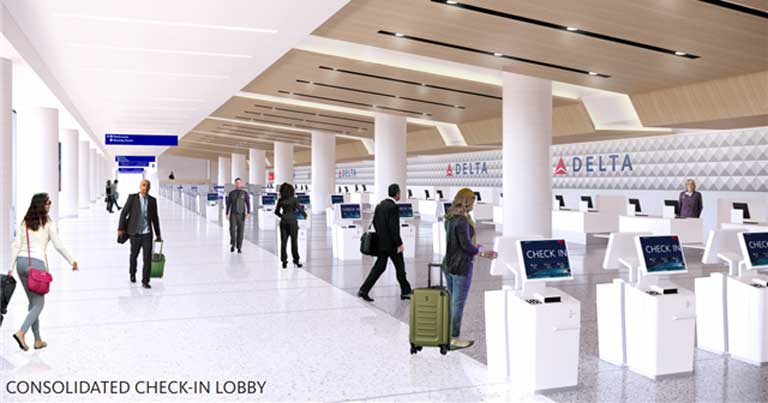 Los Angeles World Airports (LAWA) and Delta Air Lines have announced the acceleration of the Delta Sky Way terminal modernisation project – a $1.86 billion project to modernise, upgrade and connect Los Angeles International Airport's (LAX) Terminals 2, 3, and the Tom Bradley International Terminal.
Los Angeles Mayor Eric Garcetti joined leaders from Delta and LAWA during an official ceremony on 12 November to secure the final beam for Phase 1 of the Sky Way transformation project at LAX.
"LAX is a central pillar of our economic strength — part of the connective tissue bringing our city to the rest of the world — and we remain focused on enhancing its infrastructure, strengthening our workforce, and transforming the traveller experience," said Mayor Garcetti. "Even as we confront the immediate crisis of COVID-19, we are accelerating our work to devise a premier airport where visitors are greeted by reimagined terminals, workers land in good-paying jobs, and the city of the future truly takes off."
Construction on the project is estimated to be 18 months ahead of schedule, due to efficiencies gained by lower passenger traffic at LAX and throughout the country, and the temporary closure of Terminal 3. The facility is now expected to open in mid-2023, instead of late 2024 as initially planned.
The project includes Delta's LAX central headhouse, which will include a consolidated check-in lobby, security checkpoint and bag claim facility as early as the first quarter of 2022. The overall facility will also provide connectivity after security between Terminals 2 and 3, which is currently only possible via walking or a shuttle bus. The project will also provide easier access to the LAX Automated People Mover, opening in 2023.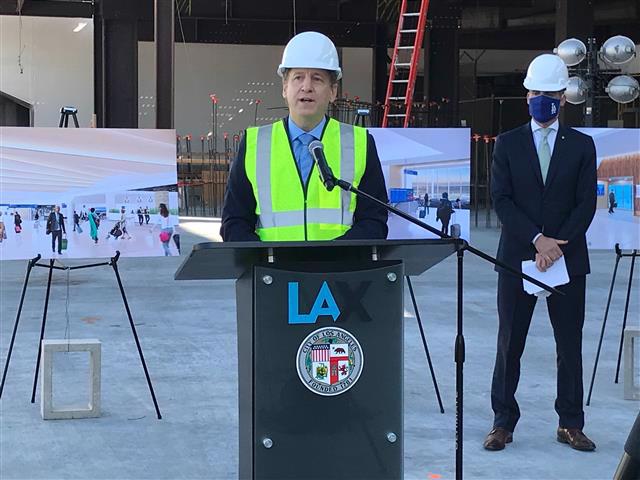 "As we reimagine Los Angeles International Airport, the modernisation of Terminals 2 and 3 is an example of how we are realising our goal to be one of the top international airports in the world by creating new facilities and passenger experiences that are modern, streamlined and built on a framework of advanced technology," said Justin Erbacci, Chief Executive Officer, LAWA, who will take part in a CEO Fireside Chat session on 'Transforming air travel post-COVID-19′, during FTE APEX Virtual Expo (8-9 December).
"The new headhouse will be a new front door for Delta Air Lines guests, create a key linking point for the north terminals and provide easy access to the Automated People Mover train when it begins operations in 2023," he added.
When completed, LAX will offer more security screening capacity, automated security lanes, more gate-area seating and Delta's largest Delta Sky Club. This is in addition to other amenities for Delta customers, including the Delta ONE at LAX check-in space and a concession programme in partnership with Unibail-Rodamco-Westfield Corporation.
Other key features and benefits include:
A 27-gate complex on Terminals 2 and 3 with a secure connection to Tom Bradley International Terminal, enabling Delta and its global partners to effectively utilise gates in all terminals, while cutting down connecting times for passengers by up to 20 minutes;
Brand new headhouse with centralised lobby, security screening checkpoint, baggage claim, and Delta Sky Club;
Reconstructed Terminal 3 concourse with new gates and a complete renovation of the 1960s-style satellite building. Terminal 3 will be larger, have more gate and seating space and feature premium retail and dining outlets;
The largest Delta Sky Club found anywhere featuring an indoor/outdoor double bar, a year-round outdoor Sky Deck, premium showers and more;
A revamped Delta One check-in experience to speed through check-in, enjoy expedited security lines and more;
Convenient and contemporary restroom facilities;
More access to at-seat power in gate areas;
State-of-the-art finishes that provide a greater sense of space and comfort;
Modern, intuitive signage, blended with digital elements;
Connection to the Automated People Mover, which is expected to be fully operational in 2023, and connects to the Intermodal Transportation Facility-West, Consolidated Rent-a-Car facility and ultimately the LA Metro light rail, making it easier for customers to get from across LA to their airport terminal without getting into a car;
Airfield efficiency thanks to dual taxi lanes that allow for more streamlined movement of aircraft and on-time arrivals.
The Delta Sky Way project is part of the $14 billion LAX Modernization Program that will see LAX transformed in advance of the 2028 Olympic and Paralympic Games in Los Angeles, of which Delta is the inaugural founding partner. It is being completed in partnership with LAWA and the City of Los Angeles, and is part of more than $12 billion in airport infrastructure projects that Delta is investing in at several of its key hubs in Atlanta, Los Angeles, New York, Salt Lake City and Seattle.