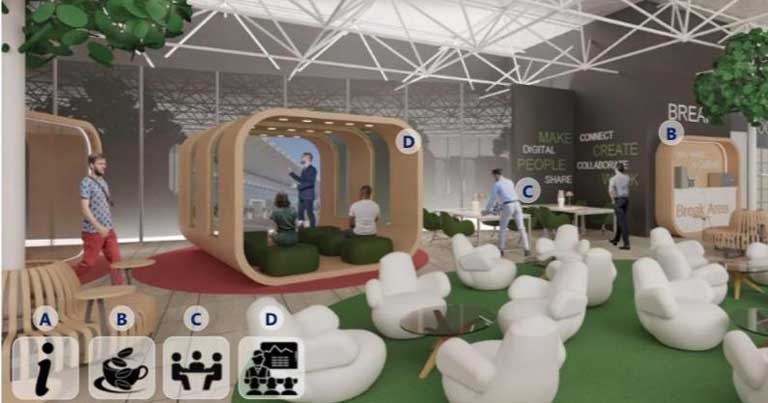 Aeroporti di Roma (ADR) has launched an open call for ideas to drive innovation at the airport. ADR is inviting startups from around the world to propose ideas and projects to redefine the use of airport infrastructure, especially pertinent in light of the radical changes brought by the COVID-19 pandemic. The application process is open until 15 November.
The six startups chosen by ADR will have the opportunity to work on their projects directly from the Innovation Hub of Aeroporti di Roma, the first industrial incubator in Italy, which will be operational at Fiumicino Airport Terminal 1 at the start of 2022. "This will be an ecosystem of about 600 square meters dedicated to creating new synergies, with the mission of generating value by identifying the "start-uppers" of the future that will develop solutions that can redefine the paradigms of the industry," the airport said in a statement.
The call for ideas focuses on six different areas of work, including improving flight punctuality and increasing airport capacity; the creation of "data-driven" systems for planning and real-time management of airport spaces; projects aimed at reducing energy consumption and increasing the use of renewable energy; identification of new services dedicated to enriching the passenger digital experience; automation of processes and controls within the airport; and solutions dedicated to omnichannel commerce.
During the five-month incubation period, the selected startups will have the opportunity to collaborate with the Innovation Cabin Crew team – a group of 30 innovators within Aeroporti di Roma – and will receive mentorship and investment to grow their projects.
Aeroporti di Roma guarantees a minimum of €390,000 in financial support for the startup companies, with the possibility of increasing the investment, based on the effectiveness of the projects.
"With the launch of the first Call for Ideas, we complete the first phase of our Open Innovation strategy. A strategy based on the desire to create an ecosystem of cooperation to achieve the energy and digital transition objectives of the Fiumicino and Ciampino Airports", commented Emanuele Calà, Vice President Innovation & Quality of Aeroporti di Roma. "Today, we are ready to work with startups by investing in their ideas, not only in economic terms, but above all in terms of know-how and skills, promoting and encouraging the development and growth of new companies and entrepreneurs, generating a phenomenon of synergy throughout the entire national airport system."
Startups, universities and SMEs can participate in the call for ideas, launched in partnership with Plug & Play and LVenture Group, by selecting the scope of the project on the ADR site's "Innovation" section, and submitting their project within the portal.