Back in November 2017, Kansas City International Airport (KCI) received approval for the construction of a brand-new single terminal building. The airport is now over halfway through the construction process of its new terminal, which is on schedule and on budget to open in early 2023. Dubbed 'Build KCI', the $1.5 billion project will replace the outdated three-terminal complex with a single, modern terminal and 6,000-plus space garage that will significantly improve the passenger experience.
To find out more about the project, FTE spoke to Justin Meyer, Deputy Director of Aviation – Marketing and Air Service Development at Kansas City International Airport, who shared more about the efforts to create a future-proof and technologically-advanced airport terminal, while setting new standards for inclusivity and accessibility.
Learning from the past to shape the future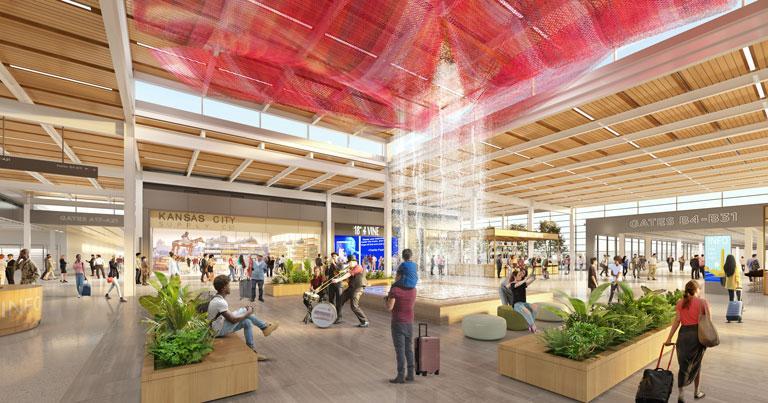 KCI's three terminals are shaped like horseshoes, which were designed to allow travellers to walk from the front doors straight to their gate. However, just as they were unveiled in 1972, the U.S. government imposed new security measures for air travel, which meant that the airport became outdated almost immediately after opening. "We were designed for an era that lasted 26 days after we opened. We modified the terminals as much as we can to comply with the mandate for modern airport security, but the original terminals were designed and built for time that had long passed," Meyer explains.
Learning from these past experiences, the airport is keen to ensure the facilities in the brand-new terminal will withstand the test of time. Unlike the old horseshoe-style terminals, the new building has been designed to provide ample space and be easily adaptable to the ever-evolving nature of the industry. Meyer adds: "That experience that we've had over the last 50 years certainly played a large role into our desire to construct and design a new terminal that is future-proof, primarily in having flexibility in the spaces. We're moving away from that skinny round horseshoe shape into a very traditional-looking terminal complex with multiple concourses."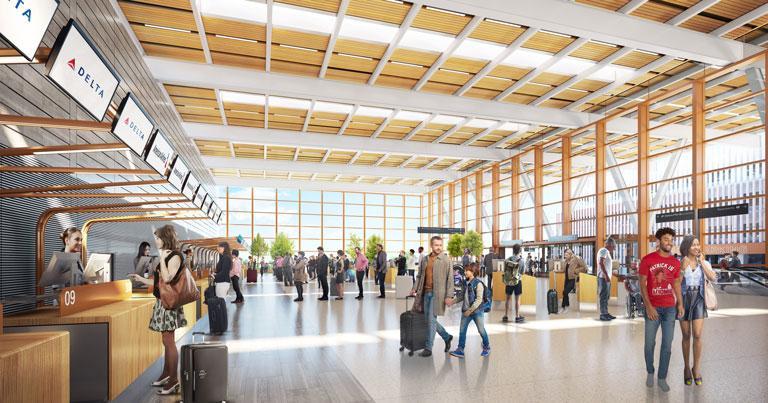 The new one million square-foot facility will feature 39 gates with the ability to expand to 50 in the future, and will comprise modern amenities, close parking, spacious gate areas, and a variety of food and beverage options.
When it comes to building a terminal fit for the future, Meyer shares that one of the biggest challenges is ensuring the airport has a security area that can be easily adaptable depending on new standards and emerging technology. To address this, KCI is consolidating the new security checkpoint with a large open space that has the flexibility to expand or contract as security requirements evolve.
Moreover, the new terminal will include a variety of cutting-edge technological solutions through new partnerships with Siemens and SITA. Siemens will provide automation, fire and life safety systems, and security systems, while SITA will deliver the IT networks and next-generation airport systems. These solutions will help create a smart airport terminal that can grow with the Aviation Department's long-term needs, decrease operation and maintenance costs and enhance the passenger experience through automation. In the terminal, SITA Flex – a cloud-based common use platform – will allow passengers to check in through a simple biometric scan at one of the self-service kiosks or, if preferred, a traditional agent-assisted counter. To address the post-COVID-19 world, Meyer also shares that the airport is closely looking into creating a more touchless passenger experience by investing in biometrics and allowing passengers to use their mobile devices to navigate through the terminal.
Going above and beyond to ensure accessibility and inclusivity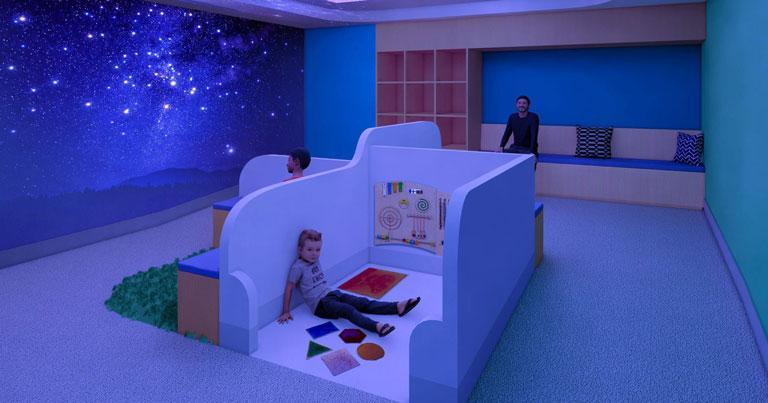 What truly sets the new KCI terminal project apart from other transportation hubs across the country is that accessibility and inclusivity have been embedded in the terminal design from the very beginning of the planning and construction stages. While all terminal facilities for passengers and staff have been designed in compliance with the Americans with Disabilities Act (ADA), Meyer says that this is just the baseline. "The question we asked ourselves frequently was how we can go well above these recommendations. As an example, the ADA states that there needs to be an accommodation for a counter height for wheelchair users to have access to the ticket counter, so instead of making just one counter suitable for these needs, we have made all counters ADA-compliant."
The terminal will feature a variety of spaces aimed at increasing inclusivity and accessibility. For instance, a Multi-Sensory Room will create a quiet and secure place to encourage a sense of exploration and discovery for children and adults with autism, dementia, or sensory processing disorders.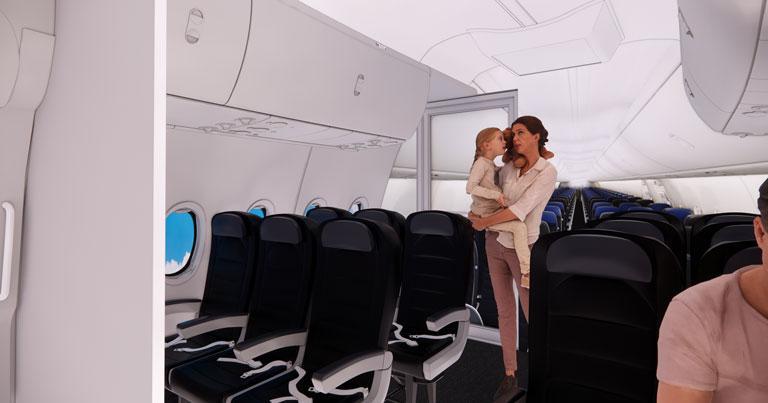 Other highlights include the Meditation Room, where travellers will be able to rest and recharge, as well as the Airplane Simulation Room for individuals who experience anxiety around the experience of flying. The Simulation Room will be a place, where travellers can experience and learn about air travel through true-to-life objects like a ticketing kiosk, gate door, passenger boarding bridge, and simulated aircraft cabin. The airport has also unveiled plans for a Variety KC Inclusive Family Play Zone ­– an inclusive play area designed to be wheelchair accessible with features to support play for children with physical restrictions or disabilities. In addition, the terminal will  include all gender restrooms, infant nursing rooms, accessible family restrooms and service animal relief areas.
"We really want this facility to be a place where travellers of all abilities can feel like they have been thought of and cared for," says Meyer. "The creation of a completely new terminal really provided an opportunity for us to lean forward on accessibility and inclusiveness. We have the opportunity and the funds now and we're really looking to be as prepared for the future as we can be."
KCI's ambitions, however, go beyond being one of the most inclusive and accessible airports in the U.S., instead its Aviation Department's wish is to inspire a step change in how the industry caters for all passengers' needs. "It is our desire that other airports around the country and around the world will look at this project and see how we have leaned into accessibility and inclusiveness. And it will hopefully allow other airports to start thinking about what's best for the travellers," he concludes.