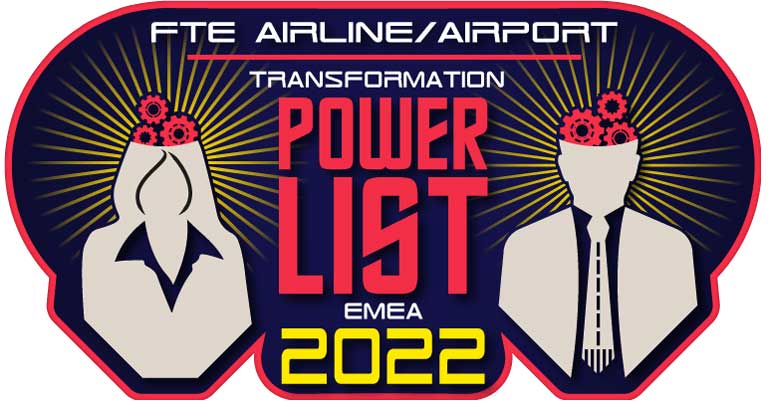 Following our Transformation Power List Americas 2021 initiative, FTE is now excited to launch the nomination process for the FTE Airline/Airport Transformation Power List EMEA 2022. Our EMEA edition will champion the most transformative digital change enablers within the airline and airport industry in Europe, the Middle East and Africa for their outstanding efforts to lead how their organisation has embraced innovation in order to recover and thrive following the wide-reaching impacts of the COVID-19 pandemic.
The FTE Transformation Power List aims to shine a light on those who are pioneering new approaches that have the potential to improve travel for passengers and make the industry safer, more efficient and commercially successful.
In recognition of their leadership and achievements, each member of the Power List will receive a complimentary "Golden Ticket" to our FTE EMEA mega-event, taking place in Dublin on 7-9 June 2022. The FTE EMEA networking reception will provide the venue for us to announce and honour our winners, amongst industry friends and colleagues.
C-level executives from airlines and airports in the EMEA region (including Chief Information Officers, Chief Digital Officers, Chief Innovation Officers, Chief Transformation Officers, etc.) will be considered for the Power List, which will be decided by an independent panel of judges.
Do you know an individual who has displayed true leadership and innovation to deliver meaningful transformation within their organisation? If so, nominate them today.
The nomination process is now closed. We will announce the nominees in the coming weeks. 
Click here to see the winners of our Transformation Power List Americas 2021 >>