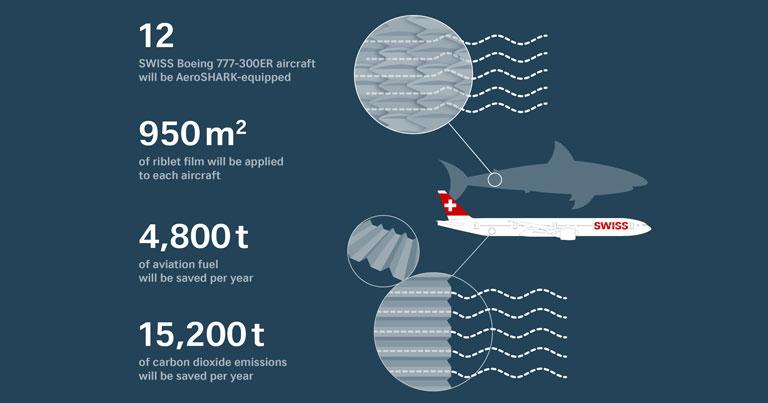 SWISS has become the first passenger airline in the world to adopt the new AeroSHARK aircraft skin technology co-developed by Lufthansa Technik and coatings manufacturer BASF. The technology will further reduce the carbon dioxide emissions and the fuel consumption of SWISS' flight operations.
All twelve of the airline's Boeing 777-300ER aircraft will successively have the innovative riblet film, applied to their fuselage and engine nacelles. SWISS expects the new technology to make its Boeing 777 fleet over 1% more fuel-efficient, which will substantially reduce its carbon dioxide emissions.
SWISS has also supported Lufthansa Technik and BASF in their development of the AeroSHARK film by measuring aircraft performance on its scheduled flights.
AeroSHARK is a new biomimetic film with millions of 'riblets' – small protrusions just 50 micrometres high – which replicate the highly hydrodynamic skin of sharks, and thus reduces an aircraft's aerodynamic drag wherever it is applied.
By applying a total of 950 sqm of AeroSHARK riblet film to the fuselage and engine nacelle surfaces of a Boeing 777, fuel savings of some 1.1% can be achieved. This will reduce SWISS' annual fuel consumption by over 4,800 tonnes and the total annual carbon dioxide emissions of its Boeing 777 fleet by up to 15,200 tonnes – the amount emitted respectively by some 87 long-haul flights from Zurich to Mumbai.
"Reducing its environmental footprint is one of the greatest challenges ahead for the aviation sector, and being carbon-neutral in our flying by 2050 is a key SWISS strategic objective," says our CEO Dieter Vranckx. "We put a major emphasis at SWISS on actively promoting and making targeted investments in new technologies. And we're delighted that, in becoming the world's first passenger airline to use the innovative AeroSHARK technology, as we'll be doing with our Boeing 777 fleet, we'll now be making a further substantial contribution to ensuring more sustainable travel."
The new AeroSHARK riblet film will be installed on SWISS' 777 fleet from mid-2022 onwards.