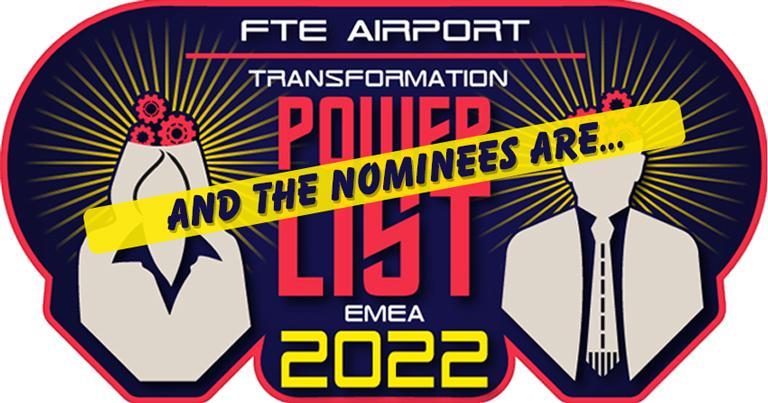 Future Travel Experience is excited to unveil the FTE Airport Transformation Power List EMEA 2022. Here we shine a light on those who are pioneering new approaches that have the potential to improve travel for passengers and make the industry safer, more efficient and commercially successful. The EMEA edition champions the most transformative change enablers within the airline and airport industry in Europe, the Middle East and Africa for their outstanding efforts to lead how their organisation has embraced innovation in order to recover and thrive following the wide-reaching impacts of the COVID-19 pandemic. In recognition of their leadership and achievements, each member of the Power List will receive a complimentary "Golden Ticket" to our FTE Dublin mega-show, which will bring together the FTE EMEA, FTE Ancillary & FTE World Airport Retailing events under one roof in Dublin on 7-9 June. Three of the nominees will be awarded with an "Outstanding Achievement" trophy during an official awards ceremony at the show on 8 June, which will provide the perfect opportunity for us to announce and honour our nominees and winners, amongst industry friends and colleagues.
After extensive research into each candidate, we believe the following 10 executives have been right in the thick of it, facing unprecedented challenges, quickly adapting to the new normal, and charting a new course for their organisations and the wider industry.
Emanuele Calà, Vice President Innovation & Quality, Aeroporti di Roma (ADR)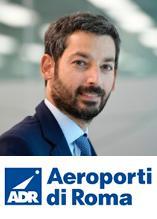 Emanuele Calà has been the Vice President of Innovation & Quality at Aeroporti di Roma (ADR) since 2016, guiding the quality turnaround of ADR and bringing the company to the top of the ranking of European airports in terms of passenger satisfaction and innovation. In July 2020, he championed the evolution of ADR's 'Quality' business division into 'Innovation & Quality', introducing a function dedicated to innovation for the first time in ADR's history. The new business unit has the strategic task of defining a new model of innovation by promoting the spread of innovation culture across the company, ensuring the development of a functional network to drive collaboration with startups and open innovation partners, and identifying innovation projects through the scouting of company best practices and new enabling technologies. A key focus for Calà and his team is to engage with the startup community. For instance, ADR has implemented a Proof of Concept (PoC) experimentation programme with the goal to establish a co-creation process between selected startups and ADR to test their innovative products and services within the airport ecosystem. The programme will be developed in the first airport incubation hub in Italy, due to open this year at Rome Fiumicino Airport. ADR's collaboration spirit is also evident in a number of projects launched recently in order to help it achieve its 2030 NetZero Carbon goal. Last year for instance, ADR signed a Memorandum of Understanding with Enel and ENI for the launch of joint initiatives with a strong focus on sustainability and innovation. The company also joined forces with Aena to launch the "Airports for Innovation", an international network aimed at achieving stronger collaboration between airports and whose primary goal is innovation. ADR is also a member of Aeroporti 2030, the new association that brings together the airports of Rome Fiumicino, Rome Ciampino, Venice, Treviso, Verona and Brescia, with the aim of strengthening and promoting innovation, digitalisation, and environmental sustainability in Italian airports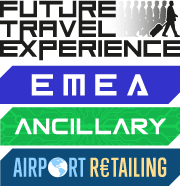 During the upcoming FTE Dublin show, ADR's Emanuele Calà will take part in a unique Tech Download session focused on the emerging technologies that can help solve industry challenges relating to workforce, sustainability, commercial performance and more.
Find out more and register to attend >>
Suhail Kadri, Senior Vice President, Technology & Innovation, Hamad International Airport (HIA)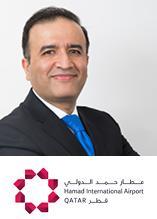 As the travel industry rebounds from the impact of COVID-19, Hamad International Airport has been steadfastly focused on passenger well-being, particularly in the area of airport operations to maintain confidence in air travel. The airport, which last year was named the World's Best Airport at the Skytrax 2021 World Airport Awards, has implemented game-changing and passenger-centric contactless technologies to renovate its airport experience. Upon departing from HIA, passengers are empowered to control their journey with HIA's touchless self-service passenger experience at check-in and bag-drop touchpoints. The measures reduce surface contact through infrared-enabled touchless screens. The screens are operated with mid-air technology that detects finger gestures above the screen. Physical touchpoints, such as check-in, immigration and information desks, have also been modified with acrylic barriers to offer safe and comfortable staff and passenger interactions. The airport's use of disinfectant robots is another example of HIA's dedication to deploying emerging technologies that minimise the need for direct contact with surfaces for disinfection. In addition, HIA's portable, safe and effective Smart Screening Helmets enable contactless temperature measurement using advanced technologies, such as infrared thermal imaging, artificial intelligence and augmented reality displays. HIA became one of the first airports to optimise its cabin baggage scanners, having developed a pioneering prototype of X-ray screening that was retrofitted into the scanners' tray return systems in record time. The technology was introduced to give passengers comfort knowing that their baggage is thoroughly disinfected. The FTE EMEA Power List recognises Suhail Kadri for his leadership in the successful implementation of advanced passenger-centric solutions during the pandemic, enabling the airport's vision of a frictionless passenger experience and world-class operational excellence.
Sjoerd Blum, Chief Information Officer, Royal Schiphol Group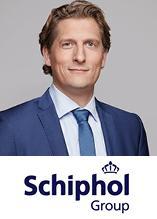 Royal Schiphol Group's innovation approach is based upon McKinsey's Three Horizons Model, which the airport group calls "earth, moon and mars" innovations. Deriving from the 'moon' and 'mars' innovation philosophies, the airport operator has laid out a future-looking vision to create a fully autonomous airport by 2050. In line with these ambitions, in February 2021 the airport group launched its new 'Autonomous Airside Operations' programme, which will see all airside vehicles be replaced by an interconnected fleet of autonomous, emission-free vehicles with all associated processes being automated by 2030. Since the inception of the 'Autonomous Airside Operations' programme, Royal Schiphol Group's ambitious vision has started to materialise in a series of trials and feasibility studies. A more notable example is a project launched last year in partnership with KLM Royal Dutch Airlines' ground handling department, which observed how an autonomous baggage tractor can take baggage to the aircraft on the apron at Amsterdam Airport Schiphol. Continuing its automation journey, this year the airport announced that it is investing in two TaxiBots, becoming the first in Europe to use the special towing vehicles that enable aircraft to taxi sustainably. Another major project that has been delivered recently is the renovation of Departure Hall 1, which provides passengers with a more spacious environment and comfort. With the completion of the renovation, all departure and transfer entryways at Schiphol are now equipped with new CT scanners, allowing passengers to leave any liquids and electronics in their hand baggage. Meanwhile, the airport also piloted the first self-service shop at Schiphol Plaza. As CIO for Royal Schiphol Group, Sjoerd Blum is responsible for leading the IT teams through Schiphol's digital transformation to becoming the world's best digital airport while keeping its daily IT operations running smoothly, which is why we believe he is worthy of a nomination for the EMEA Power List.
Amparo Brea Álvarez, Director of Innovation, Sustainability and Client Experience, Aena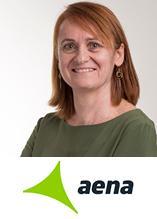 Aena's innovation and digital transformation revolve around the use of technology to improve current business and to develop new businesses, especially in the wake of the COVID-19 pandemic. The airport operator manages 46 airports in Spain and aims to be an international leader in the use of digital tools with the objective of optimising the passenger experience, increasing operational efficiency and developing new businesses around sustainable mobility. The vision for Aena's Innovation and Digital Transformation is made up of three strategic programmes that include initiatives to simplify the passenger journey; automate the airport management processes; and explore new business areas related to sustainable mobility. Among the projects undertaken to simplify the passenger experience are facial recognition technology implemented in Menorca, Adolfo Suárez Madrid-Barajas and Josep Tarradellas Barcelona-El Prat airports; the Aena Maps tool enabling passengers to know their current location, look for points of interest, calculate the best route, and see distances and travel times required; as well as a Food to Fly pre-order service. For a more efficient use of resources, Aena has implemented solutions such as drones to optimise inspection, calibration and maintenance processes; remote control systems for steering boarding bridges and optimising procedures; remote control towers to generate efficiency in air traffic service operations and safety; and video analytics to manage aircraft rotation. With the aim of promoting innovation and technology in its strategic business areas, last year Aena also launched a new international startup accelerator at Barcelona-El Prat Airport. The selected startups have participated in a six-month accelerator programme to implement a paid pilot that could become a contract worth up to €2 million with Aena. Moreover, as part of the European Union Horizon 2020 Framework Programme, Aena has engaged in a number of projects around the topics of sustainability, airport management and safety. As Director of Innovation, Sustainability and Client Experience, Amparo Brea Álvarez has stood out for her leadership in fostering a culture of entrepreneurship and innovation, while promoting the company's sustainability and climate change policies.
Ersin Inankul, Chief Digital & Commercial Officer, Istanbul Airport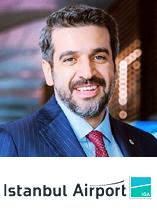 In April 2022, Istanbul Airport will mark two years since the "Great Move" – the successful transfer of operations from Atatürk Airport to the new mega-hub in just 33 hours. In line with its 'Smart Airport' concept, Istanbul Airport is committed to designing an end-to-end fully digital passenger experience that will take the digital customer journey to the next level, utilising touchless technologies, artificial intelligence, and biometrics. With the aim to design a low-touch passenger experience and optimise passenger processing at the airport, Istanbul Airport conducted a six-month biometric-enabled Proof of Concept (PoC) in partnership with Turkish Airlines, which showed a 30% reduction in boarding times. The airport has also created a cutting-edge data centre for all its IT services enabling information flow between the airport and its stakeholders. Leading these efforts is Ersin İnankul, whose current focus is on developing a new digital strategy for commercial activities at Istanbul Airport to understand a deep and detailed view of the airport's customer behaviour across all channels. He is developing a unique open commercial platform for technology-enabled collaboration with all related parties to enhance the services that are offered and improve the passenger experience, while successfully uniting technology with commerce.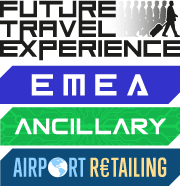 Ersin Inankul will deliver a special presentation during the FTE World Airport Retailing Summit on how iGA plans to use the metaverse, VR, AR, biometrics, robotics, contactless, mobile and e-commerce strategies to create a world leading airport commercial proposition that will achieve personalised engagement with the seven key passenger segments that they see representing the future of travel.
Find out more and register to attend >>
Mthokozisi Mncwabe, Chief Information Officer, Airports Company South Africa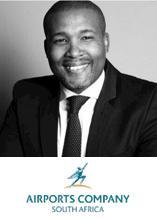 Airports Company South Africa (ACSA), operator of the airports of Bram Fischer International, Port Elizabeth International, Upington International, East London, George, Kimberley, and the three main international gateways O.R. Tambo International, Cape Town International and King Shaka International, plays a significant role in the region's economic growth, transformation and socio-economic development. Prior to the pandemic in 2019, ACSA embarked on a R2 billion ($150m) digitalisation journey to enable it to achieve its strategic objectives by leveraging technology and fostering innovation. Notable innovations include smart security e-gates and self-service bag-drops, as well as a trial of drones for runway, taxiway and apron inspection. The need for digitisation of the airport experience and its operational working environment has been emphasised by the COVID-19 pandemic, resulting in the accelerated adoption of contactless travel and a flexible, digitally enabled working environment. ACSA's existing strategy and digital infrastructure put in place in 2019 has paid dividends when managing the challenges brought forward by the pandemic. The company prioritised urgent and high-impact projects including digital information and navigation to support passengers seeking information, queue management systems, self-service check-in kiosks, automated border control solution for contactless security screening and smart lanes, plus trials of a risk incident logging and management system. Moreover, as part of its transformation strategy, ACSA is in the process of developing a cargo hub and exploring e-commerce to further diversify its business. In his role as Chief Information Officer, Mthokozisi Mncwabe is successfully driving efficiency in the company and continues to grow ACSA's core digital platform, while striving for a cost-effective strategy to become the world's best airports company.
David Krieff, Chief Information Systems Officer, Groupe ADP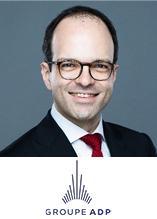 As part of its '2025 Pioneers' vision, Groupe ADP aims to make its airports multimodal and create energy hubs designed and operated in a sustainable way. At the heart of its transformation strategy is the evolution of airports into multimodal energy hubs, which will no longer only be a place to fly, but a place where passengers can benefit from renewed connectivity, offering them a choice between different modes of travel and where rail-air connections will account for a growing share of the development of its hubs. According to the group, these multimodal energy hubs will lead the deployment of new clean energies and will see existing infrastructures densified and the capacities of stations and multimodal hubs extended, using new innovative and environmentally friendly construction methods. They will also be integrated into a global urban planning process. The new roadmap will also be adopted by the group's subsidiary companies TAV Airports and GMR Airports, and is based on a financial trajectory allowing the Group to return, by 2025, to its pre-crisis performance under the impulse of the gradual return of traffic to 2019 levels and of a strong financial discipline in operations and investments. The group is also launching a new retail and hospitality concept, called Extime, to create more value for passengers and increase customer satisfaction. As Chief Information Systems Officer and member of the group Executive Committee, David Krieff will no doubt be instrumental in shaping the data-centric approach to Groupe ADP's new vision.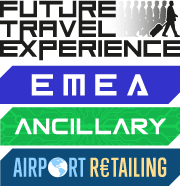 The FTE Dublin mega-event, taking place at the RDS in Dublin on 7-9 June, will bring together the FTE EMEA, FTE Ancillary & FTE World Airport Retailing shows under one roof to inspire air transport and travel sector executives from around the world on the most innovative digital, customer experience, future mobility, sustainability and commercial approaches. Under the theme of "Scaling Innovation", the three co-located events will champion bold new ideas, solutions, collaboration and innovation efforts to ensure we achieve an industry recovery that makes air transport even stronger in the long-term. Attendees will have access to three high-level conference tracks, where they can hear inspirational presentations from a number of the leading airports listed here including ADR, iGA, Swedavia, Avinor, Aena, plus many more speakers from inside and outside the industry. The conferences will be complemented by a major end-to-end exhibition, co-creation workshops, tours, briefings, startup content and showcases, and a unique social and networking programme in the heart of Dublin
Find out more and register to attend >>
Karin Gylin, Head of Strategic Development and Innovation, Swedavia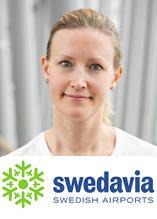 Swedavia's vision is to develop the airports of the future and create sustainable growth for Sweden. Innovation plays a big part in this strategy and it's what helped the airport operator become the world's first to achieve net zero CO2 emissions. Instrumental to that mission is Swedavia's Head of Strategic Development and Innovation, Karin Gylin, who leads the company's innovation management team, driving strategic initiatives forward within digital transformation and future multimodal airport hubs. Just before the end of 2020, Swedavia became one of the first airport operators in the world to achieve fossil-free operations under its own management at Stockholm Arlanda and nine other airports. Today Swedavia runs extensive airport operations across Sweden, which only around 10 years ago emitted about 8,000 tonnes of fossil carbon dioxide annually, a figure that has now been reduced to zero. Measures implemented to transform Swedavia's operations include having all airports today run on renewable electricity and heating/cooling, using renewable fuel for the uninterruptible power supply, and having Swedavia's fleet of vehicles powered by electricity or renewable fuels. For example, Swedavia currently has some 800 vehicles, nearly 300 of which are at Stockholm Arlanda Airport. Almost half of the fleet is now powered by electricity, and the rest of the vehicles run on renewable fuels, such as HVO fossil-free fuel and biogas. Moreover, to encourage companies and other organisations operating at Swedavia's airports to become fossil-free and start refuelling with HVO, in January 2022 Swedavia introduced a special HVO 100 incentive at Stockholm Arlanda Airport and Göteborg Landvetter Airport. The goal is now for all ground operations at every Swedavia airport to be fossil-free by 2025.
Eric Schneckenberger, Group CIO, VINCI Airports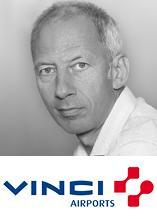 Innovation forms a major part of VINCI Airports' strategy to improve airport infrastructure and management, including the dissemination of innovative ideas across its network of 53 airports in 12 countries. Under the leadership of Eric Schneckenberger, Group CIO, VINCI Airports, the group has continued to harness technological innovation to adapt to the crisis. In Lisbon, for example, VINCI Airports deployed an autonomous robot that uses ultra-violet rays to disinfect surfaces, and released a special app for passengers to give feedback in real time on the hygiene measures in place. VINCI Airports pledges to make high-quality service one of the core elements in its airports' operations while innovating to further upgrade the passenger experience. One project that stands out is the introduction of MONA – a world-first travel assistant designed to revolutionise the passenger experience. MONA was launched at the VINCI Airports Centre of Excellence for Innovation based at Lyon-Saint Exupéry Airport in October 2020 to enable travellers to undertake the different steps of the journey, from their home to the aircraft, using facial recognition technology. MONA uses biometrics and a specific passenger journey set up in the airport to enable travellers to pass through the various airport checkpoints (excluding border checks) without any physical contact, from baggage check-in to boarding. In the future, MONA will offer users a variety of services and personalised experiences developed in partnership with airlines and airport shops. In launching Mona, VINCI Airports has taken a major step towards the mobility of the future, offering travellers the opportunity to trial a biometric journey from their home to the plane. Moreover, VINCI Airports has a progressive environmental strategy and has placed the environmental transition at the heart of its strategic priorities. Despite the pandemic, the airport operator has continued its investment in sustainability. More recent examples include a new partnership with Airbus and Air Liquide to promote the use of hydrogen at airports and build the European airport network to accommodate future hydrogen aircraft. While a number of members of the VINCI Airports family, including the innovation team, have contributed to a number of these projects, as VINCI Airports' Group CIO, Eric Schneckenberger is recognised on the Power List for his technology-focused leadership.
Brede Nielsen, Group CIO, Avinor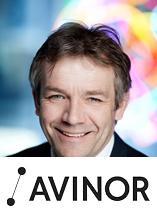 Avinor has always believed in the power of technology to improve operations and the passenger experience. Back in 2015, the airport group, responsible for 44 airports in Norway, became the first to move to cloud computing, which proved to be a significant advantage when the Norwegian airport operator rolled out its end-to-end touchless travel programme in 2020 to tackle the impact of COVID-19 and help restore travel confidence. As part of the programme, Avinor's Group CIO Brede Nielsen and his team worked closely with Amadeus and ICM to define, design and build a new CUSS application that enables passengers to print their bag tag without touching the kiosk. This process now enables passengers to check-in for their flight remotely and receive a boarding pass barcode sent to their mobile phone, which also acts as a coupon to print their bag tag. Upon arrival at the terminal the passenger presents the barcode to a self-serve kiosk and their baggage tag is automatically printed. Under the leadership of Nielsen, Avinor's innovation team also quickly found a way to inject the new functionality into the baggage flow by devising a way to mount barcode scanners on racks where bags are deposited at the self-service bag-drop machine. The newly mounted scanners continually scan for a barcode and replace previously hand-held scanning guns, removing another touchpoint. By utilising digital means like mobile technology, sensor-based data, and comprehensive sharing of information, Avinor is on a journey to create a more seamless experience for its passengers. Brede Nielsen has held the position of CIO at Avinor since 2013 and he has been instrumental in ensuring stable and safe operations, while fostering an innovation culture for the whole business, which is why he has been nominated for the Airport Power List.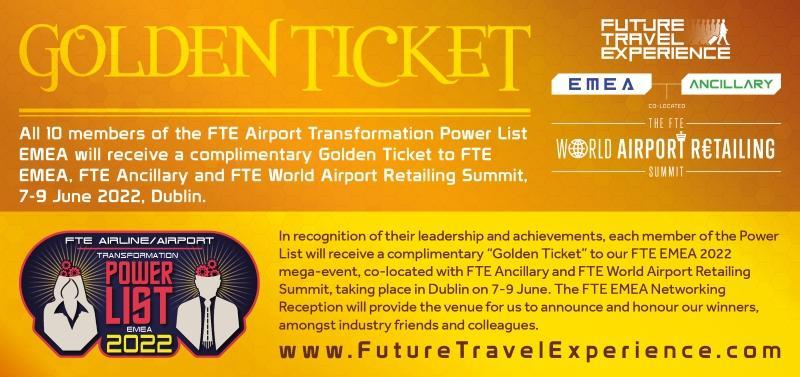 Next week, we will announce the nominees for the FTE Airline Transformation Power List EMEA 2022, so subscribe to our newsletter to stay tuned. 
In the meantime, you can see the winners of the FTE Transformation Power List Americas edition here.