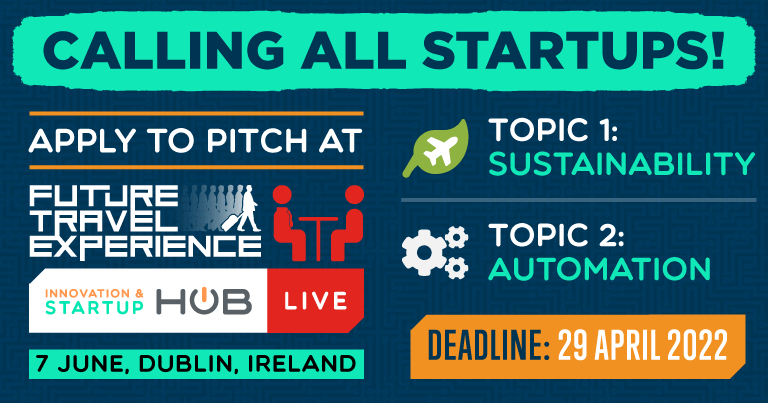 Please note, the submission process is now closed.
The next FTE Innovation & Startup Hub Live event will be taking place in Dublin, Ireland on Tuesday 7 June and we are searching for high-potential startups to participate in two pitch sessions focusing on the topics of Sustainability and Automation. Ten startups will be selected to pitch their products and services to our Corporate Partners – including international airlines, airports and VCs – at this members-only event in Dublin. Submit your entry by 29 April 2022 to be in with a chance of showcasing your startup at this exclusive event.
Eligibility
The submission process is open to any startup that meets the following criteria: Series B funding or earlier, and founded within the last 10 years. Startups should also be a member of the FTE Startup Hub, which is free to join.
Topics
Sustainability: Creating a greener air transport industry
Sustainability is now a top priority for the aviation sector. Airlines, airports and their partners are searching for pioneering products and services that can help create a greener and more sustainable industry. This category is open to startups that have developed products and services that can help the industry meet its ambitious green goals in the short, medium and long term.
Automation: Embracing technology to optimise air transport
As the aviation industry continues its recovery from the impacts of the pandemic, the role of automation is more important than ever before. This category is open to startups whose products and services can help to automate processes to enhance operational efficiency, reduce costs and/or improve the customer experience.
Timeline
Startup submission process opens – 6 April 2022
Startup submission process closes – 29 April 2022
Judging process starts – 2 May 2022
Ten successful startups informed – week commencing 9 May 2022
Ten startups deliver pitches at FTE Innovation & Startup Hub Live event in Dublin – 7 June 2022
Important information
Before applying, please ensure you or a member of your team is available to join us in Dublin on Tuesday 7 June in case you are selected to deliver a pitch. All pitches must be delivered in-person on the day (i.e. no video pitches).
The FTE Innovation & Startup Hub Live event on Tuesday 7 June will be attended by our Corporate Partners, including airlines, airports, venture capital firms and established air transport industry vendors, so you are encouraged to tailor your submission accordingly.
Entries submitted after 23:59 BST on 29 April 2022 will not be considered.
Please note, the submission process is now closed.